I'm baffled… 116 West 131 sold a little over a month ago (7/20/11) and it sold for $1,000,000. I have no clue who the buyer's real estate agent and lawyer were, but both of them should have their licenses revoked (IMHO). If they had negotiated a price one cent less it would have saved the buyer $10,000. How can two real estate professionals make a mistake like that? Seriously, I don't get it.
The reason why one cent makes a $10,000 difference is because New York City has a 1% "mansion tax" on properties that sell for $1M or more. So if the sales price had been $999,999.99 the buyer wouldn't have had to pay the mansion tax, but add a penny and they have to pay $10,000 in tax.
Enough about that… Let's look at the property as a comp…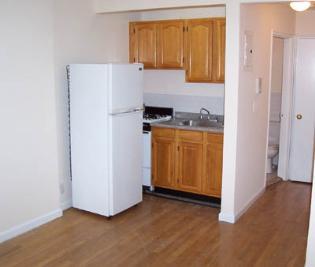 The sellers originally asked $1.495M back in May of 2009. Finally this year they dropped the price to $1.195M and it sold – but even then they had to come down nearly $200,000 – but honestly that's pretty standard with Harlem townhouses – the asking prices are usually way over where they sell.
The building is 17′ x 48′ x 4 stories (though the lot is 16.67′ wide) so it has roughly 3,200 sq. ft. That means the cost was about $312/sq. ft. The building is a legal 3 family that was renovated in 2003 and got a new boiler in 2008. Overall, it seems to be in good condition.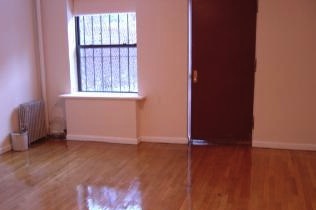 But the renovations are just "rental grade" –  small, Home Depot-esque kitchens, etc. My favorite detail is the picture above showing the fridge blocking the stove – not exactly a marvel of architectural ingenuity…
I'm guessing there is a 2 or 3 bedroom duplex over two 1 bedroom (or studio) floor-thru apartments – at least that's the configuration that would make the most sense. Then again with kitchen configurations like the one in the picture above, there's a good chance they did a less efficient layout.
Taxes on the property are higher than average, but not outrageous – $5,517 this year and projected to go to $5,755 next year.
It's a 5 minute walk to the 2/3 at 135th Street. A/B/C/D trains are a fairly long walk – 11 minutes – much of which involves walking past the St. Nicholas Houses.
Besides the lesson of never buying a property for exactly $1M, this sale shows that there are affordable properties out there that don't require renovation. If your funds are limited now, but you want a property that you can improve later – a property like this is perfect. You live with rental grade details in the short term and when you have the funds you renovate and make things nicer.