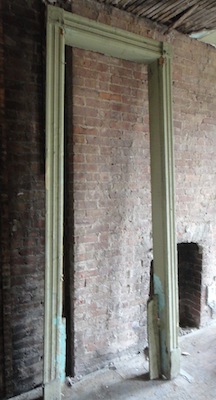 Friends are about to start renovations on their South Harlem brownstone. Their place is a total wreck and there aren't enough original details to warrant a renovation with a traditional aesthetic. Still, there are some original details left and instead of just throwing them out they let Demolition Depot come in and rescue what could be rescued – mostly door and window moldings…
Demolition Depot is giving our friends a small store credit with which they hope to buy an "original" front door. Mind you, to actually use whats being rescued you'd need to strip 100 years of lead-based paint – so there's a reason why the store credit isn't all that large.
Below is one of the window frames Demolition Depot took out. It's not all that special (I wonder why they wanted it), but some of the woodwork on the parlor floor was pretty cool and more interesting.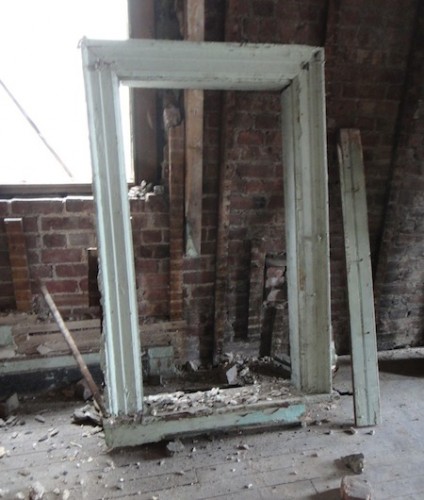 One item Demolition Depot discovered were pocket doors on the parlor floor that our friends didn't realize were there. I was there when they were taking them out…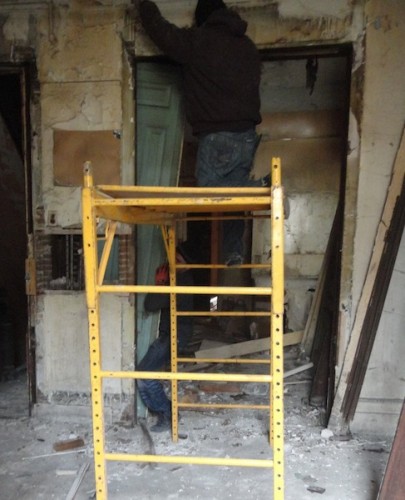 Our friends are now thinking they may use those doors as their front doors…
So if you're doing demolition, don't just throw everything in a dumpster – if you let a salvage yard rescue what details you have left, it may come in really handy to one of your neighbors. For example we got our front doors from Demolition Depot, and we'll probably get a bunch of stoop ironwork from them as well.