Back in February Dan and I put in an order for a new car – a 2008 VW R32. The R32 is the flagship version of the Golf/Rabbit line. It has a bigger engine (3.2 liter VR6 with 250 hp), and all wheel drive (as well as lots of 'extras' like satellite navigation).
VW only brings 5,000 R32s to the U.S. and then just every few years (last and first time was 2004) – so it's definitely not a common car (though it looks common since it's so similar to the Rabbit). And if the previous R32 is any indication, it should retain it's value pretty well since it's so unique…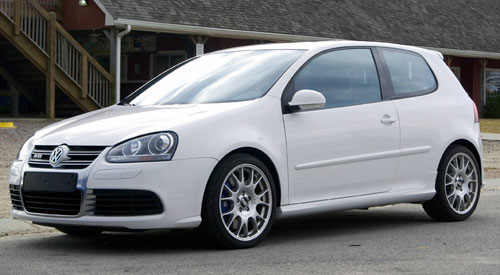 The R32 is an extension of the cars we've been buying for a while now… In 1997 I bought a black Golf GL which I leased for 2 years. After that car we went without a car for a year (something you can do when you live in Manhattan), and then we bought a silver 2000 GTI GLX (VR6) which we've had now for over 7 years. It's been a good car, but it's out of warranty and when we realistically consider the repair costs (going to a dealer, like we do), it's not that much more to buy the R32…
I expect the car will be a blast to drive. One person who drove it said it felt like a really big go-cart. Given how I liked the 'go cart' handling of the 2003 Mini Cooper S we had for a year (and just sold), this should be a bigger and more powerful version and probably even more fun to drive than the Mini.
We won't actually get the car until sometime in August, but in the meantime I'm spending a fair amount of time on VWVortex getting psyched about it…