When I got the R32 a year ago I was really psyched. I had waited like 6 months for it and it was in the first batch to arrive in August '07… My only complaint about the car is that I haven't gotten to drive it enough – especially this year. I think it was July that we put a whopping 30 miles on it.
Nevertheless, we did manage to put about 10,000 miles on it the first year and had a great time with it. Initially I was driving to Norwalk, CT a couple a times a week on the Merritt Parkway, which is a blast with all the curves and whatnot. And on Memorial Day I drove single-handed to Chicago with a stop in Cincinatti both directions.
I haven't gotten enough pictures of it, but here is one from the Chicago trip – this one is taken in Oak Park, near the Frank Lloyd Wright house…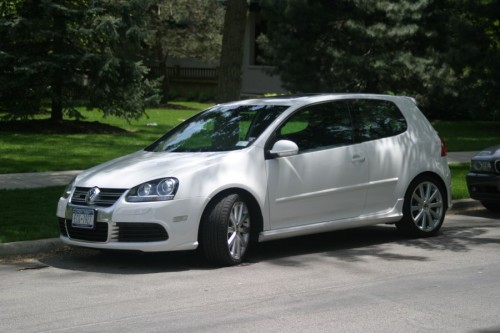 Gas mileage isn't all that great with it, but with a 3.2L, VR6, 250hp engine you don't really expect it to be. I get about 24 mpg on the highway driving "comfortably fast", which isn't bad in my book. If I slowed down, I'd get better gas mileage, but that's not why I bought an R32. (Do make sure you have a good radar detector).
One of my favorite things about the car is when Dan drops off something at the front door and then drives away to go park it in the garage. The sound (or should I say growl) of the car is just perfect. I get this big grin on my face and think "yeah, that's my car…"
Would I get another R32? Absolutely, in a heartbeat…