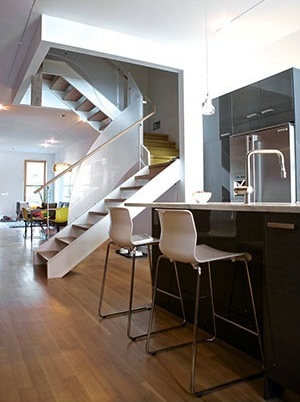 I know this is a bit late to be posting this, but if you've been reading this blog and want to see our end result, our house will be on the Mount Morris Park Annual House Tour this Sunday, June 9, from 11am to 4pm.
That's our place in the picture to the left. It's in rather stark contrast to what you expect in a Harlem brownstone (see pictures below) – but we had no original detail to work with.
Apparently something like 600 people will be traipsing through our house. But it's all for a good cause. MMPCIA does some really great work. We bought those little surgical shoe covers for people to put on so they don't track too much dirt through the house.
MMPCIA (Mount Morris Park Community Improvement Association) produced a rather good video about the house tour. It's narrated by Syderia Asberry-Chresfield who lives on our block and has gotten to be a good friend.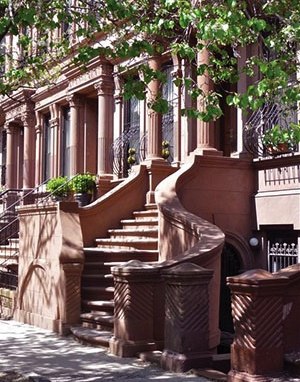 Our entire house will be open – including the rental unit. (Our tenant was gracious enough to say yes to the house tour). That presented a bit of a staffing challenge for MMPCIA since they provide volunteers to monitor the people going through the house – but it all worked out.
We were hoping to get the garden to a point of completion. We've made progress, but it's not quite there yet. We're using old joists as "decking" that'll be laid directly on the ground with pea gravel between them and under them. We've applied rot inhibitor to them but over time they'll disintegrate. At some point we'll do something better, but the joists will do the job for now and they fit our budget since they're pretty much free.
Other than the garden, things are pretty much complete. We're not fully decorated yet – we just have "placeholder" furniture in the living room, our master bedroom bed is just a futon on the floor, and we're going to need furniture for the roof deck and garden – but we're getting there.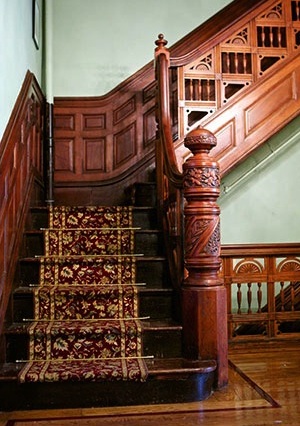 We're a bit "house poor" at the moment – but grateful we got through the project and can afford to live here now that it's done – even if we can't afford all the new furniture we want 😉
More details about the house tour are available on the MMPCIA website. You can can also purchase advance tickets at a discounted price on their site.
So please join us on Sunday. And when you come through the house, feel free to say 'hi'..