Yesterday I went through one of the Sylvan Terrace townhouses with a client. They're some of the smallest, and hence most affordable, townhouses you'll find – and they're really charming…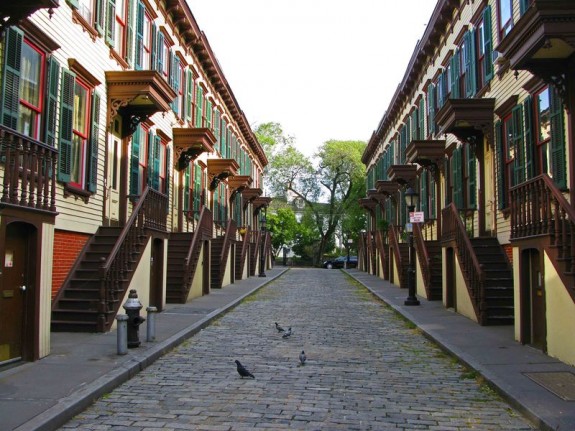 Sylvan Terrace is comprised of 20 wood frame houses built in 1882. Today they're all Landmarked and in good to great condition. The narrow cobblestone street makes you feel like you're on the movie set for a period movie.
Honestly I don't know quite how they came to be. They're said to be carriage houses for the Jumel Mansion (which is at the end of the street), but that doesn't quite make sense. The Jumel Mansion is Manhattan's oldest building – built in 1765 – before the War For American Independence. Why would someone build carriage houses 116 years later at a time when the street grid was being established? (Sylvan Terrace is a bit off the grid.)
Whatever the history, they're completely charming, but they are tiny… Most of the ones on the north side of the street are 1,500 sq. ft (20′ x 25′ x 3 stories), while most of the ones on the south side are 1425 sq. ft. (19.5′ x 25′ x 3 stories) including the walls and stairs. Useable square footage is smaller yet – I'd guess it's about 1,200 sq. ft.
Essentially you have one large room on each of the two lower floors and two adequate size bedrooms on the top floor (though I saw one that carved a 3rd small, double decked, kids playroom out of the top floor). Ceilings are quite high – especially on the top floor in the front.
While they're small, they have sales prices that match their small size. Here's a rundown of what places on Sylvan Terrace have sold for…
#14 – 9/25/2003 – $700K
#16 – 10/24/2003 – $321,600
#19 – 3/30/2004 – $590K
#12 – 12/31/2004 – $610K
#13 – 4/7/2005 – $482K
#15 – 10/5/2005 – $725K
#13 – 10/5/2006 – $1.05M
#15 – 2/23/2007 – unknown price
#14 – 12/17/2007 – $970K
#16 – 12/27/2007 – $990K
#5 – 3/11/2008 – estate – transferred within family
#18 – 4/3/2008 – $437K
The take-away is that the max price for one of these places at the height of the market was $1.05M and there have been no sales since the crash.
I'm not allowed to discuss other agents' active listings, but I can talk about inactive listings 🙂  #2 – a larger, apparently nicely renovated end unit with more windows and better light – went on the market in November 2009 for $1.1M. It was finally taken off the market a few months ago. It's final asking price was $800K. So it's fair to say that the current market value of a nicely renovated Sylvan Terrace townhouse is below $800K.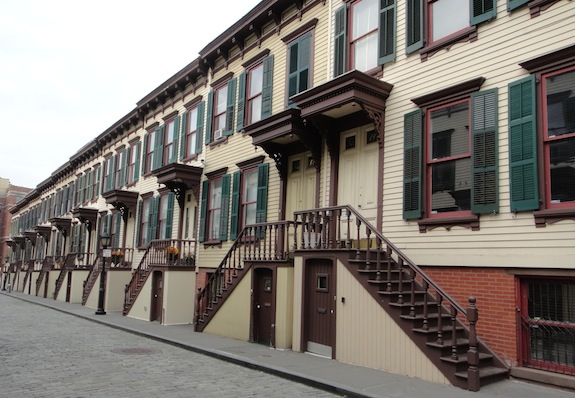 The other item which should be mentioned is that, unlike most of the townhouses I discuss here, these houses are mortgageable with conventional mortgages. Most are legal 1 families, a few are legal 2 families.
When you think about the price you'd pay for a 1,200 sq. ft. 2 bedroom condo or coop, Sylvan Terrace could be a good deal – and you get a proper house in a charming little neighborhood with a small back yard (for barbecuing, etc.), and from what I hear the neighbors are nice and fairly close-knit. There's also a subway stop 1 block away (the C train).
Feel free to contact me if you think Sylvan Terrace might be right for you…