So now that the buyers of our coop have been approved by the board Dan and I are getting serious about getting another place – a townhouse in Harlem to be precise. It's at times like this that the name of this blog starts making sense… Our buying a townhouse is just like beating upwind in sailboat… It's difficult, but once you get where you're going it's wonderful and relaxing…
This is one of the only times we'll be able to get into the townhouse market. We sold our place (knock wood) for 15% less than it was worth at the height of the market. Meanwhile Harlem townhouses are down 60-80% from their high. But it's a weird market, to say the least. Financing is extremely tight and most of the places we're looking at require substantial renovation – often $500K or more in renovation.
Our options are:
A newly renovated townhouse that has really small rooms – like 7 West 119th where can't even fit our couch into the living room without splitting it in two pieces and bedrooms that are barely big enough for a bed. So that option is out since the room sizes are too small to work for us.
A full-size townhouse on a good block that is habitable/mortgageable, but will need major renovation in 5-10 years if not sooner. 48 Hamilton Terrace is an example of a townhouse like that. The bottom line is we can't afford to do the renovations right away, and after you add the renovations to the original cost it becomes an expensive house.
Shells and wrecks that need a total gut renovation. These generally have to be bought all cash and then you have to hope you can get financing from one of the few lenders who does construction loans. And on top of that we can't afford the shells on the good blocks unless they're really narrow (12 footers).
So our options are limited, but the one that seems best at this point is to go with a shell/wreck. We've got our eyes on one in particular and put in a bid on it yesterday. Our offer is lower than the seller had hoped, but it's realistic. There are two townhouses that are good comps – both closed on July 20th – 419 West 146th Street, and 400 West 145th Street. One was sold at auction, the other by a broker, but both settled for $146/sq. ft. Add to that a declining market and the a less desirable location and the seller should seriously consider our offer. Given that the seller is an estate that wants to close its books, we're hopeful.
Here are some pictures of the one we're bidding on…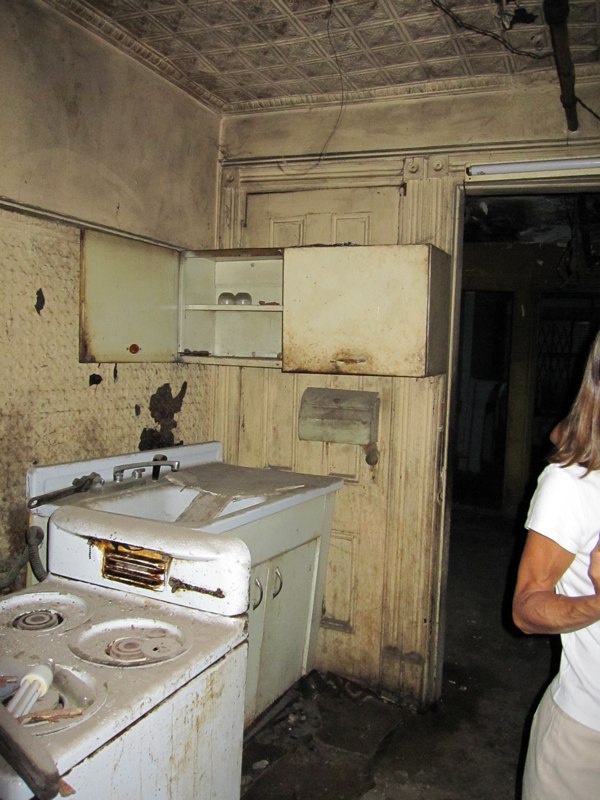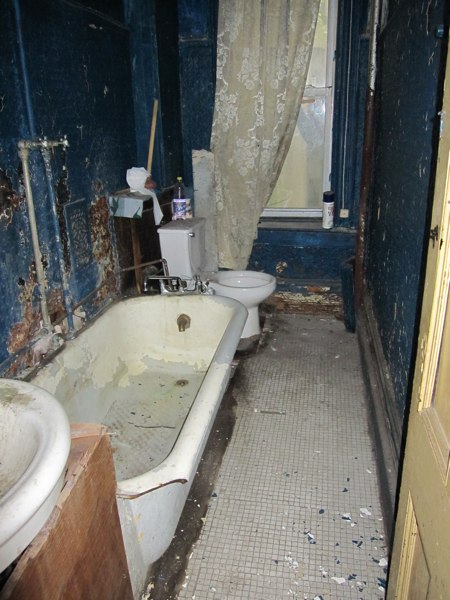 Needless to say, it's going to be a huge amount of work to renovate it, but when it's done I've figured out that it will cost us about the same (net) as our current apartment. So it really will be a great deal. And it's not all horrible. The reason why we like it is because it's got some great original details. The biggest of which are the plaster walls in a configuration that works for us. Then there are the fireplaces you see in a lot of townhouses, but what you don't see a lot are the big huge old mirrors. There's a huge three paneled mirror/coat rack just inside the front door, plus two other smaller ones in other locations. And the woodwork on them is pretty incredible too…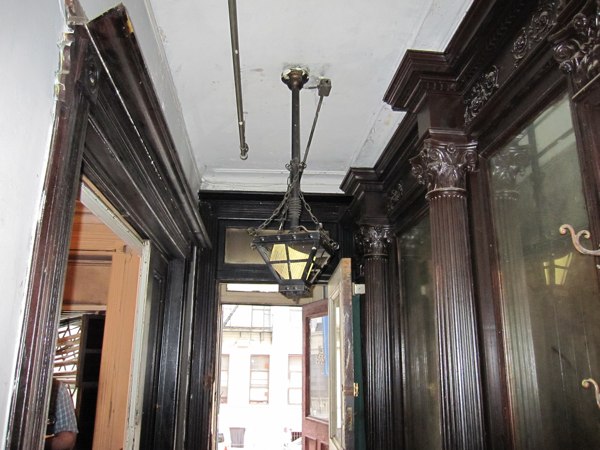 So there's a lot of potential… We just have to get the seller to understand that the value of their place has dropped in a big way. They were in contract 18 months ago for double our initial bid, but that was before the stock market crash. Then they had a higher offer, but those buyers couldn't secure financing. And in the meantime the market has continued to go down.
So we'll see… Hopefully there will be good news soon…