Friday we were around the house to talk to contractors and toward the end of the day we had a friend come by to see our place before going out for dinner, etc. We were doing a quick walking tour of the neighborhood and were over on Mount Morris Park West when a guy approached us and asked us if we lived in the area. We explained we just bought a shell nearby but didn't live there yet. He said he was a photographer doing work for the Observer in the UK and they were doing a piece on the changes in Harlem and asked if he could take our picture. We walked him over to our place, showed him the inside and then he took some pictures of us on our stoop.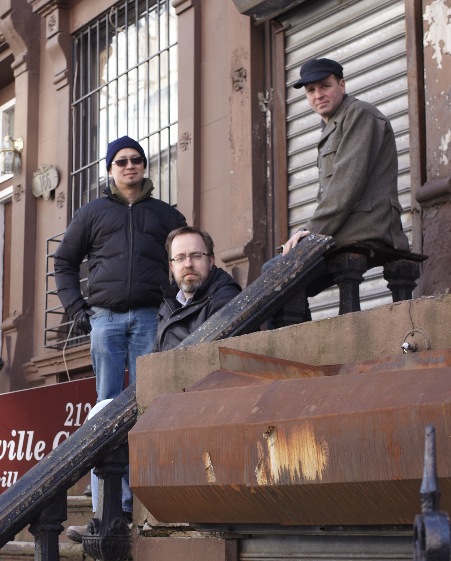 Well, the article came out, and thank god our picture wasn't used… The article is titled "There Goes The Neighborhood…" and then continues to complain about the demographic changes that are going on in Harlem.  It makes it sound like white people are taking over Harlem, when we're actually just 15% of the population (in Central Harlem). The article in the NY Times earlier this year was far more balanced and objective. White people aren't taking over Harlem, if anyone is taking over Harlem, it's Latinos and Asians.
Here's one snippet from the Observer article that gives you an idea of where it's coming from…
It is no surprise that the changes in Harlem anger some. Tarik Haskins, 61, makes a living by selling CDs from a stall on 125th Street … He is furious at the changes he sees around him. "It is a threat to the indigenous people. We do not have the same salaries as these new people. Our choices are more limited," he said. What is the answer? "We have to organise," replied Haskins, who proudly wears a Black Panther badge.
The "indigenous people" comment is laughable. Harlem was built for white people and initially occupied by white people. One of our (white) neighbors found out that her grandmother was born in Mount Morris Hospital which used to be down the street from where we are. When she gets snide comments about her not belonging she loves to bring up her grandmother and tell the person she has as much right to be there as they do.
The other problem with that statement is that if you go over to "SoHa" (centered around Frederick Douglass Boulevard south of 125th Street), where the gentrification is most dramatic, you'll see the bars and restaurants are filled with "buppies" – hard working, educated, successful BLACK 30-somethings. Sure there are some high-income white people buying places, but the far bigger trend has little to do with race and everything to do with economic class. Harlem is gentrifying and getting more expensive. That's going to change things, but it's more likely that a higher-income Black or Latino will be displacing the lower-income Black, than a white person. Most of the white people I've met in Harlem bought (and often renovated) long-vacant townhouses and displaced no one in the process.
Personally, Dan and I aren't displacing any poor black people – our house has been vacant for at least a decade and, by New York standards, we're hardly rich. While we're not black, we are an interracial couple, and being gay we're both minorities. I'm sure some people might resent me moving into Harlem, but I've got nothing to apologize for and in time they'll get used to it.
That said, I do completely understand that systemic and deep poverty are still real problems in Harlem and that the poverty is strongly correlated with race. You'd be hard pressed to find many New Yorkers who don't understand that. But leaving Harlem a run down ghetto is hardly the way to fix the poverty problem.
One of the things I learned early on about New York is to never complain too much about change. Change is a constant in NY and the City would stagnate and die if it didn't change. Change is usually good.  It's a good thing, not a bad thing, to see Harlem get cleaned up, vacant, burned out buildings get rebuilt, and fancy new condos go in.
We still need to take care of those who are less fortunate and to that end our back yard abuts the back yard of some brownstones that are being turned into affordable housing, and catty corner across Adam Clayton Powell Jr. Blvd is an 11 story housing project. The Harlem of the future can and should accommodate the needs of a diverse group of people – black, white, Latino and Asian; rich, middle class, and poor. People shouldn't be scared of diversity – hell, that's what makes New York a special place.