After we took the first look at the place we wound up buying, we noticed 243 West 120th Street and had our broker get us in even though it wasn't officially on the market. I really liked this building. We bid on it, but our bid wasn't accepted. It's now officially back on the market and the price has been reduced to $795K. If you're looking for a shell I think it's one of the most interesting townhouses on the market – and possibly one of the best investment properties – if you can get it for the right price.
There are two big things the building has going for it. First, location – it's practically in the heart of all the redevelopment and buzz that's happening in South Harlem. Walk across St. Nicholas Avenue and you're in the middle of everything that's hot and trendy in Harlem – Nectar wine bar, Moca Lounge, etc. And it's also close to the A,B,C and D trains at 125 – so it's just 1 stop from 59th Street.
The second thing the building has going for it are its development possibilities. You can (and probably should) invest a $1 million in this building, and when you're done it'll be worth more than you put into it (if you're smart about how you spend the money). Because most of the lot is within 100 feet of St. Nicholas Ave, it has a FAR just under 6 (which means you can expand the building far bigger than you can other townhouses that have a 3.44 FAR), and it's got a C1-4 commercial overlay, so you can have the option of a commercial tenant on the ground floor (but it has to be one that services the immediate neighborhood).
It's currently a 4 story building. If I were buying the building I'd push the back wall back to maximize square footage and add two partial floors on top. I'd configure it with three units. Because the building is only 17 feet wide you don't really want to make it more than 3 family. The basement would be one unit with the possibility of a commercial tenant. The parlor floor could be a two bedroom apartment, and the top two existing floors plus the two floors I'd add would be a large quadraplex. You could step back each of the additional floors and allow for outdoor terraces making the quadraplex an incredible space with tremendous outdoor space…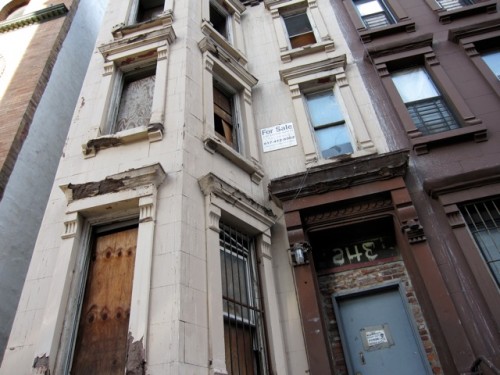 In the picture above you can see that there is an alley along the west side of the building. There are a number of existing windows in that wall. The rules about lot line windows apply, but it's a great to have windows in your bathrooms and a wall you can exhaust vents out of.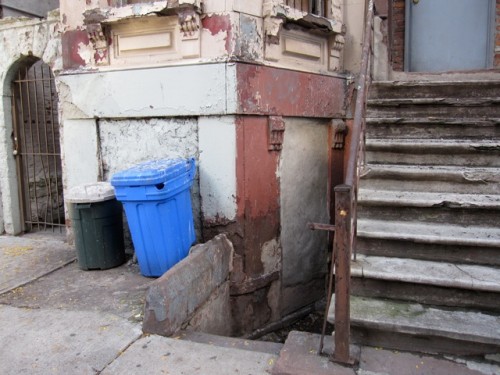 As you can see the façade and the stoop need a lot of work. But as you move inside the original floors and a some original details are still intact…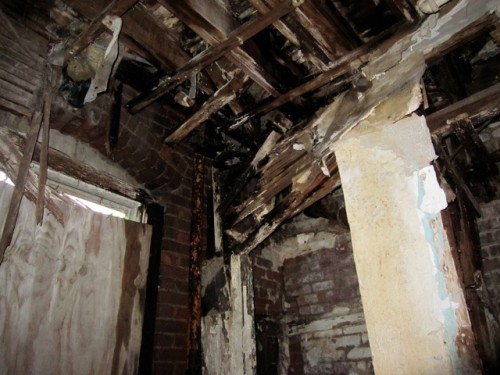 (click on any image to see a bigger version of it)
I have to say going through the building was a bit unsettling. There were clothes and sleeping bags left over from when homeless used to live in the building. The staircase was a bit rickety, and there was a dead cat in the basement. But all of those things are easy to fix.
While you can buy this building and not expand it beyond it's current 3,400 sq. ft. it's best if you plan on making the building substantially larger. The construction will be pretty expensive given that you'll want to add two floors and push the rear wall back, and you may need to reinforce the foundation to support the additional floors and you might want to lower the floor in the cellar – none of which comes cheap. But given the area, you can spend the money and have it come back to you.
In terms of price it's currently at $795K. Townhouses typically sell for around $200K off their asking prices, so I'd guess it'll sell for around $600K, maybe a bit higher. $600K would be $176/sq. ft. which is high for a shell, but the location and development possibilities explain why it's at the high end for a shell. Even if you spent $200/sq. ft. renovating it (no expansion) you'd still be under $400/sq. ft. which is supported by the comps. If you want to expand the building I think you'll find that cost effective as well.
I should also say something about the tax situation. The taxes are quite high – $9,664/year. Most townhouses pay about 1/3rd that amount. The current owner sorta messed up. He should have pulled a permit to convert it to 2-3 family, started construction, and gotten Department of Finance to reclassify the building and bring the taxes down. This is actually a good example of what I was talking about in the previous post – you don't want to convert this building to 4 (+) family because the taxes will remain high and the additional rental income may not cover the higher taxes. 2 or 3 family makes a lot more sense in this case. If you can get it reclassified as 2 or 3 family, then the assessed value will drop to $10,200 (6% of the market value of $170K), which is far lower than the current transitional assessed value of $72,990. The taxes on $10,200 would be $1,745 – nearly $8K less than what's being paid now. DOF will up the market value because you're doing work on the building, but you'll still pay substantially less than what's being paid now.
It's probably worth mentioning that we bid $575K on it back in November 2009 and it was rejected – we were told we weren't even close. I would have gone up to $600K and possibly a bit higher if we had access to the money, but the 'no' was so resounding we never went back with another bid. It wouldn't surprise me if the owner currently feels a bit firm at $795K, so it could take some negotiation to get the price you want…
Whether you get this building or another I recommend you have a real estate broker who's an aggressive negotiator. Norman Horowitz (the listing agent) is a good guy, but I wouldn't go to him directly since you will be wanting to negotiate a significant amount off the asking price. If you're looking for a tough negotiator who really works for her clients, we recommend Maria McCallister of Barak Realty – she's proven herself to us in both the sale of our apartment and the purchase of our townhouse.