It's sorta odd with our building – floors are getting built that we've never stood on before and we're just now starting to really understand what our place will be like. The contractor now has 3 of the 5 floors completed and he's racing to get up to the roof since water penetration is affecting some of the plywood subfloors he's already put down.
That means in addition to the floor for the basement rental apartment, the parlor floor is in as is the one above that – where our home office will be. Here's the parlor floor, first looking back. You can see the opening for the stairs. There will be a dining area just past that, and then the living room beyond that (see plans below).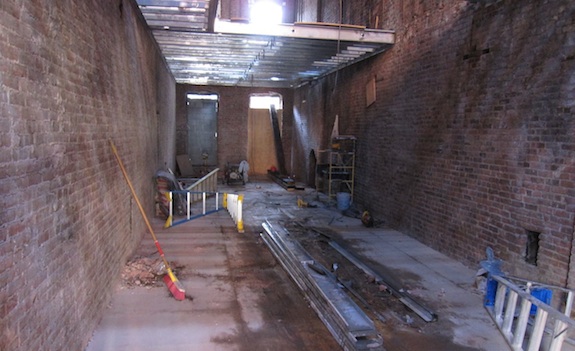 The rooms are a decent size, but not huge. We'll have about the same amount of entertaining space as we did in our old apartment.
And here's the parlor floor looking towards the front…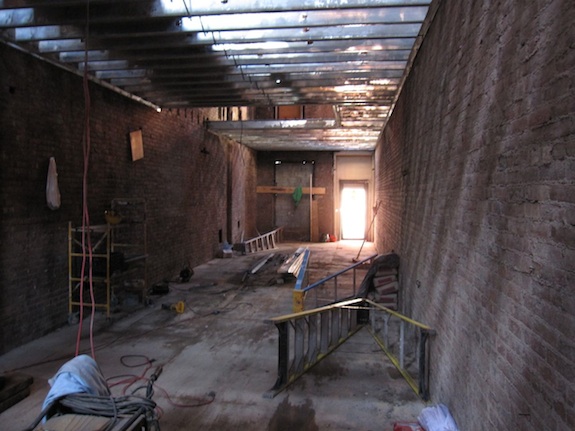 The area in front of the stairs will be the kitchen. Here are plans for the parlor floor so you can get an idea of how things will be laid out…

(Click to see bigger version of plan.)
The next floor up is also in. That floor will have my/our home office in the front and a spare bedroom in the rear. Here's a photo looking forward. The space just past the staircase will be the home office.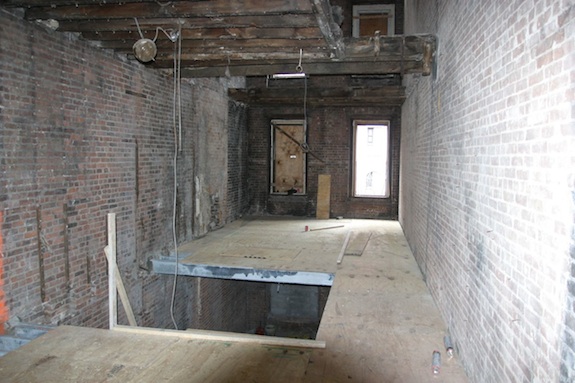 And here's a plan for that floor. In the back there will be a guest bedroom with a private(ish) bathroom and the laundry room… Since this version of the plans we've made the bedroom 6″ shorter and the bathroom 6″ longer in order to accommodate a proper soaking tub (an issue we were alerted to by Julia Angwin's blog – we were planning on the same tub).

I gotta say it's sorta cool to see it all coming together. I can really start visualizing space I'll be living in 8(?) months from now… For example, here's what the view from my/our home office will be…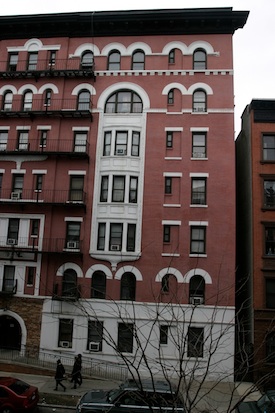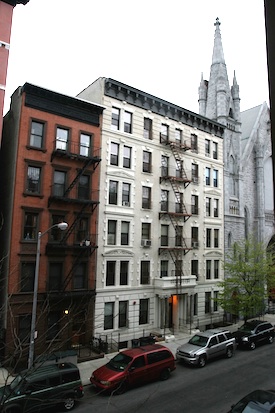 The red building with the white arched windows (157 West 123rd Street – a formerly City owned building that's gone coop, built in 1895) is what you see directly across the street when you go in the office door. But when I'm sitting at my desk I'll see some other buildings – the red brick condo (155 West 123 St), "The Shakespeare" (the white rental building – 151 West 123rd St), and The Greater Metropolitan Baptist Church (147 West 123rd St. – originally built in 1897 as the German-American St. Paul Lutheran Church of Harlem – designed in the Gothic style by architects Ernest W. Schneider and Harry Herter).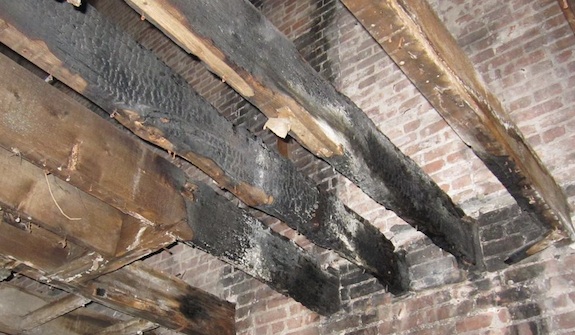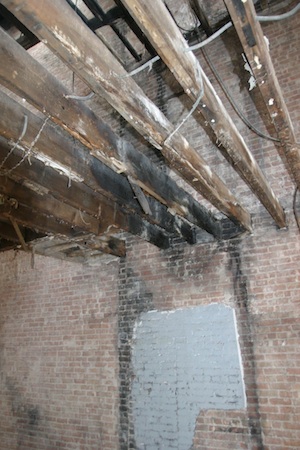 We've known there was a fire in the building at some point – we think it was in 1997 or 1998. We can now see where it started – there was apparently a kitchen on the floor above parlor. There was a cooking fire and it got into the ceiling and burned the floor joists. You can see what I'm talking about in the picture above and to the right. I'm pretty sure that was the end of it for our building. In the 12 years since then no one has lived in the building – until now 🙂