A number of things are progressing at the building…
They've put orange plastic netting in front of the windows so no one can fall out (good idea).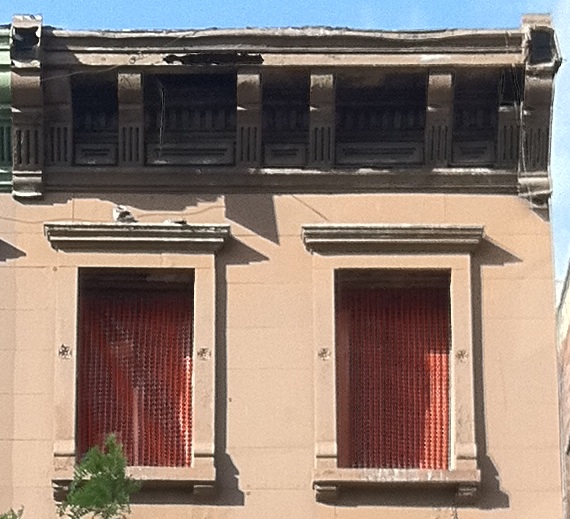 Have I mentioned previously that we're very happy that the wall supporting the cornice is in great shape? Apparently the cornice wall is the reason why a lot of cornices have to be ripped down. If the wall is bad, the cornice has to go. Having a good cornice wall drastically ups the chances of being able to just repair and keep our cornice.
They're starting to frame the interior walls…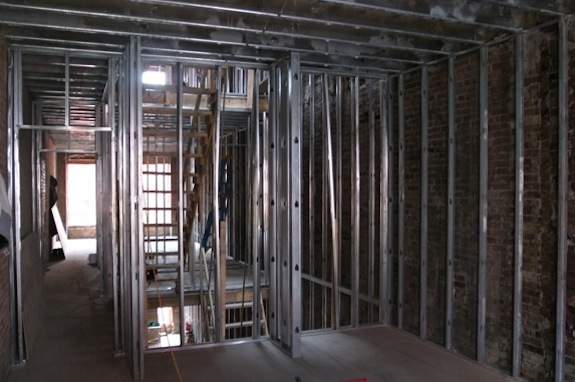 Now that the plumbing is done in the cellar, they're pouring the concrete floor. Technically pouring the floor is a "repair" since there was an old floor that was in poor condition.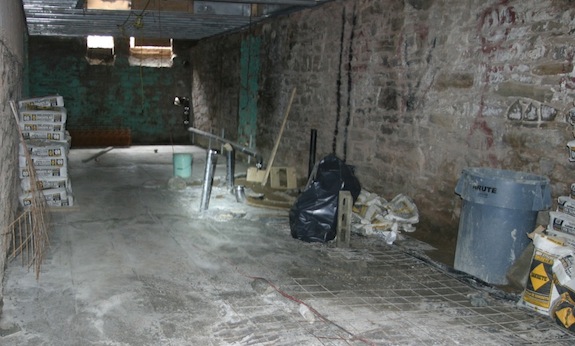 [Like the stick figure graffiti?]
The critical project at the moment is to raise the parapet walls 15″ to comply with current fire code.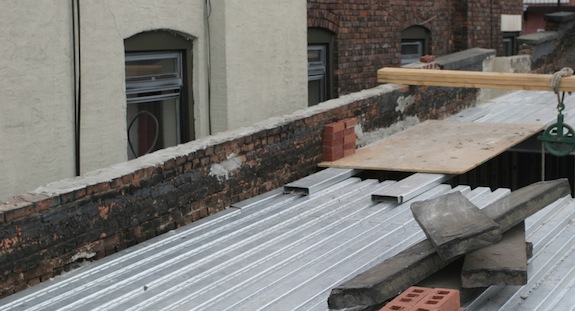 That's delaying building the bulkhead (since parts of the bulkhead rest on the parapet) and the delay with the bulkhead is delaying ordering windows (since we have to measure the bulkhead for the window order). And of course the house can't be properly closed up until the windows are in…
The historic preservation folks aren't happy about raising the parapet walls since it amounts to altering the structure of the building. But fire code trumps historic preservation, so they just have to accept it.
Speaking of things that can't get done before other things… The big problem right now is that ConEd won't re-establish gas and electrical service until after we re-establish water service. Apparently getting the water service reconnected is a huge hassle since we have to go through DEP. The water main subcontractor is trying to find loopholes to make the process faster. We were hoping the current connection would work, but only a tickle of water came out when they opened the valve. And yes, DEP does send you a water bill even when your property has no water service.
Also water related… the architect and the sprinkler engineer are trying to figure out the proper number of sprinkler heads in the building. We're very close to the limit of 30 heads above which a second connection to the water main is required.
We did have one victory on the bureaucratic front… We finally got the previous owner's old job for demolition closed out. They should have taken care of it years ago, but they didn't. Notice the "X Signed Off" in the screenshot below…

That's one of those things that has to happen before we can get our C of O. But more importantly we were in a race against time on it since the old owner's engineer had filed papers to get his name off the job. That could have potentially resulted in a(nother) stop work order.
So lots of little stuff is happening…