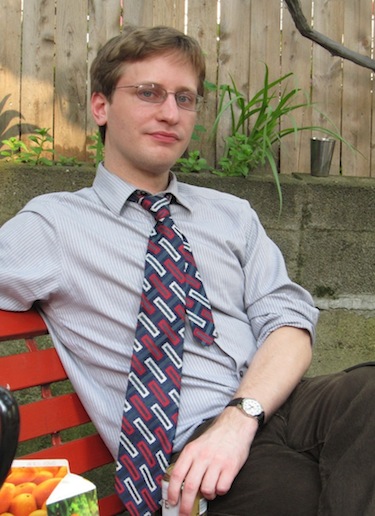 I spent yesterday day tripping to Cambridge Mass to see my one and only nephew Paul graduate from Harvard Law. We're all incredibly proud of him.
Next week he's moving to NYC (Brooklyn) to study for (& pass) the NY bar. It'll be great having him around – I haven't had any of my family in NYC before (other than Paul being here last summer).
Once he passes the bar he's going into public service law here in New York City. His primary interest is helping the poor with landlord/tenant issues.
Prior to going to Harvard Paul worked for People For The American Way. While there (among other things) he did blogging for RightWingWatch.org, which is ironic given that my parents (his grandparents) are fundamentalist Christians who have given heavily to Jerry Falwell and the Moral Majority. I used to hear Jerry Falwell specifically name People For The American Way as one of the enemy organizations that were working to undermine "traditional Christian values".
Needless to say I think Paul (my parents' only grandson) has managed to get "black sheep" status like I (their only son) have. I did it by majoring in "socialism" (aka Sociology) and by being gay. So it's somewhat fitting that the two black sheep of the family will both be living in Sodom & Gomorrah (aka New York City). Needless to say I'm baffled by my parents' belief system which can see evil in a guy with a Harvard Law degree who chooses to dedicate his life to serving the poor. All I can say is that success is the best revenge – though it's not really about revenge – they're just irrelevant to our lives – which IMHO is a fate worse than revenge when you're talking about someone's only son and only grandson.
Remarkably Harvard Law is incredibly aggressive in getting their graduates to do public service. The commencement brochure had a long list of the names of grads who had done more than 1,000 hours of pro bono service during their time at Harvard and a shorter list of those who had done more than 2,000 hours (one work year) of pro bono service. Paul was on the 1,000+ hours list.
Harvard goes even further in pushing their grads to do public service – they'll actually pay off their graduates' student loans if they work for a certain amount of time in public service (or pay a percentage if the graduates work less than the full amount). It's pretty amazing to think of an army of Harvard Law grads working for equality. Stuff like that can really change the world.
One humorous note was that Ruth Bader Ginsburg made an appearance at the graduation. She attended Harvard back in the late '50s, when Harvard Law was just starting to admit women. Family obligations required her to move to NYC after her 2nd year. At the time she asked Harvard to let her finish her 3rd year at Columbia and still get a Harvard degree. Harvard declined and she got a degree from Columbia instead. At this year's main commencement she was finally awarded the degree. Apparently Ginsburg still holds a bit of a grudge 'cause she insisted on also showing up at the Law School commencement and driving home the point that Harvard refused her the degree back in the '50s. Here she is talking at the Law School commencement (she's just a bit bigger than a dot – we were sitting towards the back).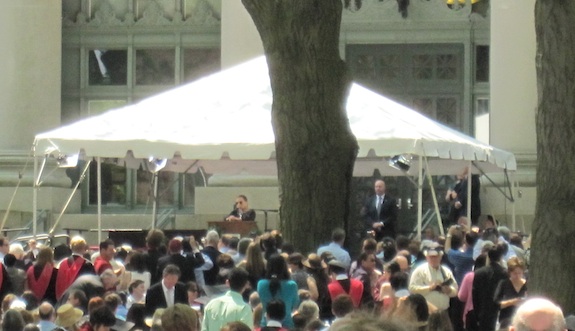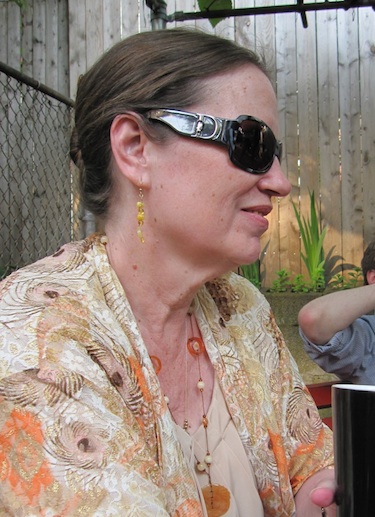 It was also great to see people from my family. The picture to the right is my sister Carol – Paul's proud mom. Paul's dad was there, his sisters Joi and Bessa were there, my sister Kathy was there, and Paul's uncle Roger and his family was also there in addition to several friends.