The New York Times has an interesting interactive multimedia presentation that shows which streets were opened at what time. I thought I'd do a few screenshots to show the development of Harlem over time…
Starting with 1812, you can see that the only road in Harlem was 8th Avenue (now known as Frederick Douglass Boulevard). However, this isn't surprising. In 1811 the New York Planning Commission said that "Harlem would not be developed for over a hundred years." At the time, population was dwindling in Harlem and only 91 families lived in the area as of 1820. Harlem back then was just a few big estates with one school and one church.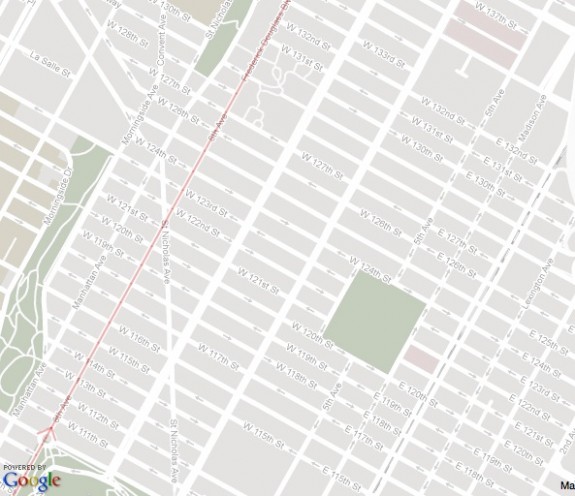 After FDB was opened not much of anything happened… By 1834 only a few other streets had been opened – 125th Street, 129th Street, and East Harlem saw 3rd Avenue open.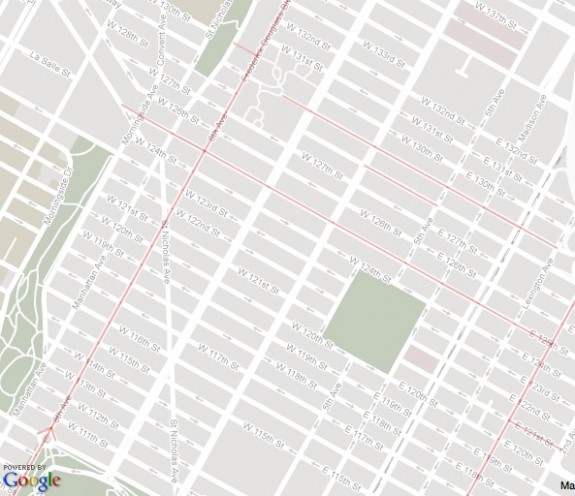 A bit more happened after 1834. By 1839 you can see that East Harlem was being fleshed out as were a few streets north of 125th. Finally, you also see that 7th Avenue (now known as Adam Clayton Powell Jr Boulevard) and 5th Avenue are opened, as was Mount Morris Park West.
The activity in East Harlem came about because the New York and Harlem Railroad (now known as Metro North) was incorporated in 1831 and their tracks went through East Harlem.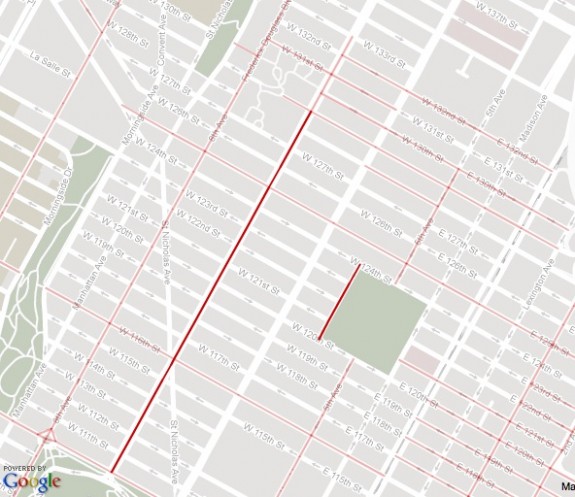 Over the next 8 years it seems nothing got done in Central Harlem… The 1847 street map is pretty much identical to the one from 1839…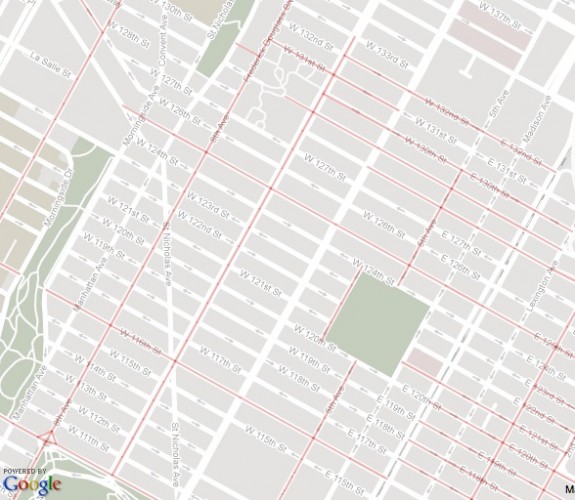 Harlem went into another decline after 1850 – perhaps not in the number of people, but in the quality of people as poor Irish squatters started moving in. By 1857 a little more was happening in Central Harlem, but not much. 119th Street was opened, as was a small portion of 120th Street, and a little bit of 117th over by Morningside Park.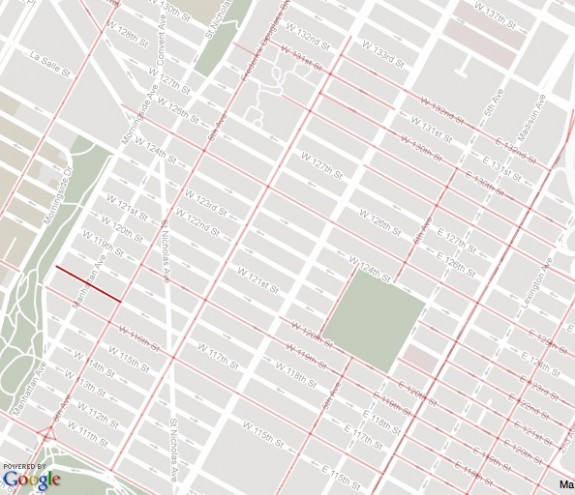 Another 7 years goes by and by 1864 Harlem was still in decline and not much was happening…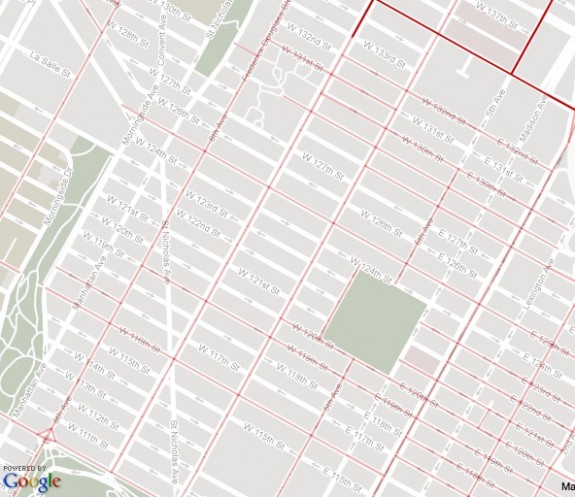 Then things start to change… Three years later, by 1867, 124th Street, 122nd Street and 115th Streets had been opened as had a number of smaller sections of streets.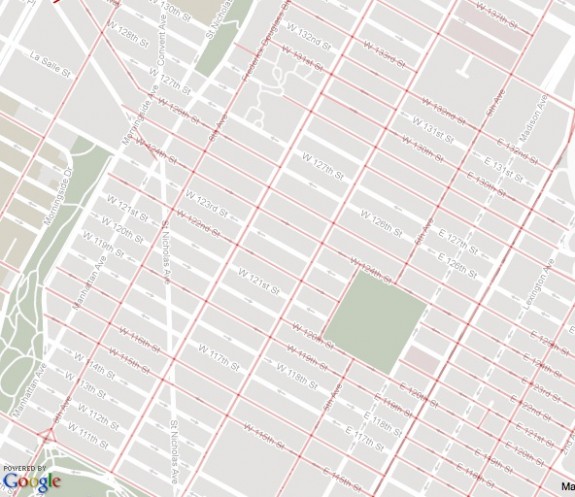 Then the pace of things really starts picking up. Two years later, in 1869, a whole host of streets (including our street – 123rd Street and St. Nicholas Avenue) are opened. The Harlem street grid we know today is finally getting fleshed out.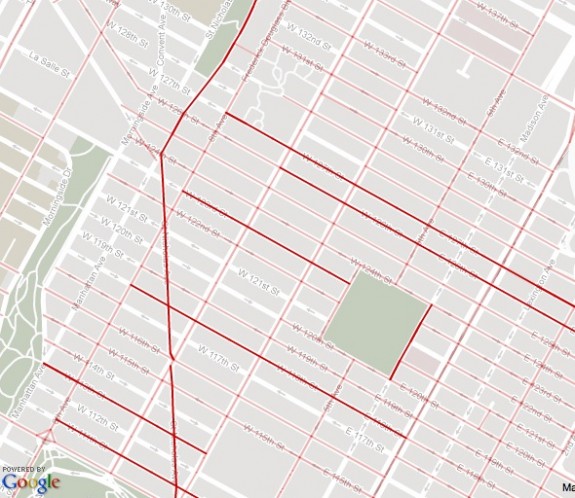 Most of the remaining streets are completed by 1872…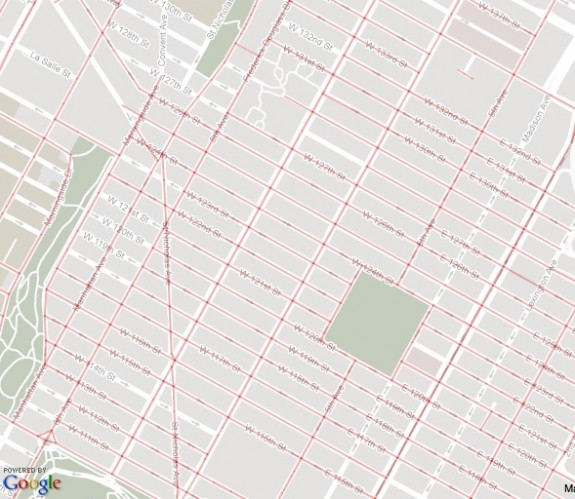 The street building in Harlem was most definitely a case of "if you build it, they will come". It took the streets being built to get the railroads to come. In 1880 an elevated railroad came to Harlem. And once the railroads were there most of the building started in earnest as real estate speculators tried to cash in on the newly accessible area. The mansard roof townhouses on our street were built that year. Our place (and it's siblings) were built in 1884. And most of our block was built out by 1890 with a couple of large apartment buildings being completed by 1895.
By 1887 the little blocks over by Morningside Park were completed as was Madison Avenue north of 120th Street.