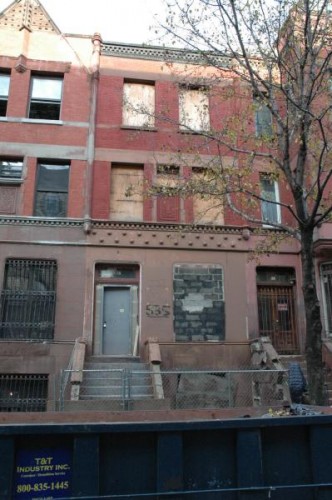 I think someone just got a pretty good deal on a Harlem townhouse shell… 535 West 152nd Street just sold for $490K. While the number may seem like it's inline with other shell prices, apparently the place has 6,290 sq. ft. despite the fact that it's just 16 2/3 feet wide and just 4 stories. That's almost double the square footage of many Harlem townhouses. The place has an extension that stretches back 90 feet. So given the +/- 5 foot set back in the front – that's nearly 100% lot coverage (though I'm sure there's some sort of side yard).
At 6,290 sq. ft. the buyer bought the place at $78/sq. ft. – which is an incredible price. I'm not sure exactly what the condition was inside. The issue is that 6,290 is 566 sq. ft. over the max allowed square footage of 5,728. If it's in really bad shape it's possible that DOB might not allow the new owner to build back to restore the building to the original 6,290 sq. ft. Still, even at 5,728 sq. ft. they paid $86/sq. ft. – which is still very low.
The reason why this place went for such a reasonable price was because the seller was realistic about the place's value. The seller was the same developer we purchased our townhouse from – TPE Townhouses Harlem (TPE is part of Tahl Propp – a big Harlem landlord). This was possibly the last of about a dozen townhouse shells they were selling. They weren't giving away the townhouses, but they knew to sell a dozen shells you gotta take the best offer – even if it seems low.
Just to put this building in perspective… It's outside the landmark district, and not all that close to subways – it's a 6 minute walk to the 1 train at 157, 7 minutes to the C train at 155, and 8 minutes to the A/B/C/D trains at 145. The block it's on is also mostly apartment buildings – not the charming tree-lined brownstone blocks you find elsewhere in Harlem. So it's sorta lacking on location.
So there are great deals out there still. Now that I've got my real estate license and have access to all the listing databases it's interesting to see what's on the market. There are some interesting opportunities out there – but as always price continues to be an issue, as is matching the building to the particular needs of the buyer…