It's been a busy couple of weeks and lots of progress has been made, but there's not a whole lot of pictures to show for it…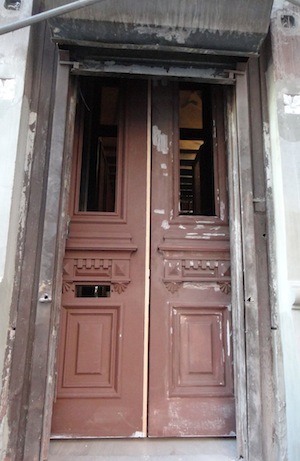 The plumber's been busy replacing/repairing the damage done by the thieves. The electrician has been finalizing the wiring, putting in the rough-ins for recessed lights, etc. The contractors' guys have been finishing off the front façade and working on the carpentry around the windows. They also installed the front doors – though work still needs to be done on them (see pic to the side). The security guys started putting in the alarm system.
There's also been a lot of activity finalizing quotes from subs. We found a closed cell foam specialist from Connecticut who came in much lower than the NYC-based insulation sub. We've nailed down most of the details with the iron work sub – and really like their solution for the security gates – it'll look much more authentic than what we had planned – they're going to hand fabricate gates out of wavy thin bars rather than use pre-cast panels.
Hopefully we'll have pictures of a completed façade soon (though the stoop is still on the to-do list). If things stay on track, insulation will go in the first week of December. After that it's all downhill – the walls will get closed in right after the insulation then it's "just" painting, floors, tiling, trim work, and final fixtures. It feels like it really could get done sometime in January – though we'll have to wait until about March when it gets warm again to finish off the stoop – but that sorta has to be done last so the workers traipsing in and out of the house don't destroy the finish on the stair treads.
We also went to Ikea this past weekend and purchased the kitchens before their 20% sale ended (saved over $2,000), and went to Brooklyn and saw our favorite appliance guy (Irv @ Drimmers) and got all the appliances figured out.
It's all finally falling into place… It feels good to see everything coming together.  🙂   I just can't wait for it to be done – the whole process is rather exhausting…