The other day the contractor leveled some of the floors in preparation for laying wood floors. Because the subfloors went in before the roof went on they were exposed to a lot and had delaminated a bit here and there, etc. They replaced the worst parts, but where the subfloor was in generally decent shape they just scraped off the top delaminated bits and then put a floor leveling mixture in areas that weren't quite level (picture below).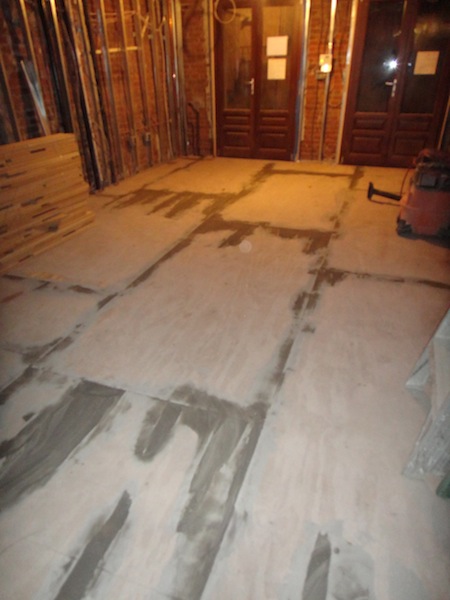 Today, the wood floor subcontractor started laying floors…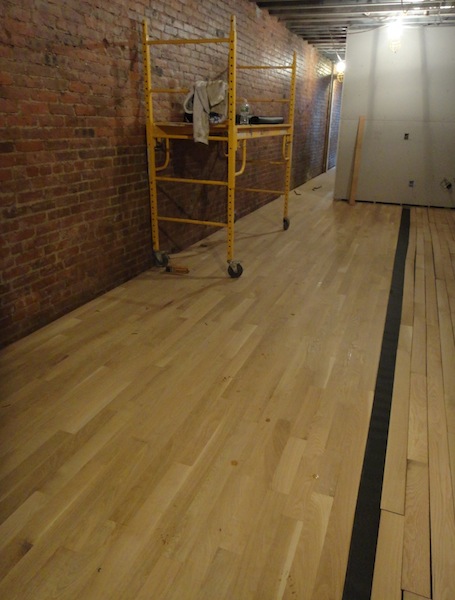 In the picture above the dark line is tar paper that's put under the wood to keep it from rubbing against the subfloor and squeaking. To the left of the dark line is wood that's been nailed down. To the right is wood they've organized for nailing down next.
Initially we were going to lay the floors in the other direction – width-wise across the building like this…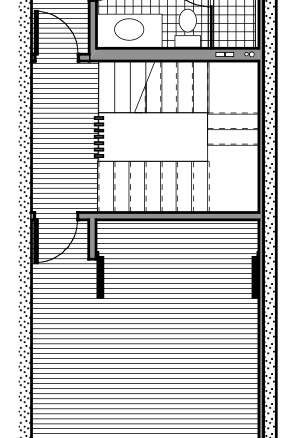 We figured that would make the rooms look wider and hence more square. But what we realized was that there's an inherent flex to the subfloors and the floors would be a lot more solid if the wood flooring ran perpendicular to the joists rather than parallel, so we went with the more traditional length-wise floors – even though the end result will be a bit more bowling alley-ish than we had wanted.
The flooring sub-contractor is starting in the rental unit, then he'll do the top floor in our unit. Those two areas are using the same type of wood – 3″ select grade flat cut white oak. In the rest of our unit we'll use a nicer wood – 3″ select grade rift and quarter sawn white oak. But honestly, even the flat cut wood looks pretty good…