Things are gradually taking shape – the staircase has been primed, so it's pretty close to it's final color. The steel needs to be painted, and the side panels need to be put in, but we're starting to get a sense for the light that the bulkhead brings into the house. We opted for big windows in a bulkhead rather than the more traditional skylight because it should give more light in the winter and less in the summer.
Here's a picture looking up, showing the bulkhead windows…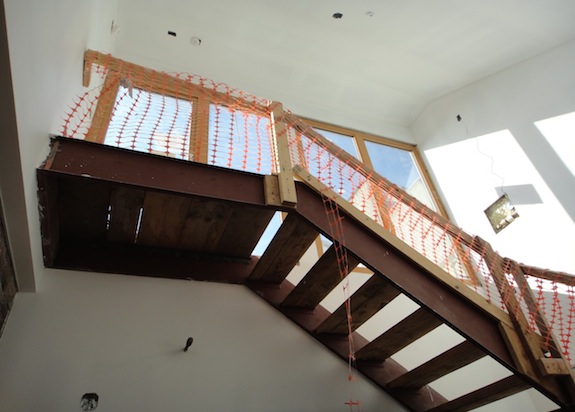 On a sunny winter day the light is really bright right at the top. On the opposite wall there's the clerestory window into Dan's "gallery" / "clean studio"…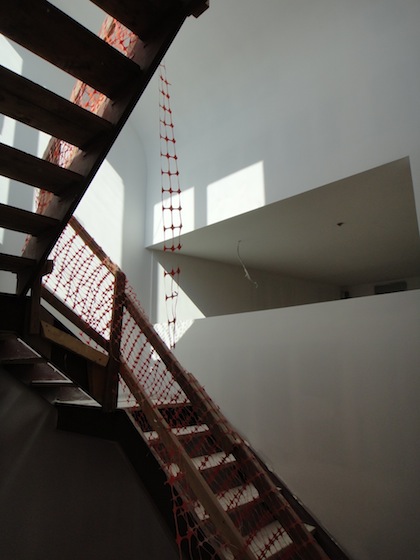 It looks really dark below that flight of stairs, but actually it really isn't… It's just a bit of a photographic trick since the direct light is so bright it makes other areas look dark by comparison. As you can see below, there's plenty of natural light one flight down where there's a clerestory window into the den / TV room on our master bedroom floor…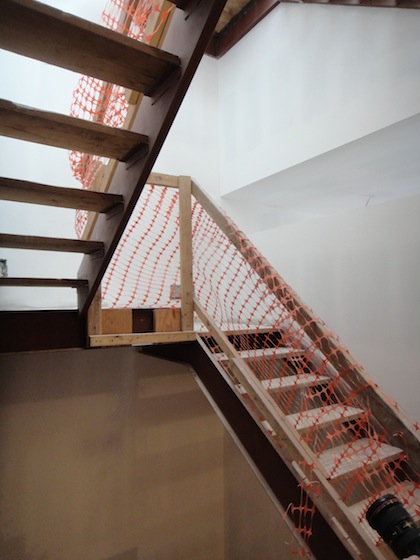 It's only below that point that the light bulbs are brighter than natural daylight. [All of those pictures were taken within a few minutes of each other.]
Of course, the light will change when we put in the plexi panels on the sides of the stairs. We'll either do a milk-white plexi or a frosted plexi – either one will block a lot of the direct light and make the light that gets through more diffuse.
I gotta say, I really like the whole clerestory-over-a-closet detail in the den. I wouldn't want it everywhere, but it's interesting. Here's a couple pictures…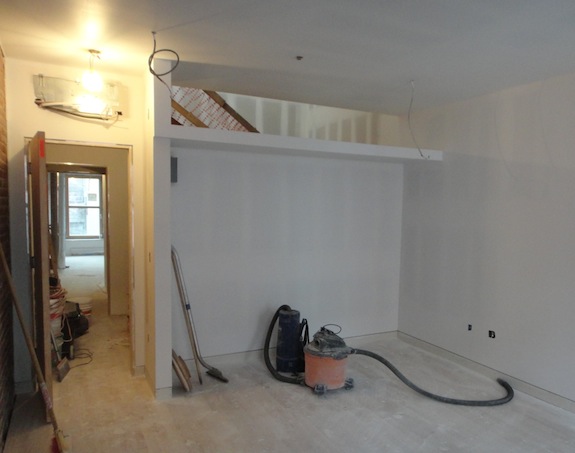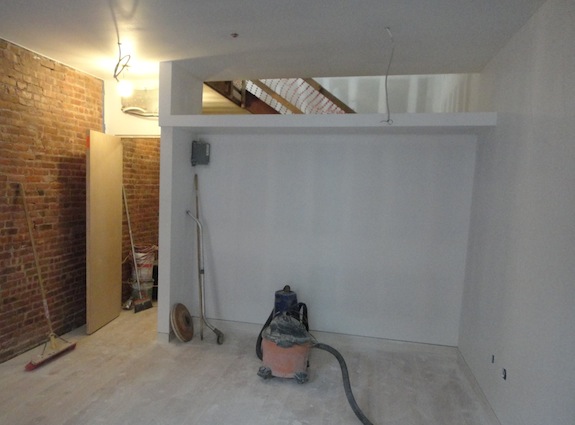 Those pictures were taken a different day (the stairwell isn't primed yet in those pictures) – and it was later in the day when there was less light coming down the stairwell. In person the clerestory window has more depth to it, which you can only sorta get from the pictures.
One thing we noticed a few months ago is that on summer mornings, when sun hits the front of the house, light goes from the den into the stairwell – opposite of what we expected. But we'll need to wait a few months to see that happen again 🙂
And, in case you're wondering, we'll be putting wire glass (fire rated) fixed-pane windows into those openings.
Today they're putting the first of two coats of ceiling white on the ceilings. And they've started tiling the bathrooms – I'll do a post on that soon…