The last week or so there have been a lot of little things getting done… It's feeling more and more complete…
The railings are being installed for our staircase…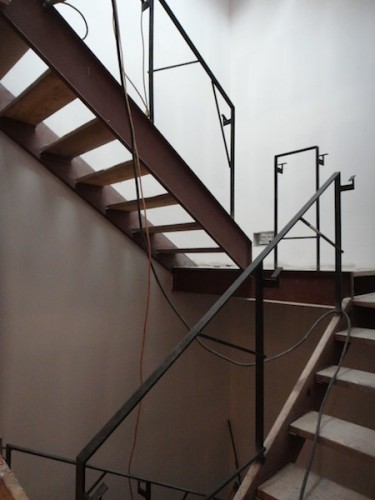 All the steel will be painted white, and there will be milk white plexi panels mounted on those frames and wood handrails. The railings are a bit shaky because they're so thin. We're hoping the plexi and handrails will stiffen things up a bit.
One of my favorite features in the house is the laundry chute from the master bedroom into the laundry room.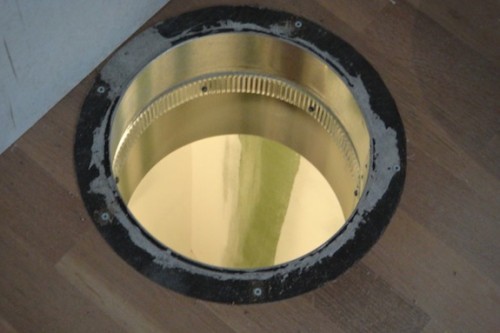 It's funny to find a hole in the floor exciting, but it's pretty cool (as is the whole concept of a laundry room – I've never had in-unit laundry before).
And a bunch of electrical stuff has taken shape…
The lights are on the front of the building…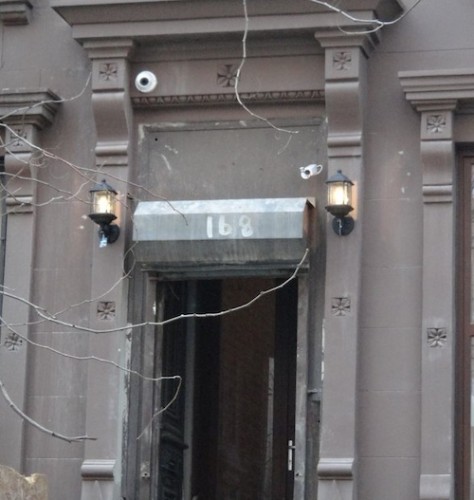 We're not sure whether we like those lights or not – they were inexpensive – we'll change them later if we decide we want something better.
The track lights are mostly in and the lights are being put on the tracks…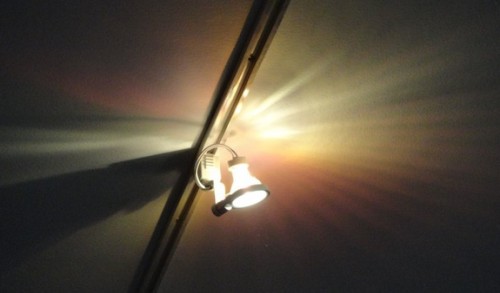 We like how minimal they are – the big part of the lens is just a little bigger than a quarter – so it's pretty tiny.
And the smoke detectors have been installed, but the little protective plastic bags sorta defeat the whole point of detecting smoke…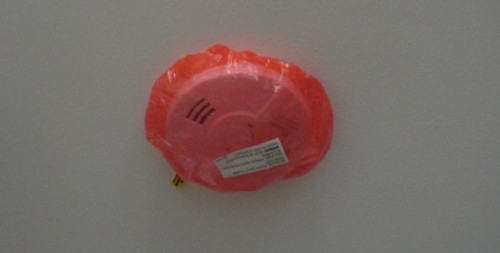 The thing I'm not looking forward to is that NYC code requires all the smoke detectors to go off when one of them goes off. When Dan burns something on the stove it's going to be LOUD. But on the good side, they're all hardwired – so no dead batteries to worry about.
And the last of the bathrooms has been tiled (the master bathroom)…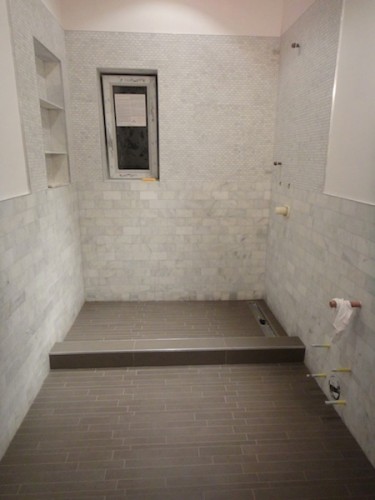 That took one of the workers 3 weeks to tile… The guy is slow, but he's an absolute perfectionist so it's flawless when you look at it close up. The same guy is now skim coating some of the walls (like the walls in the bathroom above).
Hopefully in the next week some of the plumbing fixtures will start getting installed and there will be a big push on painting and finishing up the floors.
Today we went to Ikea to buy closets, but when we got there we hated them. They're not nearly as well made as Ikea's kitchens. The closet solutions at Container Store are about 50% more – so we're not sure what we'll do – maybe just have the contractor make what we originally planned.