Dan and I have been looking at a lot of townhouses now that we're in contract and scheduled to close on our apartment (knock wood). Picking the townhouse is difficult in part because there are so many choices and you don't want to make the wrong move in such an uncertain market.
We have two leading candidates. It started with one leading candidate that Dan sorta talked me into, but the more I considered it the more I liked it. I'm not going to give out addresses, but I'll describe it generally…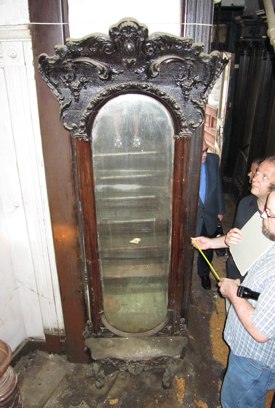 Simply put – it's a wreck. You walk in the front door and your hit with the smell of piss and shit. Turns out a "caretaker" lived there and let the house fall down around him, and didn't bother to walk his German Shepherd. As a result the place needs almost a complete gut. We love the plaster walls and ceilings – we'll keep those and just skim coat them – but all the floors have to be ripped out to get rid of the smell. We'll also need to replace the baseboards. The bathrooms need to be ripped out and completely redone. And it's very close to some of the best blocks in Harlem, but the particular block it's on is a bit sketchy/ghetto (though it's improving). So lots of complications.
But when it's done we'll have a great little house with all the space we need (3450 sq. ft. plus a cellar) including a rental apartment on the ground floor to offset costs. And total net cost is about $250 more per month than we're paying now. The pic to the left is some of the original detail we'd want to save/restore…
So we started bidding on that one, but just as a matter of due diligence we kept looking at other places and considering our options…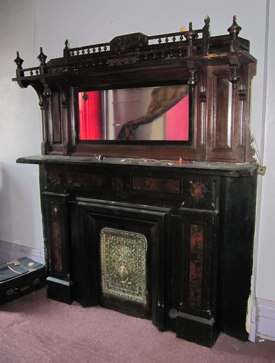 That's when we found one we instantly fell in love with. It's been owned by the same West Indian family for 60 years. The family wasn't rich by any stretch of the imagination, but it was clear they loved the house and took care of it. All the original woodwork is there – much of it is painted over, but there's hardly a scratch on it. Oh – and the house is MASSIVE. It's a 5 story townhouse, which is a story taller than usual. And the ceiling heights are really tall – 12 1/2 foot ceilings on the parlor floor, 10 1/2 foot ceilings on the other floors. It's a 20 footer – so it's 4 foot wider than the wreck which also means more square footage – 5400 sq. ft. plus a cellar. The general neighborhood isn't as good, but the immediate block is much better in general.
There are some problems with the house. The biggest is the next door neighbor. Someone bought the house, now has a $2M mortgage on it after fully renovating it, but then mysteriously never rented it out. It's now vacant, completely looted and being used for drug deals. They've stolen the air conditioning units off the roof and when they went to steal the copper plumbing a couple weeks ago they managed to open a water main and flood that house and the three houses adjoining it (including the one we're interested in)… We're seriously worried that fire is coming next and don't really want to have a burned out building next to the one we buy. But it's such a great house otherwise we're still seriously considering it…
Here's my current list of pros and cons for each house…
The Wreck
Pros
Will have a better renovation when we're done
Closer to a really good neighborhood
Racially mixed neighborhood / less hostility
Don't need roommates to afford it – just the tenant for the ground floor apartment
Good subway access (2 stops from 59th Street)
Cons
By the time we're done we'll have invested $275/sq. ft. which is high compared to the other townhouse
The block is sketchy
We'll need an interim apartment while renovations are underway
The Big Townhouse
Pros
Square footage = value
Higher profit potential (possibly much higher)
It's grand and impressive
More intact original detail (just painted over)
Great subways access (express trains for east and west sides of Manhattan)
Cons
Really bad next door neighbor
Either need to keep renovations very minimal (not as nice) or need roommates (in addition to a tenant for the ground floor apartment)
Building is settling in some places (but otherwise quite solid)
Some renovations are more difficult because we're not tearing out as much (insulating, wiring, etc.)
High heating and cooling costs
Extremely high taxes until we get a new C of O for 1 or 2 units (currently a 14 unit building legally) – adds $20K/year in taxes
Generally more of a financial risk (but also more financial reward in the end)
So there's no perfect decision. The smaller wreck is generally a safer bet. We'll invest less money so it's not as much of a financial burden. But we really love the big one and feel like it's worth all the risks.
On top of everything else the sellers of the wreck are desperate for us to buy (both sellers are estates) and have come down to our target price for the place. We sorta stopped bidding after we saw the big townhouse and they kept coming back with lower and lower numbers. If we bought it we'd be getting a genuinely good deal compared to the other comps out there, but ultimately the big townhouse is the better deal in the long run because square footage = money.
Decisions, decisions, decisions…