In our hunt for a townhouse we looked at 30 different places. A few of them were far more memorable than the others. One of the memorable ones was 642 West 158th Street, which we saw in August of 2009.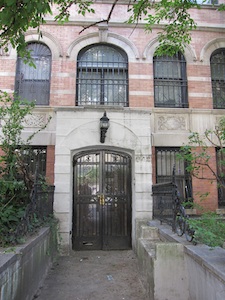 If you've ever driven up the West Side Highway and gotten off in the 150s, you drove past it – it's on the block just as you get off the highway.
Well, it sold January 21st for $700,000. It had been on the market since June of 2009. It's original asking price was $1.1M, which had been dropped to $895K – so the buyer negotiated $200K off the asking.
It's a nice wide townhouse – 18 2/3rd feet wide. Including the solarium extension and the room under it, the house has roughly 3,800 square feet, so it sold for about $185/sq. ft.
The house was memorable because it had been completely rehabbed at one point – probably in the late 70s or early 80s and made into the dream house for a playboy. There was a dance floor, red satin curtains, an overly opulent swan faucet in the parlor bathroom, cedar lined closets, and so on. In it's time it was an over the top "party house" renovation. As we walked through it you could almost envision the parties, the lines of coke, and the sex in the bedrooms upstairs. The house definitely left an impression…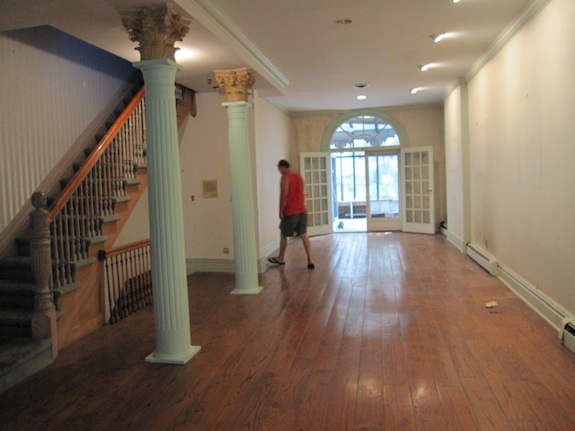 On the upside, while it needed a major renovation, what it needed was largely just cosmetic – but we're talking major cosmetic work. There was also some cracks in the front façade which might indicate structural issues, and the rear solarium was leaking and there was a pretty serious mold problem because of it. But all in all, the house was solid and probably had newish electrical and plumbing.
Besides the taste issue, on the downside was location… The only subway close to it is the 1 train. There's lots of traffic passing in front of the house off the Westside Highway – so it's not a cute tree-lined brownstone block. The neighborhood isn't as good as some others, etc.
BUT – with just a little work the house was completely livable if you can deal with the decor. So this is another (just north of Harlem) Washington Heights townhouse that's selling at a pretty economical price. I'd guess it would cost about $150/sq. ft. ($570K) to renovate the place properly, so the total cost is under $1.3M and under $350/sq. ft. But you could spend less and have a perfectly nice townhouse for under $1M. So there are still good deals available if you need space and can only afford to spend under a million.