The "store front" came off our building yesterday and we were pleased/amused to see the painted sign for The Happy Game Room that was visible in the 1980 tax photo. Our place has a commercial overlay, so it's legal to run businesses out of the bottom two floors. Around 1980 the business that was in there was The Happy Game Room. At that time the neighborhood was going downhill quickly, but our building had an owner who seemed to care about the building. I'm not sure what all went on in The Happy Game Room, but it's sorta fun that the sign is still there…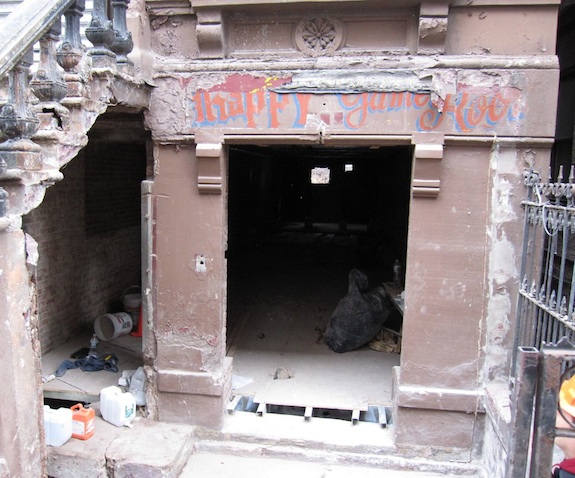 And no, we're not restoring/keeping the sign. We don't want to have people knocking on our tenants' door wanting to play cards – lol.
More than anything else, I'm just happy the store front is gone and it's starting to look like a normal brownstone again. We're going to have french doors in the opening you see in the picture above, not a window like most brownstones. There are two entrances under the stoop, and the 2 foot wide entrance under the stoop into the rental apartment isn't up to code (which requires 3 feet of width). BUT the good part is we can get to the cellar without having to go through the rental apartment.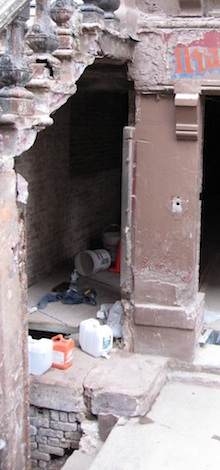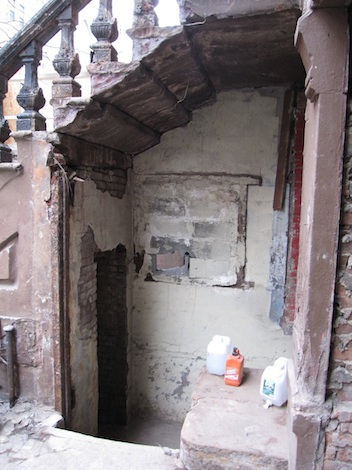 In the photos above you can see how there's a narrow walkway around the column into the apartment, and then wider stairs down into the cellar. That's unusual for Harlem brownstones – usually there's just the entrance into the apartment.
The blocked up opening you see above right will be reopened and a proper grille put in – more or less as it was originally.