The general rule you always hear is you can never put vinyl windows in a historic building – they just won't be approved. Well, we managed to get them approved – at least in a limited way…
For starters nearly all our windows will be "all wood" – what you've heard about no vinyl windows in historic buildings is generally true. The vinyl windows that got approved are 1) in shower areas, and 2) on a wall that's on a narrow alleyway and not generally visible. We made the argument that putting a wood window in a shower was a bad idea – that plastic windows are much more appropriate since they won't be affected by the moisture and shower spray. The fact that they're not visible was also another significant contributing factor in their approval.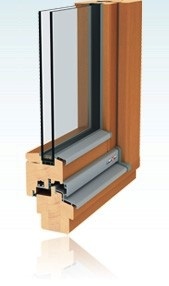 We even got exceptions with our "all wood" windows… First, the windows we're using have protective metal trim on the most vulnerable parts of the window (see image to the right). Even that small amount of metal on a window makes historic preservationists nervous. Usually no cladding is allowed. But we were given an exception for that because 1) there are no original windows – so it won't stand out as different than something that's original, and 2) the metal will increase the lifespan of the window – and historic preservationists like things to last a long time. However, to get the exemption for the metal on the windows we needed to have the metal color matched to the wood so it won't stand out.
It's also worth mentioning that we're getting away with not putting in double hung windows (yet another exception to general wisdom about windows in historic buildings). We're going to have tilt-n-turn windows (they can open completely like a casement window or tilt in at the top). To get that exception we had to have true dividers in the glass so, from the outside of the building, it looks like a double hung window. That's a big thing to give up for me – I really wanted huge panes of glass.
Now a caveat to all of this is that we are not landmarked by the City. We did not have to go through review by LPC (Landmarks Preservation Commission). Instead, we were reviewed by the New York State Historic Preservation Office and by the National Park Service.
What this shows is that historic preservationists can be flexible. There can be a give and take and if you satisfy their most important concerns you can "get away with" more than you might expect – especially when they're dealing with National Park Service guidelines rather than LPC rules.