No Roof…
Last Friday the contractor took off the roof. It had been pretty badly damaged in a fire nearly 15 years ago. It's sorta amazing it was still more or less in one piece.
Having the roof off was a curious thing… it was a bit like having a private deck on the top floor of the building…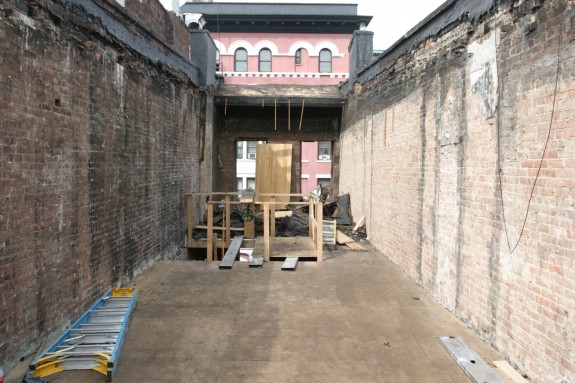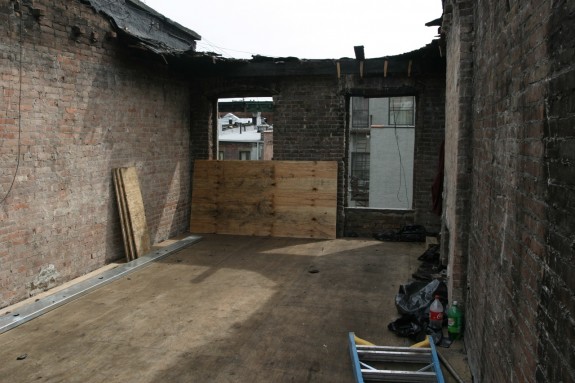 Once again, nice big windows – 🙂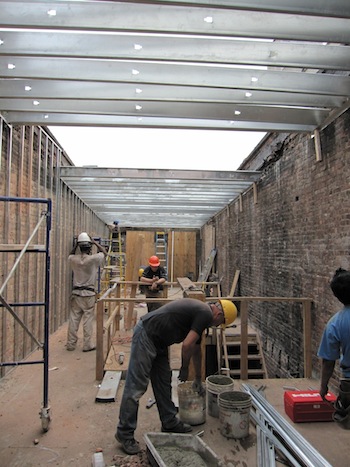 They've started putting in the rafters for the roof. It's going a little slowly because the bricks in the parapet aren't in as good condition as the ones lower down in the wall.
Hopefully by the end of the week I can get up and walk on our "roof deck". I put the ladder up on the top floor at one point and tried to see if I could see the Midtown skyline – not quite, but the roof deck will be 10′ higher. I'm sort of obsessing – wondering if the townhouse behind us will block our view. I'll know soon enough.
More DOB Issues…
In other news, we passed our first plumbing inspection by default – the inspector didn't show up. Apparently that's pretty common – the inspectors focus on inspecting the work of problem plumbers or unknown plumbers and don't worry so much about well-known plumbers who always pass inspections. That means we can now pour the concrete for our cellar floor.
Also DOB related is that our Post Amendment Approval (PAA) meeting was canceled at the last minute today. I'm guessing the plan examiner was out sick. That wouldn't be a big deal except that we've been trying since mid-February to get the appointment and now it's delayed another two weeks – to 3 months after we first requested it.
And here's one gratuitous picture I thought was sorta cool…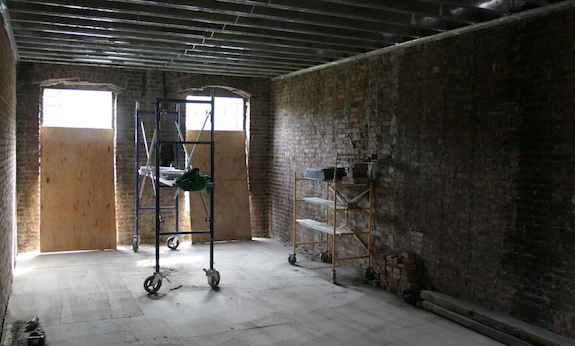 The mason stands on those rolling scaffolds to do brick work between the joists.