The roof, while far from done, got put up Friday – well enough to stand on at least…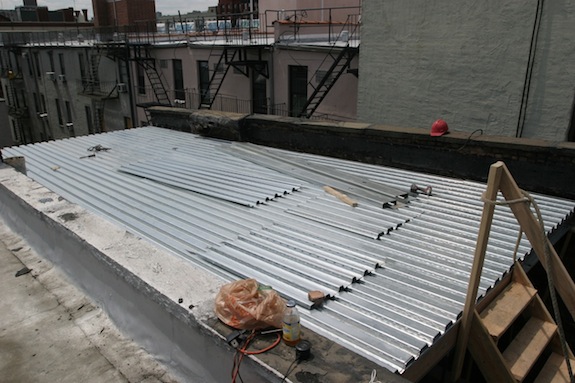 The next thing we have to figure out is whether the slope of the roof will be uncomfortable as a deck. It changes by about 7 inches every 10 feet. We could do three level areas with one step between each, or we could live with the slope. We went to Home Depot this afternoon and got some plastic lawn chairs and plan on sitting up there this weekend to see whether it bothers us. (Anyone want to join us for a beer on the roof?) If we want to do three level areas we'll need to raise the railings a bit to compensate for the additional height.
The roof lets us get a peek at our view. While we've stood on the roof of the apartment building next door, we've never actually seen the view from our own roof until today. It's a story lower than the apartment building, and the view isn't quite as good – it's a bit obstructed…

(Click picture to see bigger version).
We can see midtown a bit. Citicorp is visible, and from the right angle the top of Empire State is visible, but much of the Midtown view is obstructed by the apartment buildings on Adam Clayton Powell Jr. Blvd. And being Harlem it's off in the distance anyway. Here's a blow up of the best part of the view…

(Click for bigger version).
I gotta say though… The fact that our view is so precarious makes me want the boundaries of the Mount Morris Park Landmark District expanded so our neighbors to the south can't build up and block our view. Thing is, even if they're landmarked they could still build up a little and block things for us – by adding a bulkhead like we're doing…
Honestly though, the most interesting thing on the horizon we see when we turn around and look across and down the block a bit at The Greater Metropolitan Baptist Church (originally a German Lutheran church)…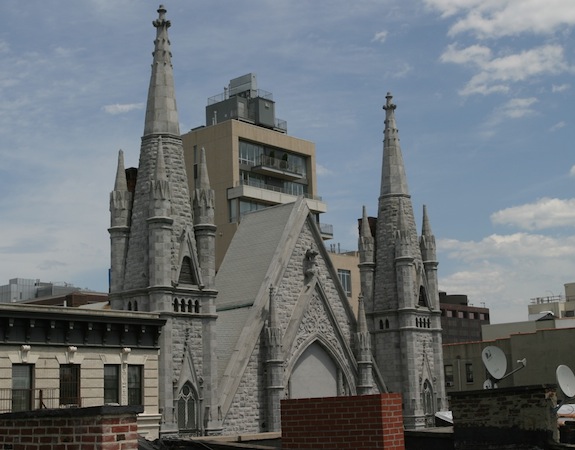 The nicest part of the roof deck is that it's less of a fish bowl than the back yard. There's a bit more privacy than the back yard 'cause it can be seen by fewer windows…