Electricity!!
At LONG last, a full 8 months after we first requested electrical service, ConEd is finally installing electric in the building today. And it almost didn't happen today… Alternate side of the street parking was suspended today. I parked over the critical manhole, but then someone parked in front of me – so the ConEd truck couldn't be right next to the manhole. Apparently some ConEd crews will refuse to work if the truck can't be next to the manhole (since things get stolen out of the trucks), but the guys who came today just dealt with it.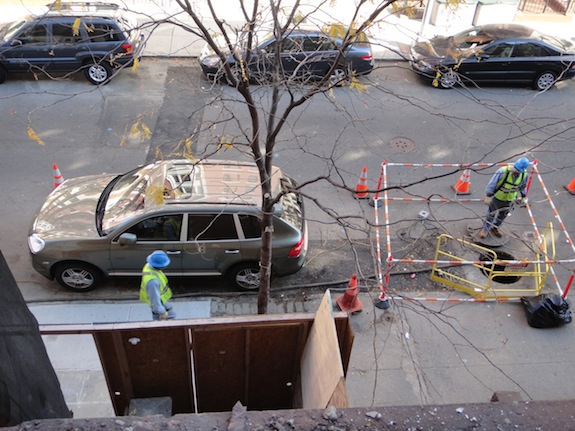 It probably didn't hurt that the obstructing car was a Porsche Cayenne. Maybe they thought good cars = less crime…
I'm just SO HAPPY we're finally getting electricity. Having a generator running all the time is expensive, noisy and fumy. And most importantly, now we can get security up and running (so we can stop sleeping there) and it should help the workers work more quickly.
A/C Units
Speaking of things electrical… A/C condensers have been installed on the roof…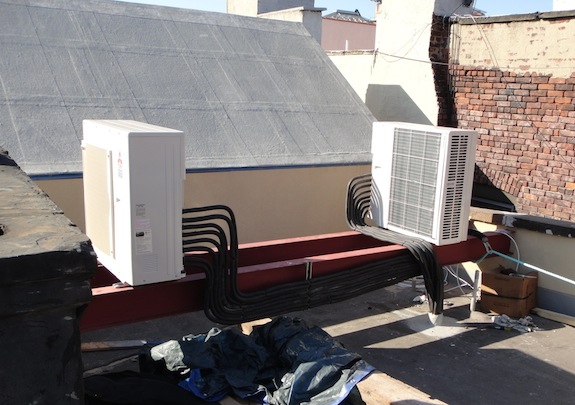 I woke up a little worried this morning. I was expecting 3 condensers and realized only two were installed. We were supposed to have two smaller higher efficiency (18 SEER) units and one big lower efficiency (16 SEER) unit. Turns out Mitsubishi has upgraded the lower efficiency units so they are also 18 SEER now, so we can get away with two of the larger ones.
In case you're not familiar with mini split systems, each of those condensers powers 4 room units. So we've basically got a zoned A/C system where each room is a zone. It's a much simpler system than a forced air system – and more efficient. There will be another condenser for the 3 units in the rental apartment – but it will be located in the garden.
One rule we won't be complying with is that A/C condensers have to be 8+ feet from the lot line. Given that we've got a 15 foot lot, there's no feasible way to comply with that rule.
Then there's the matter of FDNY access. They need a ladder up and over the bulkhead. Because the dunnage is a bit high, the ladder will need to extend over the dunnage. Then on top of that they need 6 feet clear. The supply lines for the condensers will probably have to be modified to get a full 6 foot clear.
The A/C guys are also installing the mounting locations inside the house for the room units, but there's less to say about that…
The Front Façade
The front façade has been more difficult than expected, but it's finally heading in the right direction – just before things get really cold and we can't do the work any more. They're having to recast some of the rosettes, but the finished product looks good…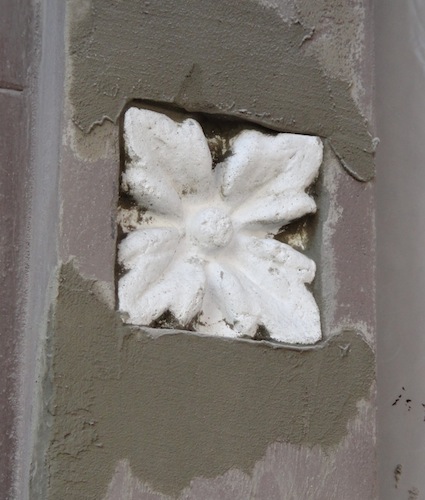 That's right after they put the recast rosette into the stone. They still need to clean things up a bit (clearly).