Dan and I are going to try and sell our apartment. Simply put we need more space. We both work from home and we have people coming in to work with us, and on top of that Dan needs an artist studio to do his artwork. That means we need at least 3 decent-sized bedrooms. We've also been thinking about getting a place upstate so if the new place had outdoor space it would mostly eliminate our desire for a place upstate.
Ideally we'd get a townhouse. Townhouses in Upper Manhattan are a much more speculative market that swings up and down a lot more than coop apartmentss. In the past two years townhouses in Upper Manhattan (in the lower end of the price range which we can consider) have lost about half their value. In comparison in our building the prime apartments (like ours) have lost 10% or less of their value, and smaller apartments have lost about 20% of their value. As a result, if we're ever going to be able to get off our wave onto the bigger townhouse wave, this is the time to do it. People think the New York real estate market will get worse by the end of the year, so cashing out now and buying in the fall is the optimal way to do things.
So we've been trying to determine which broker to go with and we're finding it's surprisingly difficult to find a broker with a good balance of what we need. For starters let me show you what we're working with – this is a picture of our kitchen…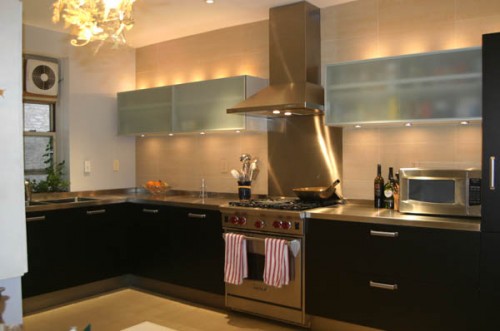 When we did our renovations in 2005/2006 we sorta went all out – Wolf range ($3,000), Sub Zero integrated fridge ($4,500), Poliform/Varenna cabinets from Italy ($22,000), stainless counter with Franke sinks welded in ($5,000+ – just the sinks were something like $1,500), a KWC faucet ($600), and so on… This is not an Ikea kitchen.
Mind you, we did a lot of the leg work ourselves so we probably didn't spend that much more than a hands-off person who did a "good" Ikea kitchen.  Still, there's a fair amount of value in our renovations.
What we're finding is that most of the agents just don't understand the renovations. One stood in the kitchen thought it was nice, but was more focused on problems like whether there was enough cabinet space (despite the fact that Dan's a great cook and has room for everything he needs), or the fact that some people might not like an eat in kitchen (looking at HG TV I thought everyone wanted eat-in / entertainment oriented kitchens). The more typical response is that they know the renovations are special, but they just can't put their finger on what it is about them that's special. Only one agent really seemed to get it, unfortunately he a junior agent and wasn't from one of the "power house" agencies.
What we want in an agent is 1) someone who "gets" the apartment and can explain/sell it to buyers and other brokers. 2) someone who can give the apartment a lot of exposure and bring in a lot of qualified buyers. That last point isn't easy in this market. It's a combination of advertising and connections.
We're really disappointed in what the brokers in the area offer. The two agencies who used to control the listings in our little neighborhood have a track record of exclusive listings and they just don't have the relationships or reputations to work well with other brokers – in our opinion that's deadly in this market. One in particular has listed/sold many of the high end apartments in the neighborhood, but the tactics that worked for them before aren't working so well anymore.
Then you have the power house brokers from big corporate agencies. They bring a lot of marketing muscle to the table but their agents are a bit of a mishmash – some are so busy you feel like they won't have time to concentrate on your listing, others only have experience with lower end listings (the bread and butter listing for the neighborhood), and none of them really seem to "get" our apartment. At best they know it's good, but can't quantify in words why it's good or how that translates into a price.
And lastly there's a quirky sorta scrappy agency where one of the agents does "get" the apartment and the other one (the more analytical of the two) comes close to getting it but so far has had problems putting it into words. At the moment they're the ones I'm most hopeful of, but the issue is whether they have the marketing muscle to get the word out there and get the exposure the listing will need. But to their credit they did just sell one of the prime apartments in the building for less than 10% off the high price for apartments like that, and they got the offer in 2-3 weeks after listing.
So we'll see, but so far none of the brokers is a clear winner.