Early last week we went to Ikea in Paramus. We were having fantasies that we'd like high end of Ikea well enough to live with it for 5-10 years before we replaced it with what we really wanted – a high-end European modular system. But we didn't see any Ikea kitchens we'd want to live with (we should have known that would be the case). We did find a great one for the rental unit, but nothing for us. On the way home from there we were driving past Poggenpohl so we stopped in. We know we can't afford a high end modular Euorpean kitchen, but we wondered if we could afford a basic one. All the stuff we liked at Poggenpohl was at the upper end of their price range and the rest of it didn't really resonate with us.
On Good Friday we headed over to the A&D building to do two things – 1) try to get inspiration and ideas for what we can and should be doing in terms of finishing details, and 2) to understand the price points. We started at Poliform since our old kitchen had been a Poliform kitchen. The Poliform showroom is now massive – takes up a whole floor – but everything was being ripped out and redone in preparation for a May relaunch of their showroom just before ICFF. Long story short Poliform blew us off and told us a few days later that they weren't going to bother to do a proposal for us because they expected prices to fluctuate before we would be buying (a completely lame excuse, IMHO).
We stopped at a number of other kitchen places but our favorite was Eggersmann – a German company that's only just started selling in the US. Their stuff was INCREDIBLE (take a look at their website), and the sales person who was helping us was not only nice and helpful, but she also knew her product backwards and forwards and so she was extremely informative. And kudos to them for being the first ones to get back to us with a proposal. And the proposal wasn't just a sales sheet – there was a whole 3D mockup… These guys are GOOD!
Here's what they came up with – realize this is just a first draft…
The ceiling height is wrong – it's 10 1/2 feet and they don't show the stairs and the doors will have glass panels in them, but it's great first shot…
As they should, the renderings got us wondering about the layout of our kitchen. For starters, notice the similarity of the layout with our old kitchen…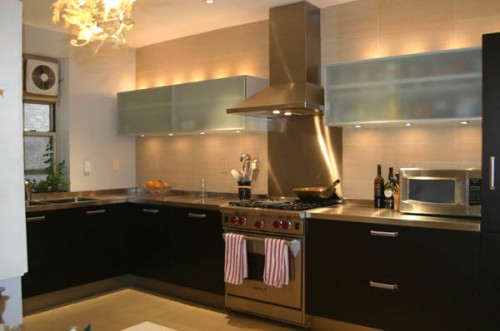 Both have a tall vertical (the fridge) to the left, then the range in the center and the sink off to the left. As much as we loved our old kitchen, we want something new… To that end we're thinking the sink or possibly a cooktop could go in the island to change things up.
The first rendering also made us realize that we don't really want the closet right inside the front door. It makes the space too narrow. So we're going to move it down where it's opposite the stairs and then put a long bench across from the kitchen and narrow the island and remove the stools. That will give a wider walkway with a lot more shoulder room, but we'll still have a place to sit to put on and take off  our shoes and a place guests can hang out while Dan's making dinner.
Unfortunately, while we love Eggersmann, we may not be able to afford them. The price they came back with was double what we paid for our Poliform kitchen 5 years ago. Even if we cut back on how much they do (not do the entry closet, etc.) their price may still not fit into our budget – we'll see… But if you're doing a renovation and like a modernist aesthetic, we highly recommend them – their stuff is possibly the best we've seen.
We're also having Siematic spec a "lower end" kitchen (by their standards). If that doesn't come in at a price we can afford and we can't afford Eggermann then we'll probably give up doing a European modular system and go with a "custom kitchen". The problem is local craftsman don't have the same abilities as the European factories. That means we have to be careful to design the kitchen in a way they can execute properly. That's a lot more work for us, but it is what it is…