I did a post a while back about how we got two violations, then they appeared as 'resolved' but the stop work order on which they were based was still in effect. Well, clearing that nightmare has been a VERY long, arduous, and inane process.
The short(ish) version was that the architect's expediter was told by someone at the DOB that we could not renew/extend the previous owner's approved plans to convert the building to 2 family – that that job had had completely expired and was dead. Well, that was wrong. During the 5 months plan review process no one at DOB told us that getting a second "Alt-1" would cause problems. Even when the plans were approved it didn't set off any alarm bells. No, DOB waited until we pulled permits and wanted to start work to give a FULL stop work order. We can't even put up a new construction fence when our current one is deemed a violation and 'unsafe'.
Then the fun began. If you look on the DOB website the violations literally have no explanation. Here are screenshots of them…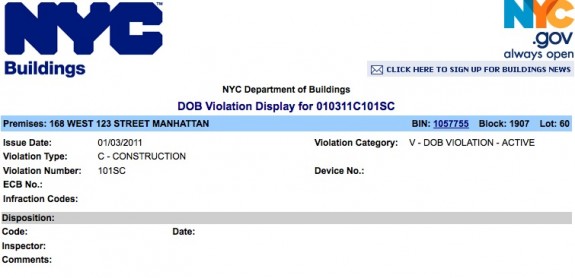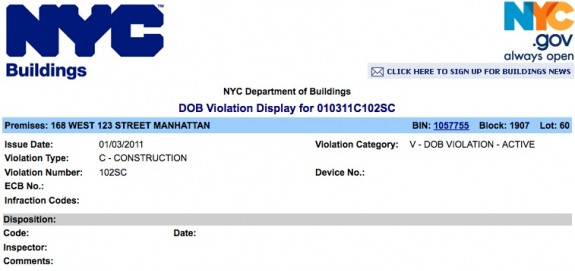 How do you deal with a violation when they won't tell you what's wrong? The papers they put on our building simply said "failure to provide information on job ###". What in in the ?@#$ does that mean? What information?
What the inspector should have put was that we failed to close the first job before starting the second job. The issue is that they need to do an inspection to know what was done under the first job so they know how to properly evaluate the second job. See? Put that way it all makes sense. The inspector could/should have put "failure to have final inspection of job ### before starting job ###." THAT would have made a total sense. I still think it would have been nice for someone at the DOB to know that the we should work under the first job number or at least warn us to close it before starting the 2nd job number.
Anyway, it took a while to figure out what the problem was (because the inspector didn't give us adequate information). We actually had to fire one expediter who couldn't figure it out and hire another one. The new expediter met with the borough commissioner to try to get an exemption but was unsuccessful. However she did get an inspection a few days later (instead of a few weeks later) – that was supposed to speed up the process. The inspector came, and then we had to wait over a week for him to file his report. Then we were told it was up to the borough commissioner to review the report and take care of things. We waited and waited and finally got impatient. Just when we were about to go see the borough commissioner ourselves our expediter went in and as of Tuesday the old job is formally withdrawn.
But, you guessed right… That's still not the end of it… Now the fact that the job is withdrawn has to be passed over to the construction unit who needs to dismiss the violations and lift the stop work order. That's supposed to be done by the end of the week. We'll see.
This is just ridiculous… Two and a half months to clear up something that never should have happened in the first place. Only the DOB is at fault here. They gave us the wrong information and then then never warned us of a problem despite seeing us several times over many months. You shouldn't be able to apply for a second Alt-1 until you've closed the first one. It shouldn't blow up right when you want to start construction – that's the absolute worst time for it to happen.
Who knows what else they haven't told us and how much time and money that will cost…
I gotta say I hate the DOB. If you look around Harlem and wonder why there are so many derelict buildings – they're part of the reason. They should be helping people like us, not making it so incredibly difficult. We're trying to do things by the book, but they keep changing the words on the page as we're reading it.
Hopefully it will get resolved this week and we'll be able to start construction first thing next week… Hopefully…