A couple days ago we went in for another Post Amendment Approval meeting (we were approved). As the plan examiner was stamping the plans he noticed the railing on our roof deck and told us they were no longer permitted by FDNY. We're OK (with DOB) because we're already approved and permits have been pulled and work started. But all new projects with roof deck railings have to get approved by FDNY before DOB will approve the plans.
Here's a railing from another townhouse, just so you know what I'm talking about…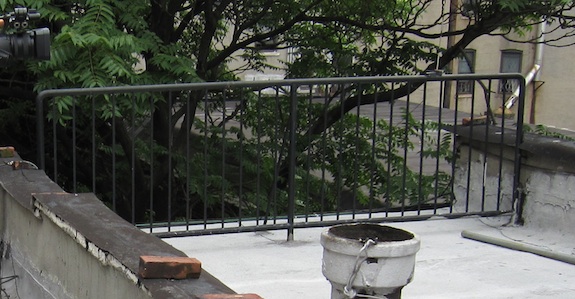 The problem is that firemen (in full gear) have grabbed hold of those railings and they've given way and the firemen have fallen. There are regulations about loads that the railings need to support, but enough railings don't meet the regulations that FDNY is now banning them completely.
What FDNY wants is a brick parapet wall. Because deck railings have to be higher than regular parapet walls I'm not sure whether they'd be OK with a railing on top of a brick parapet – somehow I suspect those would have all the same issues as full railings. That means FDNY really wants you to have brick parapet walls that are 42″ off your roof (so much for looking at the view when you're sitting on your roof deck). The plan examiner did mention that he's seen FDNY give variances for railings, but to get those variances people had to put a gate into the railing.
The supports for our railing will be fasten directly to the roof joists (rafters). But apparently that may not be enough to keep FDNY happy. So now we need to figure out whether we want to get the FDNY variance. DOB isn't requiring it, but it might become an issue when we go through our C of O inspection. Personally I understand where they're coming from, but having them change the rules after approval is frustrating.