Dan likes to buy art. In all truthfulness I like to buy art as well, but lately we've been trying to save our pennies to have money for the house. But we did just get some art framed…
Andy Warhol – Pasadena Art Museum Poster 1970
The most recognizable name amongst our newly framed art is Andy Warhol. As Warhols go this is a rather inexpensive piece… It's the "Brillo" poster from his museum show in 1970 at the Pasadena Museum of Art. Like a lot of Warhol's work, it's a screen print. Apparently it was made at Warhol's "Factory" and it's signed, so it's not "just a poster".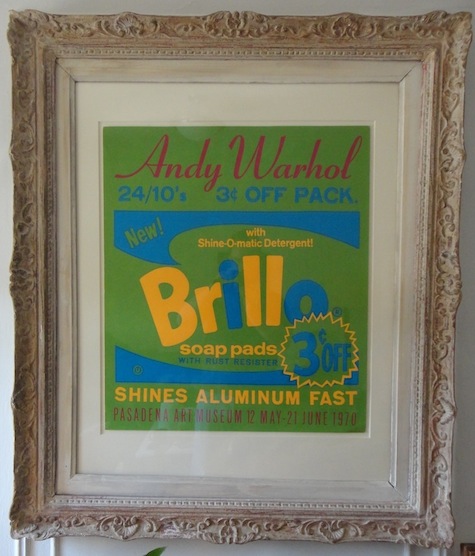 Dan and his friend John Serdula found the frame down in South Jersey in this barn filled with old frames. We need to get John to do a bit more restoration on the frame – it's a bit too rough for my liking. We like the contrast of new and old though. If we had put the poster in a contemporary frame it would have just looked like a poster. In an old 19th century French frame it has more character.
We've actually had the poster and the frame for a while now. It's just we finally finished the job and had it all put together.
Jockum Nordström – "House And Bugs" 2008
The next piece of art is one that Dan got me to cave in on and we bought it in the past year – it's by Jockum Nordström – "House And Bugs". David Zwirner Gallery had loaned it to a show John organized at Heskin Contemporary. This piece looks a lot better in person – the picture doesn't do it justice (probably the lighting)…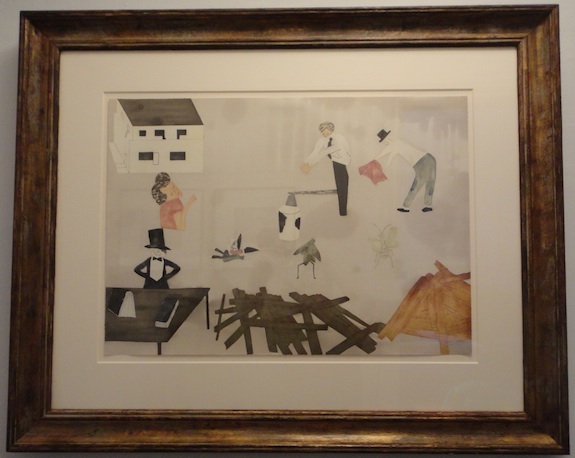 It is a print (edition of 50), but it's a really well done print. Apparently Nordström went off to learn print making and he made these prints himself. He's put out another round of prints since then that were "professionally" printed and apparently they're not nearly as nice.
Nordström's work, while contemporary, is rather folky. It goes really well with the old frame we put it in. The frame actually has a history of it's own. It used to be the frame for Gifford Beal's "The Albany Boat" (1915) which is owned by the Met. Here's a picture of that piece…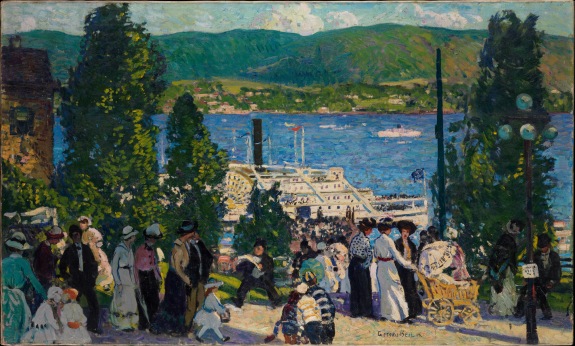 We had to cut down the frame slightly, but it still has tags on the back from the Met and from the LA County Museum of Art (from when it was on loan there).
We got the frame from Hudson City Antiques. John is good friends with the owners and he spotted the frame when they brought into their shop and said it would be perfect for the Nordström piece. John then did some restoration on it so now it looks pretty incredible (at least in person).
Sherry Kerlin – "The Bride of Christ" 2007
The last piece also has a John Serdula connection (as does much of our art)… The artist, Sherry Kerlin, is someone we met through John. She needed a website, so Dan designed and built a website for her and in exchange we got to pick out one of her pieces of art.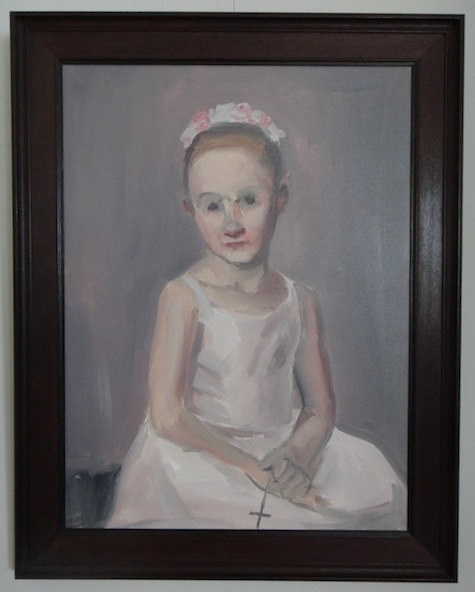 The image is of a little girl with a rosary on her first day of communion. We love it – the button eyes on it are a bit spooky (given the general innocence of the piece) – but it's what you expect of one of Sherry's pieces – she has a slightly sardonic view of the world around her.
And like the Nordström piece, we got the frame at Hudson City Antiques. If you're looking for old, historic frames you definitely should check them out. Not only that, but they're far more flexible than a regular framer. For example, we really wanted UV plexiglass for the Warhol and the Nordström, but the price his supplier was charging him was a bit crazy. So he let Dan find UV plexi cheaper online and have it shipped to his store – something most framers would never agree to. That saved us hundreds of dollars and will save the artwork from damage down the road (a lot of similar Warhol posters are pretty faded).
Wrap Up
So our theme at the moment seems to be contemporary art in old frames, but Dan was just remarking that he wants to mix it up and go back to new/contemporary frames when we next do framing.
Now we just need to finish the house so we have space to hang all the art… Our current rental is looking a bit over-crowded with art at the moment.