Our contractor took the week off this week (long story), so I figure I'd do a blog post I've been meaning to do for a while now… Whether really tall buildings are appropriate uptown.
Back in early May Quadriad proposed a set of 40(ish) story buildings for our old neighborhood – around 190 and Broadway. They'd literally tower over all the buildings around them. Here's what they were proposing… Phase 1 would be three towers built on top of the 191 Street IRT station (the 1 line)…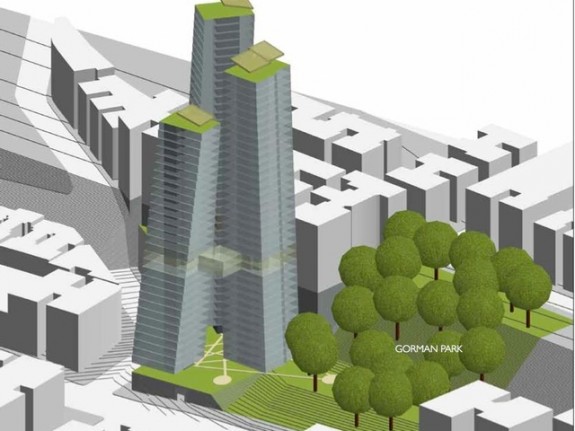 Phase 2 would knock down a funeral home across the street and put up a 4th building that's shorter…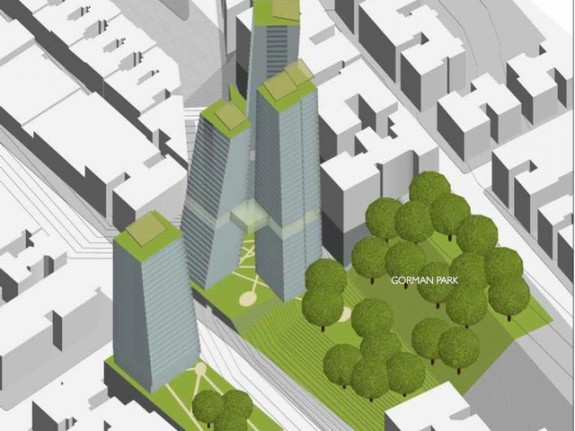 We got into a bit of a discussion with a friend of ours who lives quite near where these buildings will be built. She thinks they're a horrible idea, but Dan and I sorta like them. Our friend's argument is that they're inappropriate for the neighborhood. Nothing in Washington Heights is 40 stories. I think the highest is 20-some stories. She prefers the "as-of-right" option the developers have proposed, which looks like this…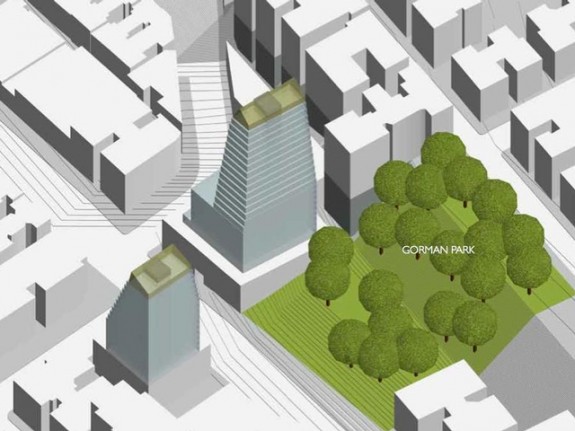 To which Dan and I say "eh…" It's just boring architecture.
Our friend's other argument is that luxury condos (or luxury rentals) are a bad idea – that Washington Heights should remain largely affordable housing. The irony is that she's one of those rare Manhattan Republicans. How a Republican can be opposed to the interests of developers beyond me – I thought that was one of the defining characteristics of Republicans in New York. The other thing is that the capitalist (Republican?) argument should be that more supply => demand is accommodated => lower prices. In other words, if you want Manhattan to still have affordable housing you need more units on the market to meet the demand since the more there is of something, the lower its price will be. Clearly there's not much vacant land in Manhattan – that means you need to build up.
Plus, all major development projects these days include affordable housing units. The bigger the project, the more affordable housing units you'll get. So if you want affordable housing in Manhattan you should be in favor of projects like this one.
I've also heard people say tall buildings uptown will overburden the transportation infrastructure. But the Quadriad site is literally on top of a subway stop and less than a 5 minute walk to another subway stop. We've got pretty good subway access uptown that's no where close to capacity. They could easily double the number of trains if they needed to, or extend the C train to 207. Transportation isn't really an issue.
So what this boils down to is aesthetics and zoning and perhaps historic preservation. I had an architectural design professor in college who said "if you break the rules you need to do something really special". Yes, the 40 story towers break zoning rules, but Dan and I think they're good enough to warrant the rules being broken.
That isn't always the case. For example Graceline Court (the silver and pink building in the picture below) stands out on the Harlem skyline, but it's just incredibly boring…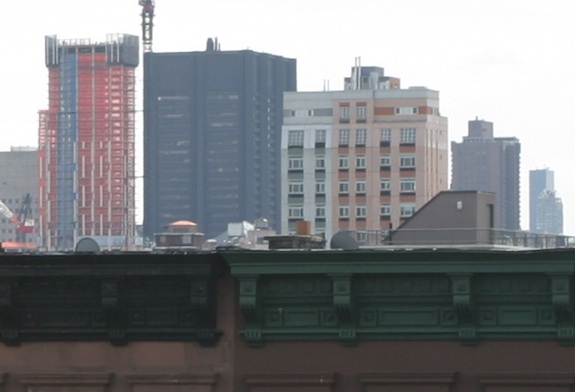 Harlem is generally zoned lower than Washington Heights, so this is potentially a bigger issue in Harlem than it is in Washington Heights. I'm actually very much in favor of tall buildings going up in Harlem – but I want them to be interesting to look at, and I don't want (too many) historically interesting buildings torn down in the process. Graceline Court is just dull – I want something better than that. I'd love it if they build a 40+ story building on the empty lot at 125 & Lenox where the rumor mill says a Hyatt (?) may be built.
So I say Go Tall Uptown (and make it interesting)… What does everyone else thing?