Before we started renovations we didn't figure out every detail, but we did figure out major themes. One reoccurring theme we wanted to have was Carrara marble. When you go through old townhouses you see a lot of Carrara so it seemed appropriate to use. Plus, it's one of those materials that can look completely modern/contemporary – so we could give a nod to what used to be there without being constrained by using literal historic design themes.
When we priced Carrara tile at the major tile shops here in the City (DalTile, Nemo, etc.), prices ranged from $11/sq. ft. to over $40/sq. ft. So we looked online and found CarraraMarbleTiles.com which had much lower prices. I was hesitant to buy from them since I didn't know the quality, but it turns out they're just over the GW Bridge in New Jersey in South Hackensack (their business name is Empire Natural Stone). We went and looked and found what we were looking for $7 to $15/sq. ft. In fact, what they were selling as Carrara tile seems more like what other stores sell as statuary marble – it's whiter than the Carrara at most places. [Statuary marble typically costs twice what Carrara costs.] I do recommend you go see what you're getting in person. What they were selling as statuary marble seemed more like quartz to us.
In the front entry (between the two sets of front doors) we'll have a basket weave pattern with Bardiglio marble accents (the gray dots and as a gray border all around). The basket weave is costing us $15/sq. ft. One of the big tile places quoted us a contractor price of $31/sq. ft.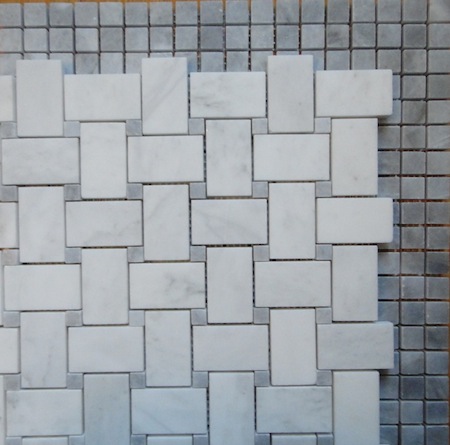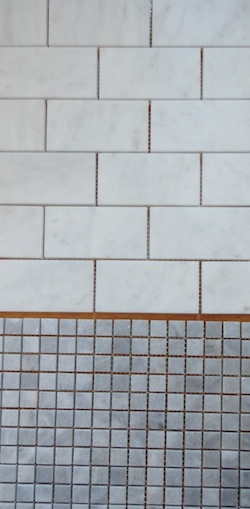 The 5/8″ Bardiglio mosaic ($13/sq. ft.) will be repeated on the floor of the parlor floor powder room (under the stairs) with 2″x4″ Carrara tiles in a brick pattern as a wainscoting on the walls ($10/sq. ft. – would be around $25/sq. ft. at most places).
The 2×4 Carrara will be used as the backsplash for the rental kitchen as well. There's just a sink and some counter space at that location. The messy cooking happens on the kitchen peninsula away from the marble.
We haven't figured out our kitchen backsplash yet – other than to know it's not going to be marble.
Going up a floor to the guest bathroom, we'll have a Carrara on the floor in a small hexagonal pattern ($13/sq. ft.). On the wall we'll have porcelain tile. We haven't nailed that down quite yet. We're thinking a light to medium brownish gray (or grayish brown) in a linear shape. The brown tile I show in the picture below is just the general direction we're headed – not the actual tile we've chosen.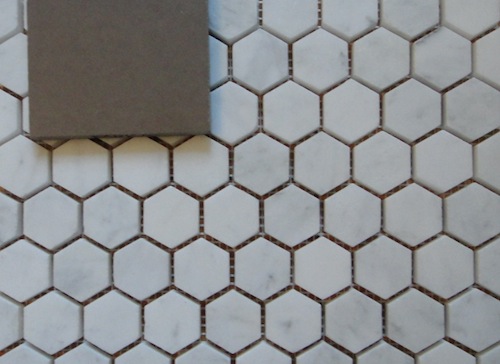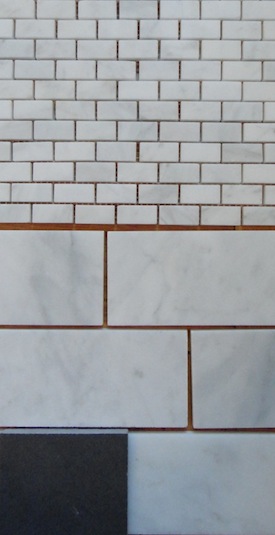 And lastly, in the master bathroom we'll have dark gray porcelain tile on the floor – probably in a plank format (the dark porcelain tile shown in the picture is just a general direction of where we're headed – not the actual tile), and then 3″x6″ Carrara subway tiles as wainscoting ($7/sq. ft. compared to a contractor's price of about $11/sq. ft. at the major tile places). In the shower, above the wainscoting we'll have Carrara "mini bricks" ($13/sq. ft.)
I figured out we saved about $3,500 on the Carrara compared to what we had budgeted. That more than pays for the tile we've decided to put in the rental cellar.
Now we just have to find a source for porcelain tile with good quality and price. Anyone have any suggestions? We're not finding anything that's better than the contractor prices at Nemo or DalTile…