A year or so the Mount Morris Park Community Improvement Association began work to try to get the blocks between Lenox and Adam Clayton Powell landmarked. Currently they're recognized by the National Register of Historic Places, but not by NYC's Landmark Preservation Committee.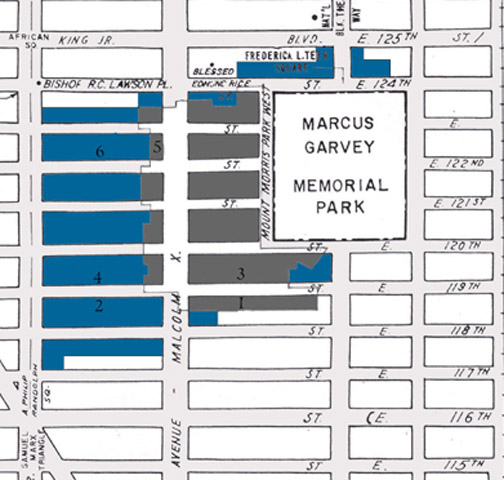 The gray area is the part that's landmarked, the blue area is on the National Register, but not landmarked – that's the part MMPCIA has been working to get landmarked.
Well, on our block it's a bit too late… Two buildings on the block are adding stories – something they wouldn't be allowed to do if they were landmarked. The two buildings are 127 West 123 and 136 West 123. I'm fine with 127 adding a floor, but I'm really disappointed to see 136 add a floor…
127 West 123rd Street
127 West 123rd Street is one of two old townhouses that are sandwiched between the two halves of the Windows on 123 condos. Windows on 123 maxes out the possible building height and sorta dwarfs the townhouses. So from my perspective it's not horrible that floors are added to the townhouses… Here's a photo right after they started adding the floor…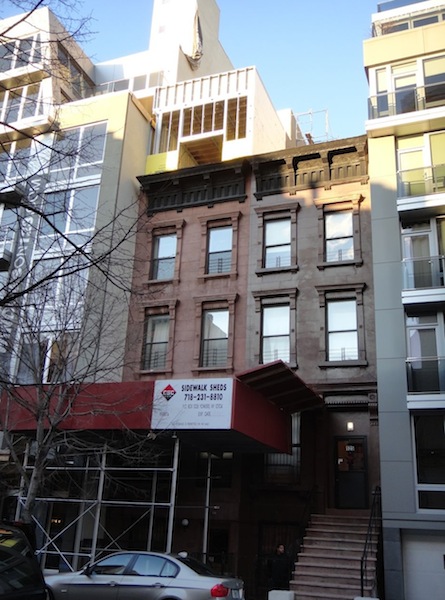 I wish they had set the extra floor back a little, but given what it's up against, it's not horrible… Here it is again as a 3D drawing…
Actually, I'm a little surprised 75′ is the max height on a 60′ wide street – but that is what it is…
136 West 123rd Street
In contrast to 127, 136 West 123rd Street is one of 16 continuous brownstones that have not been altered. Adding a floor to it is a much bigger deal since it breaks something that still has the potential to be pristine…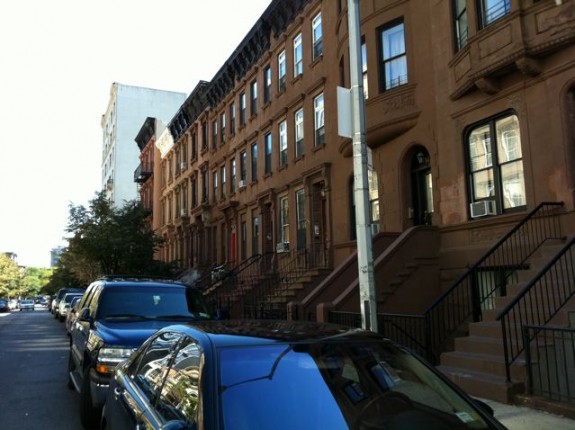 I'm really disappointed that the view you see above is going to be marred by an extra story on top of one of those buildings. Not only are they going up a floor, but they're pushing the back wall back to the maximum 65 feet with the minimum 30 foot rear yard…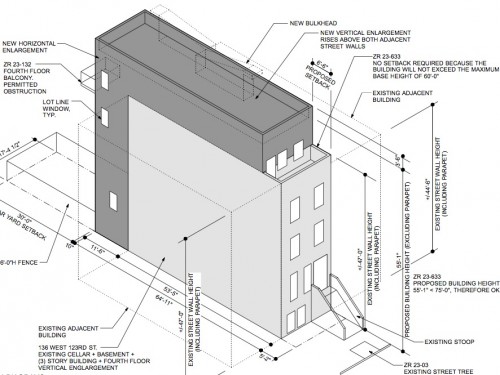 If we had been landmarked LPC could have mandated that the additional floor be set back far enough that it not be visible from the street. At least there's some set back (6′ 6″), but a 10 or 15 foot setback would have been so much nicer.
As sort of a side note, 136 W 123 was for many years the neighborhood hangout – mostly older (Belizian?) guys with who were pretty big into music. (We even bought a couple CDs off one of the guys – and they weren't bad). There used to be a social club in the ground floor which had it's ups and downs. The guy who lives behind them on 122nd Street still has a bullet hole in his window thanks to that club. When the club closed they just moved their socializing onto the stoop. They're generally good guys, but their hanging out got pretty loud. Just the other day one of the neighbors I "met" due to the RCN incident told me she got only 4 hours of sleep a night during the summer because they were so loud. So 136 being renovated will really change the block since it was one of the remaining centers of the old culture on the block.
Back when MMPCIA started their push to get the blocks between Lenox and ACP landmarked, I wasn't so keen on the idea. I still don't think landmarking is warranted for the north side of our street which already feels like it has three zilliion styles of architecture. But as I thought about it, the unbroken row of 16 brownstones on the south side of the street was worth protecting – but once 136 gets rehabbed, that purity will be gone. We can never go back to what it used to look like.
The architect seems like he's got it in him to do a decent job. I just hope his client is spending the money to execute a good design. If we're going to have a visible addition marring the view – please, just let it be fairly well designed.
UPDATE:
I went to see the Windows on 123 lofts yesterday and looking down I could see that there were already additional floors added to some of the brownstones on the south side of the street. Here you can see that 132 West 123 has an extra floor added already…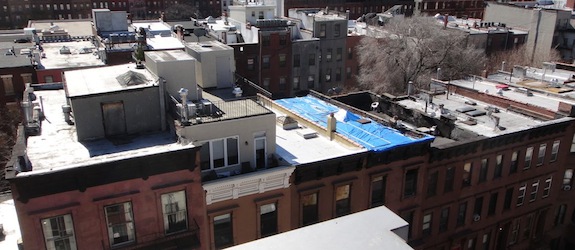 That's a rather large amount of "stuff" that was added and it's fairly close to the edge – yet it's not readily visible from the street, so I'm hopeful that the additional roof on 136 won't be visible either. [136 is the one two doors down with the blue tarp.]
152 West 123 also has an extra floor, but it's stepped back further and features a bigger/nicer roof deck off what I assume is the master bedroom…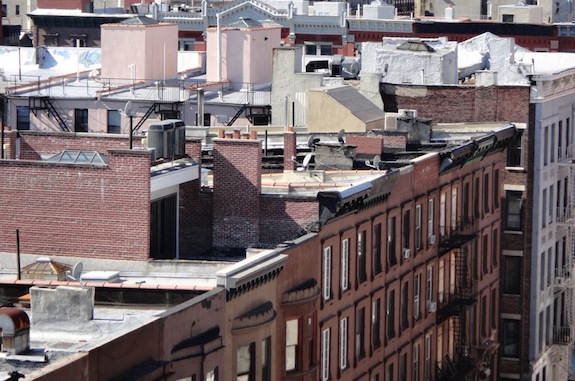 I just find it really odd that they had the money to add an extra floor, but not enough to restore their cornice.
[In the picture above you can see our bulkhead in the distance. It looks pretty small compared to everything else…]
So seeing that there are already several with extra roofs added, I'm far less worried about roofs being added – though I'm hoping none get added on 122 that would block our view 🙂