The floor guy stained the top floor today. We're using "5% white" Monocoat which looks a lot like an unfinished floor, but with hints of white in the grain.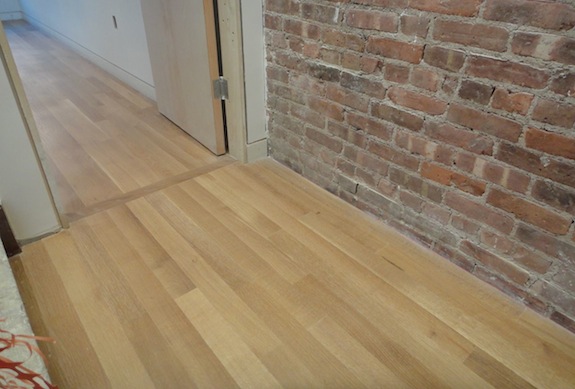 We're bucking the whole dark floor thing which has been popular the past 5+ years. We're noticing more and more design magazines and new condos featuring light colored floors and we like the look. It's a very different look than dark floors – should help keep the house light and bright.
However, we're noticing the white in the stain isn't having much effect on the parts of the floor that are quartersawn. (Most of our floors are quarter and rift sawn white oak, but the rental and the rooms on the top floor are flat cut). Here is what the flat cut parts look like you can see how the grain has picked up the white…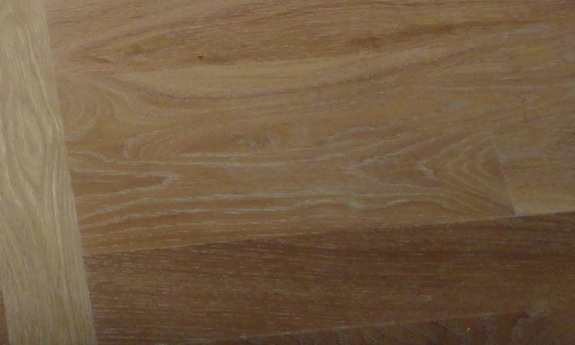 But on the quartersawn parts there's less grain, so less white – but there's still some…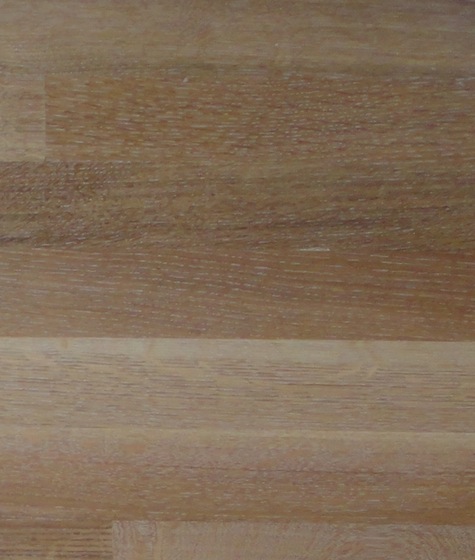 The lighter the color of the piece of wood, the less white seems to get picked up – or perhaps there's just less of a color difference.
The floor guy had never used Monocoat before and seemed a bit apprehensive about using it. He just couldn't believe that he was only supposed to use 1 1/2 pints on an entire floor – with other products he uses that much on half a room, but he seems to have done a good job on his first floor.
Monocoat is an oil and it needs to dry out for 36+ hours and then they'll seal it with 2 coats of Bona Traffic HD. At the end of the project they'll put two more coats of Bona. Bona Traffic HD is water-based but it has hardeners in it that make it harder and more durable than oil-based sealers. The first two coats will be glossy since the floor guy says glossy is more durable than matte, but the last two coats will be "extra matte" which, combined with the subtle color of the Monocoat, should give the appearance of unfinished wood floors that are actually really well sealed. And unlike oil-based varnish it won't yellow over time.
Great progress has been made on the bathroom tile in the last week or so – but that's another blog post…