A few days ago Dan and I went out to look at plumbing fixtures and hardwood floors just to get an idea of how much we should budget. We randomly stopped at State of The Art Wood Flooring Group over in Murray Hill (it was between the subway and Smolka). The guy at State of the Art was great and patiently answered our questions. Later in the day we did a quick stop at Lumber Liquidators just to get an idea of how cheap wood floors can go.
We want a good wood floor, but aren't going for anything exotic. Our stair treads will be wood, so we need the same species of wood throughout the house – that would get very expensive if we went with a rare wood. That means we're going to use oak. It's a great material, plentiful and well priced.
White Oak vs. Red Oak
There are two primary types of oak – red oak and white oak. Dan's been wanting white oak since it's easier to stain any color, however red oak is a little less expensive. I was just researching the difference between the two and came across a forum thread that described how white oak has a closed pore structure and red oak has an open pore structure. That means red oak should not be used in wet conditions. (Which means when we redid our old boat's mast step using red oak we made a pretty big mistake. The mast step sits in the bilge – so it's frequently submerged in water. Oh well, apologies to the person who bought the boat from us!) So that makes white oak the better, more versatile choice unless you want the reddish color you get with red oak.
Solid Wood vs. Engineered Wood
One thing we did learn by visiting State of The Art Wood Flooring was that engineered wood floors don't necessarily look like we thought they looked. Both Dan and I thought engineered floors were always glossy, but that's not the case at all. They had engineered floors in the showroom that had these really cool finishes on them. They were a matte finish and had a little bit of texture to them. They looked like wood that had just been oiled a bit – quite beautiful actually. The texture they had on them is one that's impossible to replicate with a solid wood floor unless you're willing to spend big bucks. So it's odd that the engineered floor looked more natural than solid wood… Go figure. (Of course there were plenty with a high gloss finish as well.)
Another difference between solid and engineered is that solid wood flooring needs to sit in the building for a couple weeks before installation in order to acclimate. Engineered wood doesn't expand and contract nearly as much, so it can be put down the same day it gets to the job site.
We already knew the two were installed differently. Once engineered is down you have to be very careful about protecting it since it's pre-finished. The flooring guy said it should go down at the very end of the project right before you do baseboards. That means the contractor we interviewed who had put it down before he'd fully closed up the walls was making a mistake. By contrast you can put solid wood floors down earlier in the process and while you have to be careful to avoid staining them, dirt won't hurt them because they'll be sanded during the finishing process.
For the rental unit where we may want to sand the floors every few years to freshen up the apartment, solid wood floors are best because they can be sanded many more times than an engineered floor. We've also decided on solid wood for our own unit because we're going to need to match the appearance with the stair treads and matching factory finished wood could be impossible.
[By the way – don't even think about laminate flooring. It's essentially junky wood (or a plastic) with the equivalent of a wood grain wallpaper applied to it. Rarely ever a good idea…]
Flat Cut vs. Quarter Sawn vs. Rift Sawn
How you cut the boards from the tree makes a difference in the grain you get…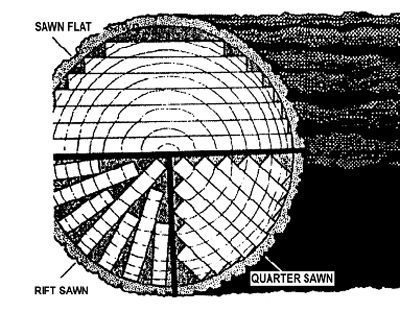 Flat sawn is the standard and least expensive way to make wood flooring. When you see oak floors that have a lot of wavy grain in them – they're flat cut. On the other end of the spectrum is rift sawn flooring. Here the grain is perfectly uniform and all in nice linear lines that run the length of the board. But if you look at the diagram you can see that because it's a radial cut, there's a lot of wasted wood. Quarter sawn is a compromise between flat and rift. The grain is much more uniform than with flat cut, but not as perfect looking as rift sawn – you'll get banded lines across the boards, which can actually be quite pretty. There's not nearly as much wastage with quarter sawn as there is with rift cuts so quarter sawn is less expensive than rift.
We also learned that there's a category called "quarter sawn or rift sawn" that's cheaper than just quarter sawn. If you look at the diagram you'll see there's one large rift sawn board in every set of quarter sawn cuts. It takes time to separate that board from the others, so if you're OK with either then you'll pay a little less.
Quality
There are different qualities of wood. If you don't mind knots, then you'll save money by getting "natural grade". However, if you want a cleaner look with no knots then you'll want to get "select grade".
The Price Points
For starters there's a range of prices for both engineered and solid wood and those ranges overlap a lot. You have to first find what you like and then look at the price. Don't go into it thinking you want an engineered floor so you can save money. You may find the solid wood floor you like is less expensive than the engineered floor you like.
With solid vs engineered you also have to factor in the cost of installation which is much lower for engineered floors. As a general rule of thumb a solid floor will cost $4.50 to $5/sq. ft. to install, so you need to add that to the cost when you compare the prices.
Cut rate prices on 3/4″ thick unfinished solid wood flooring (from Lumber Liquidators)…
$2.89 – 4″ Red Oak, flat cut, natural grade
$2.99 – 4″ Red Oak, flat cut, select grade
$3.19 – 4″ White Oak, flat cut, select grade
$3.29 – 2 1/4″ Red Oak, quarter sawn, select grade
$3.49 – 3 1/4″ Red Oak, quarter sawn, select grade
$3.99 – 2 1/4″ White Oak, quarter sawn, select grade
They also said that given the square footage we're doing we could take about 20 cents off each of those prices.
State of the Art Wood Flooring had a much higher quality selection to choose from, still for a basic wood floor their prices weren't all that different than Lumber Liquidators…
approx $4/sq. ft. for unfinished 4″ white oak
approx $15/sq. ft. for unfinished oak precut for a chevron pattern
approx $13/sq. ft. for finished, engineered floor
approx $19/sq. ft. for finished, engineered cut into a chevron pattern
Add $4.50 to $5 for finishing and you see that unfinished solid wood comes out a bit less expensive than a nice engineered floor. I'm pretty sure those prices were for flat cut, select grade, so you can see Lumber Liquidators saves you approximately 25%. Still, we're just talking about $1/sq. ft. to go with a full-service, high-quality flooring company. I'm sorta inclined to pay the extra to get the service and quality…
What We're Budgeting
Rental (cellar level) – TBD
The rental unit (ground floor) – 3 1/4″ white oak, flat cut, natural grade – $8.50/sq. ft.
Parlor floor (areas with chevron pattern) – 2 1/4″ white oak, quarter or rift sawn, select grade – $20/sq. ft.
Parlor floor (areas with straight boards) – 3 1/4″ white oak, quarter or rift sawn, select grade – $10.50/sq. ft.
2nd floor (master bedroom, etc.) – 4″ white oak, quarter or rift sawn, select grade – $10.50/sq. ft.
3rd floor (office, guest bedroom) – 3 1/4″ white oak, flat cut, select grade – $9.00/sq. ft.
4th floor (stair hallway) – 3 1/4″ white oak, flat cut, select grade – $9.00/sq. ft.
4th floor (Dan's art studio) – commercial grade vinyl flooring TBD
So basically $10/sq. ft. or double that where there's a pattern.