The data from the 2010 Census has been released and I'm going to start doing posts of how different neighborhoods have changed over the past 10 years – starting with my own neighborhood – Census tract 222 which you could loosely call Mount Morris Park Northwest – going from 122nd Street to 126th Street and from Lenox Ave to Frederick Douglass Boulevard.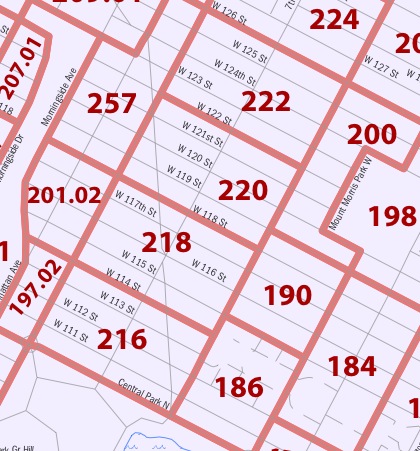 The quick take aways are as follows:
The number of blacks / African Americans declined 18% – from 2,029 to 1,667
The percentage of blacks / African Americans went from 84.1% to 63.4%
The number of white residents increased 310% – from 129 to 529
The percentage of white residents went from 5.3% to 20%
The number of Latinos rose 49.7% – from 330 to 494
The percentage of Latinos rose from 13.7% to 17.4%.
The number of Asians rose 157% – from 30 to 77
The percentage of Asians rose from 1.2% to 2.9%
Overall the population in tract 222 rose 9.6% – from 2,412 to 2,644
The number of housing units went up (net) by 33 – from 1,429 to 1,462
The number of vacant housing units went up by 27 – from 324 to 351
[Latinos can be of any race – white, black, etc.]
Before seeing the data I wondered whether non-blacks were displacing blacks or whether the percentage of blacks was going down due to new housing coming on the market and being occupied by non-blacks. Well, clearly blacks are getting displaced. I can't say what the mechanism is for that displacement but one way or another it's happening.
What this means is the black hegemony in Harlem is quickly becoming a thing of the past. If trends continue (and I see nothing stopping the trends), in 10 years it's possible that there could be more white people in our immediate neighborhood than black people. That's a bit shocking, actually…
Personally, I like racially diverse neighborhoods. Currently Dan and I live in a neighborhood (Hudson Heights) that's 76% white and I find it a bit dull. But I have to wonder what this is going to do to the psyche of Black Harlem. For so many decades Harlem has been "theirs". All indications are that they'll lose their dominance in Harlem in the next 10 years – and they'll lose it to whites more than any other group.