For those of you who are looking for what it really costs to renovate a townhouse – Julia Angwin, an editor at the Wall Street Journal, has been blogging the renovation of her brownstone that's an avenue and a half from ours – just down 123rd Street, west of Manhattan Avenue. Well, she's "done" and has moved in…
Her blog is one of the few that discusses cost. She and her husband bought the place for $800K in February of 2010 – just a month before we bought our place. Their townhouse is 16′ x 60′ x 4 stories – so 3,840 sq. ft. That means she paid $208/sq. ft. That may seem a little high, but theirs was not a shell – just a place in need of major renovation.
Their renovations were estimated to cost $350K, but wound up costing $420K ($109/sq. ft.) They went 20% over budget in part because they jumped right into renovations with very little planning. They hadn't planned on replacing the roof (only patching it). They hadn't planned for a back deck, etc.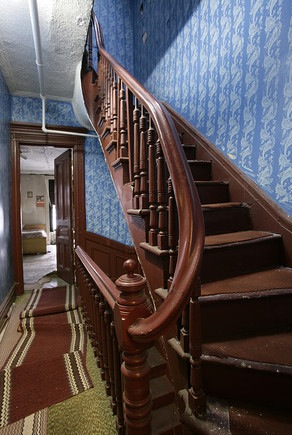 So they say they spent $1.22M in total. Let's call it $1.25M since I'm sure there were at least some costs that weren't reported. That means their total investment was $325/sq. ft. which is very close to what I estimate our cost will be when we're done – the difference is they're moving in after 13 months and we'll move in after 21 months (if things go smoothly).
One thing that should be noted is that they're not really done yet. They still need to get a new C of O. Without a new C of O they can't legally rent the basement apartment. Apparently, the process of getting a C of O can be a bit tortuous. I wish them the best, but there are things I don't quite understand about what I see online concerning their renovations. For example, I'm a little confused about their sprinkler situation. Their Alt-1 filing says there were no sprinklers in the building, but I see them in the "before" pictures – so not sure what the story is with that. I think I see flush sprinkler heads in some of the after pictures – but I'm not 100% sure whether they're there or not. The Alt-1 doesn't mention sprinkler work. I'm guessing because they were spending less than half the value of the building on renovations they got in under more lenient rules. I just hope they don't encounter major problems with their C of O inspection.
Anyway, here are some before and after pictures… I love the picture of the stairs (above and right)… I actually really love the blue wallpaper and how it combines with the maroon and green in the picture. Not sure I'd want to live with it, but it photographs beautifully. There were actually quite a few interesting colors in the house before renovation. On other blogs people have criticized her for stripping the soul out of the place. Personally, I think it just needs a little color – most everything is now white. Here's an after shot of the stairs. Unfortunately (IMHO) they removed the wainscoting…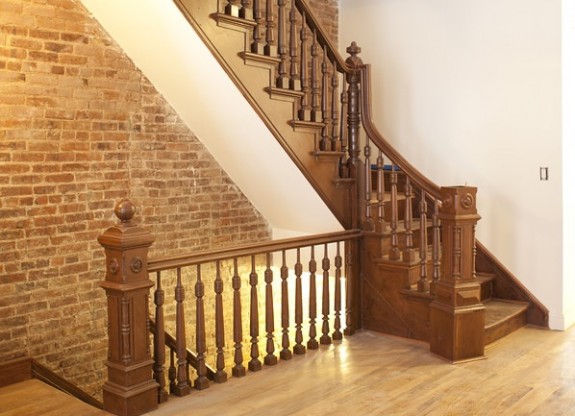 Here's some of the rooms before renovations… Some of them make me want to shoot an art film… The rooms are beautiful in some respects, though I wouldn't want to live in them – just pretty in pictures…
Here's the future kitchen before…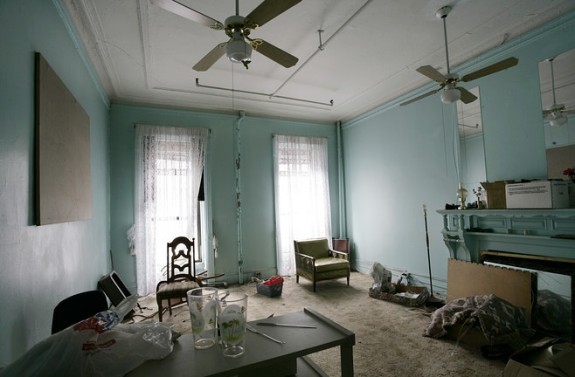 And the kitchen after…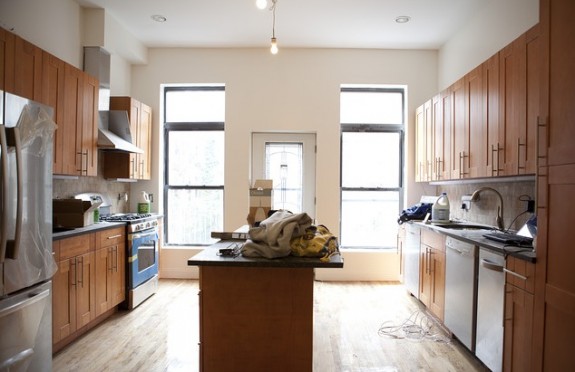 And another before shot…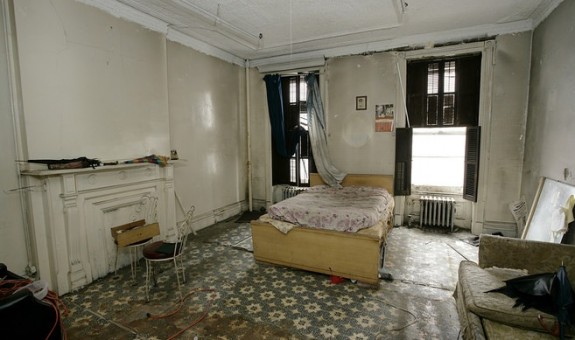 Here's what will be the ground floor rental (looking forward)…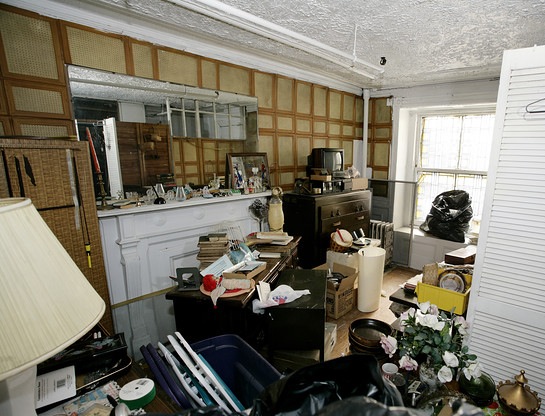 And the rental after renovation (looking back)…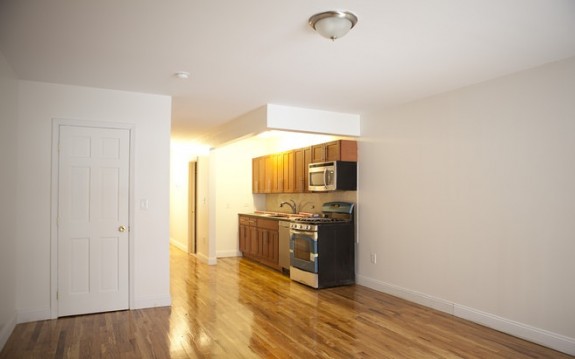 The fireplaces were something they took a lot of heat for in blog comments. They were concerned their kids would get lead poisoning from them, so they took all of them out and only left one in their master bedroom.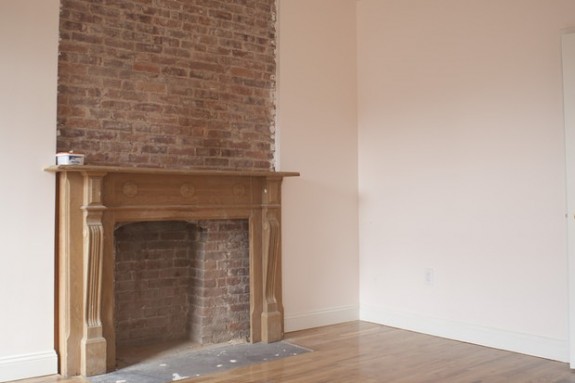 The master bath was another problem area. The glass hasn't been installed around the shower so it looks a little bare right now, but the problem was the bathtub. The contractor didn't leave enough space for the deep soaking tub they wanted, so they got a shallow tub which is useless – it's not much good as a bathtub and they don't need two showers in one bathroom.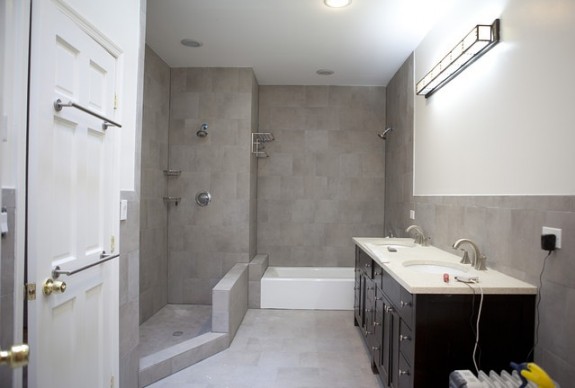 So that's the type of renovation you can pull off in 13 months with a total investment of $1.25M. That gives you a 2,600 sq. ft., 4 bedroom owners triplex and an 870 sq. ft., 1(+) bedroom rental unit (minus space for stairs).
And as far as the payoff… CONSERVATIVELY her place is now worth $1.6M ($417/sq. ft.) so with $1.25M invested they just netted $350K (on paper), but it could very well be worth more – they've got an excellent location – very close to express trains and to Columbia University.