It was a VERY good day yesterday. Our windows had come arrived in port Thursday morning, and managed to clear customs in a single day. Given all the other delays on our project I was half expecting to hear that there would be a 3 or 4 week hold for customs inspection. They'll probably be delivered on Tuesday morning. Getting the building closed up will be a major step for us…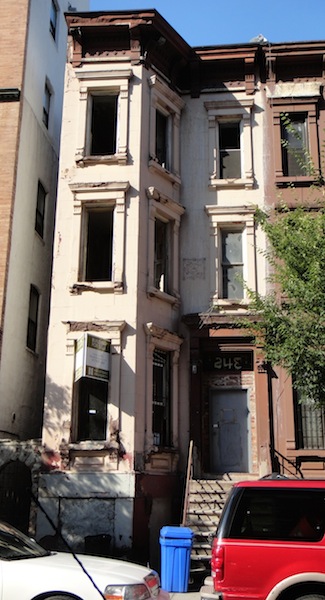 But the really big news is that 243 West 120th Street closed yesterday – just in the nick of time – it was the last day before the loan limits dropped over $100K – so things went right down to the wire.
I feel a bit of accomplishment with this sale… I had done a blog post ages ago (April '10) about how I thought the place was an excellent opportunity. Location is just incredible – it's just steps from everything that's new and exciting on 8th Ave / FDB, and it has a really high FAR for anyone who wants to add space. It took about a year for the blog post to get noticed, but early this year I started hearing from blog readers that they saw the post and were interested in the house. One contacted, me, then another, then another…
In the end it was a bit of a battle between two of those three blog readers to get the house. One of them was working with the real estate agent we used when we sold/bought, the other went directly to the owner through a social contact. The one working with our agent contacted me on June 20th saying "…so it looks like we got the house…", then on July 10th the reader who had gone directly to the owner contacted me and said "we signed a contract on the house on 120th last week". I was a little flabbergasted that two people thought they had it and I knew both of them. Turns out the listing agreement had just expired so the seller was able to sell the place without paying a commission.
For those of you who are curious – the sales price was $620K plus a few thousand in other concessions to the seller. That works out to about $182/sq. ft. The place is possibly in worse condition than ours was when we bought it since demolition has not been done yet. But it did have a certificate of no harassment and it had approved plans with active permits to convert to single family – so it was pretty much ready to go.
You can see from the pictures I took nearly 2 years ago that needs tons of work…
Given the location and the fact that shells south of 125 are getting very hard to get, I think the new owners got it for a good price. They could do a $1M renovation and not over-invest.
It was a nail-biting closing. It turns out there was a lien on the property that was rather sizable and when push came to shove there wasn't enough money to pay off the seller's mortgage. No one was expecting it to be a short sale and people had to scramble to get the seller's bank to approve the sale in time for the buyers to get their loan before the loan limits went down. It almost didn't happen, but after a 5 hour closing on the last possible day, it did finally go through.
And after all that the new owners went to the house last night to check things over and left covered in fleas! So job #1 is to get rid of the fleas…