Progress has seemed a little slow lately. Long story, but part of it is that they're working on the front façade and cornice and they have mesh over the scaffolding, so we can't really see the progress until the mesh is down so it feels like not much is getting done when there is actual progress being made.
One thing that is done are the chimneys. We're not using the old chimneys. They were in really poor condition, were only ever made for gas fireplaces (too small for a wood burning fireplace), and they were on an exterior wall – which is a no-no since cold chimneys don't draft well.
So we have a new fireplace in the living room (only) on the opposite wall from the originals and we're putting the chimney up through each of the rooms above that as an exposed pipe…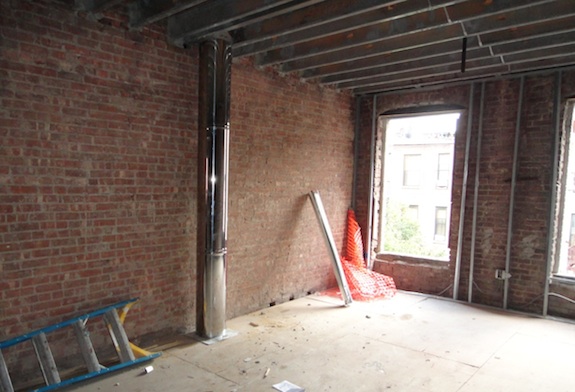 We could have framed it out and put sheetrock around it, but that amount of sheetrock on an exposed brick wall would have looked weird and it would have taken up more floor space than the bare chimney does. It's a little unexpected, but looks pretty good…
When you get to the roof it comes up the required 10′ over the roof…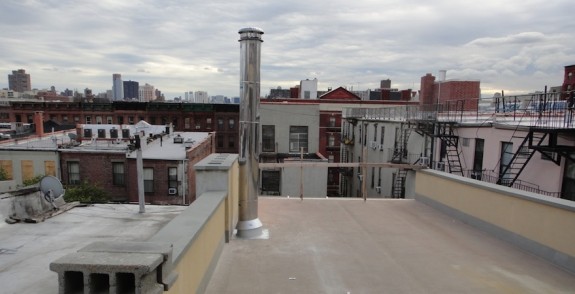 That picture is sort of also a gratuitous pic of our skyline view (you can click to see a slightly bigger version).
Speaking of the fireplace it's one of the few things we might have done differently if we had it to do all over again. Given that our place is a 15 footer the fireplace takes up a lot of width in the living room. Our couch doesn't really fit right – we'll have to design around it. And the fireplace will dominate the living room. If I were doing it again I'd probably go with a smaller gas fireplace. Still, it will be nice on a cold winter night to sit by a raging fire…
The chimneys / vents for other stuff are also now complete…
Going from left to right that's 1) the rather huge exhaust vent for Dan's art studio, 2) the plumbing vent, and 3-5) bathroom vents, boiler chimney, and hot water heater chimneys (not sure which is which). It's a lot of stuff, but it's gotta be there… You can also see the drain pipe for the front portion of the roof snaking past the vents.The roofer will be by soon to clean all of that up and make it water tight.