A week and a half ago our contractor pointed out that some of the varnish that was put on the floors (Bona Traffic HD) was peeling up. The parts that I saw initially were around the edges and I thought it was just because tape had been put on the floors before everything had cured, but it turns out it was a far bigger problem than that…
When we were in the design phase we looked at a lot of pictures of white oak floors. What we both agreed looked best (to us) were whitish floors. Not too white, but just a bit more white than a natural finish. Dan did a some research and found that Rubio Monocoat had a 5% option that should do the trick.
So we started with that and then the question was what varnish should we use. Monocoat, as the name implies, is a one step floor finish, but we were concerned that wouldn't be enough. We wanted an oil-based varnish put on top, but the contractor and his floor guy talked us into a water-based varnish.
Dan did some more research and found that Bona had a really good reputation. We figured their two part, high traffic version (Bona Traffic HD) would be a good choice and would wear the best. The floor guy liked Bona, so that's what we went with.
Dan also called and checked and Bona said there would be no problem putting it over Monocoat, but as it turned out – that was just wrong. What we've found is the two products are completely incompatible. Once we started looking more closely the Bona was already coming up in a variety of places and just a light abrasion would make it come up just about anywhere.
Unfortunately, by the time we figured it out there were already two coats of Bona on all the floors and nearly all the stairs. So we had about 4,000 sq. ft. of floors that had to be fixed. The floor guy suggested sanding everything down and starting over, but we asked the contractor to test by "screening" the floors (basically a light abrasion pad on a buffing machine). Remarkably that took up about 95% of the Bona – so that's how we proceeded.
When all the Bona is off, the floors are beautiful – they're exactly what we were hoping for – a strong hint of white… The photos don't quite do it justice, but I think you get at least a hint of what it's like…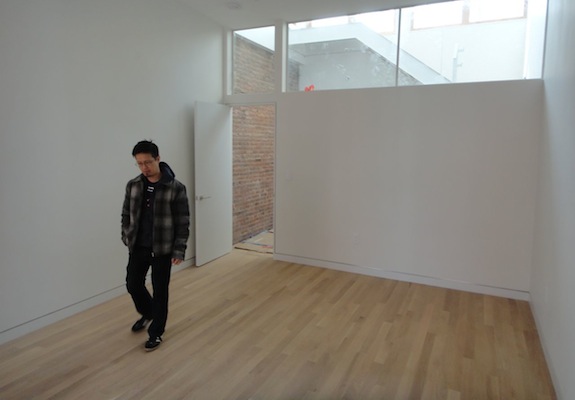 What's really cool is that Monocoat leaves the floors looking unfinished when they're actually quite well sealed. Some people on forums say the floors look "hungry", but as we saw with the Bona – things don't stick to it.
The other thing that's cool about Monocoat is that it can be spot fixed. If there's a problem you just give the area a light sanding and then put some more Monocoat in that area. You can't over stain a floor with Monocoat because Monocoat won't stick to itself.
So unfortunately, we had the floors just how we needed them when we put Monocoat on, and then we managed to mess them up with Bona. Taking all the Bona off is taking time. We were supposed to move in today, but this has delayed that. After 6 days trying to fix the problem they've gotten the stairs all fixed and 3 of the 4 floors in our unit. Fixing the floor in the rental will happen after we move in.
Dan starts spring break at the end of the week. We're hoping we can sorta move in middle of next week, with a proper move-all-our-stuff around the middle of the month. Fingers crossed nothing else comes up as a major issue…
Blog posts will be a little sparse until we're ready to move in. I'm starting to see why all the make over shows have a bit of a blackout right before it's all done – there are certain things that just don't show well in pictures at the end because they're covered with paper, or dusty. As soon as things are uncovered and cleaned up I'll take pictures do more posts…