We're at a stage where rooms are starting to be complete, but they don't look complete 'cause they're dirty, so today I cleaned all the windows and cleaned up the master bathroom while Dan spent time vacuuming… We're getting there…
The master bathroom is pretty much done – here's what it looks like…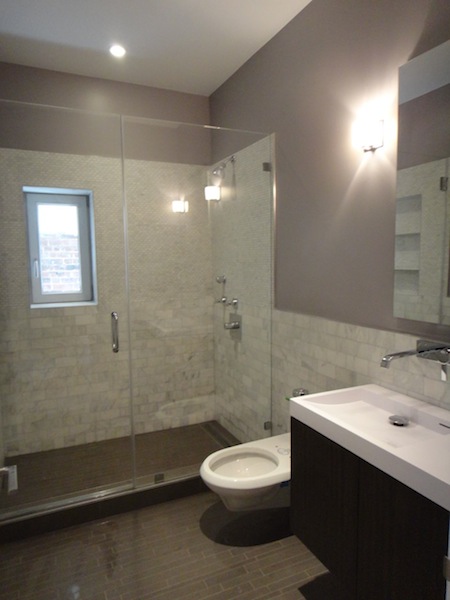 We're not 100% convinced we picked the right color for the wall – it's a bit purple, which wasn't our objective. And clearly, we still need a toilet seat on the toilet.
While some people do elaborate "spa" bathrooms, our bathroom is pretty basic and functional. There are a few little things we added… There's a handheld shower nozzle that still has to be mounted on the wall, but that's minor. And you can just see the linear shower drain in the shower. In the shower there's a little inset with shelves where we can put soap & shampoo…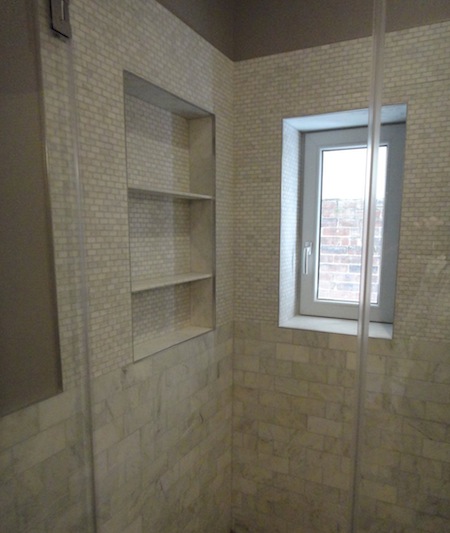 The glass in the window is wire glass, but the window is plastic (since it's in a shower). I'm hoping we don't have a problem on inspection with not having a sprinkler head in front of the window (since it's on a lot line). Our architects researched it pretty well and we were told either wire glass or a sprinkler head was what was needed, but friend just had DOB tell them they needed both. Fingers crossed on that one!
We don't need any frosting on the window since there's no one who can see in – just a brick wall a few feet away. But as you can see in the picture there's still a fair amount of light that gets in despite the window being in a narrow alleyway.
Looking at the bathroom from another perspective (from inside the shower), you see this…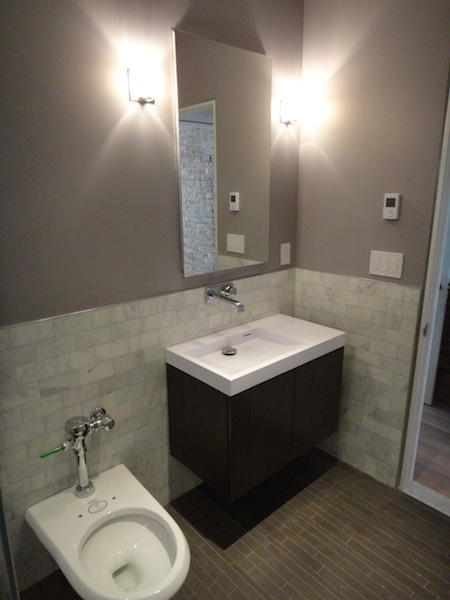 There's a few things to notice. First is the green handle on the flushometer… It's a dual-flush flushometer. If you pull up it puts out less water than if you push down. But we had to find a wall-hung toilet that could be flushed with 0.9 gal of water – that wasn't easy.
Next is the positioning of the faucet… The sink is off-center of the cabinet, so we were a bit worried how that would look, but I think it looks OK…
Another thing to notice is the overflow on the sink… NYC requires that or else you can't have a stopper on the drain.
So at some point we'll change the color of the wall, but that will be after we move in. Otherwise, it's pretty much done as soon as we get a toilet seat and the handheld shower head and some towel bars get installed.