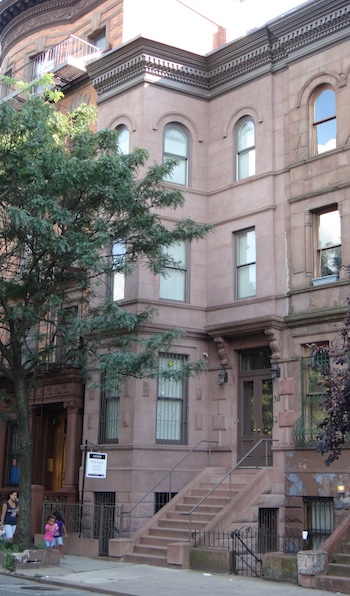 Less than a month ago I was a little worried about the lack of high end sales in Mount Morris Park. Well, there's no longer a need to worry… 30 West 120th (across the street from Marcus Garvey Park) sold on August 29th for $2.5 million. That breaks just about all the sales records since the downturn in the economy 3 years ago.
The house is "just" 18 feet wide (narrow for a house selling over $2M), but it's roughly 60 feet deep so it has approximately 4,400 sq. ft. That means the new owner paid about $568/sq. ft. – so not only was the $2M barrier broken, but the $500/sq. ft. barrier was broken as well.
Curiously, for such a high price, there's a rental building on one side of the house and a shell on the other side. And with all the 5th Avenue traffic going around the park it's not a particularly quiet location. This is good news for some of the 20 and 25 footers on more the coveted blocks just off the park – they should be able to go for even higher prices.
However, the house does have a rather good provenance… It was purchased by Kareem Abdul-Jabbar in 2002 for $525K. Between 2005 (the filing date) and 2009 (the sign off date) he did a gut renovation. The estimated cost of the renovation was $375K + $7,500 for sprinklers, but that was the estimated cost – the actual cost may have been substantially higher. Given that he was renovating at the height of the market it could very well have been a $1M+ renovation.
You can see from the pictures below that the renovation was pretty conservative – no daring architectural features or anything, but still quite nice. They say townhouse buyers like original detail. There isn't all that much original detail left in the house, but the traditional nature of the renovation must have resonated with the buyer…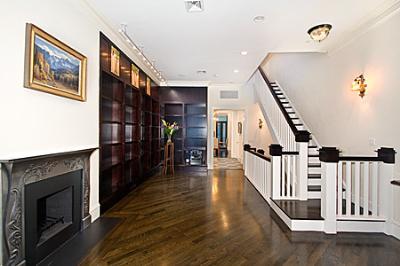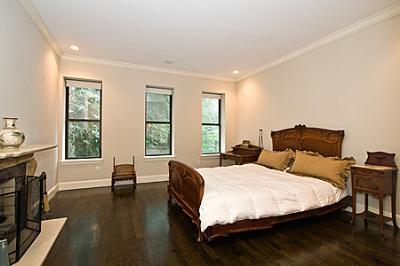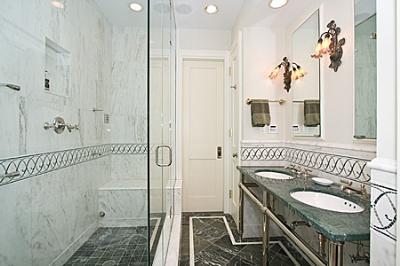 Another thing to note is that the house was single family. That means the owner was buying a degree of luxury – a 4,400 sq. ft. home. We'll also have a quadraplex when our renovations are done, but it will only be about 3,200 sq. ft. – definitely a nice size, but not nearly as luxurious as 30 West 120. I've seen this in the comps before – single and two family homes often sell for substantially more than 3+ family homes.
This sale should solidify the top end of the market and hopefully it will get hesitant buyers to pay a bit more. I've always thought Harlem townhouses were undervalued in comparison with Brownstone Brooklyn – let's hope that changes 🙂
After I finished this post I started thinking about the effect on shells (like the one next door). If 30 West 120 can sell for $560/sq. ft. subtract $250/sq. ft. for a nice gut renovation, then subtract say $100/sq. ft. to reimburse the new owner for the trouble of going through renovation and you still have a value of $200/sq. ft. – and that would be if it were a total shell (like ours was). The shell next door doesn't seem like a total shell, so it could go for even more.
Of course one comp doesn't make a trend, and rehab mortgages are getting harder and harder to come by, but as the high end prices go up so too will the prices of shells – and the changes on the low end will seem even more dramatic since renovations are a somewhat fixed cost. $200/sq. ft. is about 50% higher than the $125 to $140/sq. ft. I would have thought was an average shell value in the past (for a shell needing a total gut including structural work). 50% is a big jump.