We're using closed cell foam for insulation on all exterior walls and in the roof (which also has rigid foam). If you've ever been on a boat and seen foam cushions that have a smooth shiny surface to them – that's closed cell foam. Open cell foam is more like a sponge. Closed cell foam doesn't absorb water, but open cell foam does.
When our architect spec'd things he said there should be a moisture barrier between the foam and the brick wall. Here's his detail…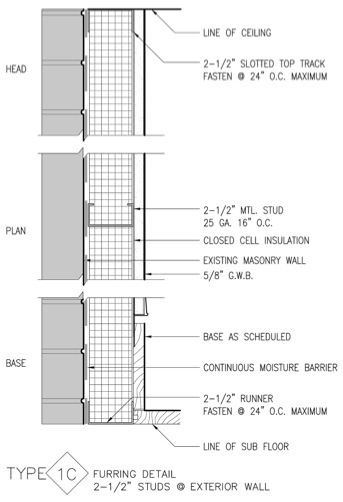 Notice his note for a "continuous moisture barrier". Basically "moisture barrier" is a fancy term for a sheet of plastic – there's not much high tech about it.
Well, when the contractor started framing the walls he didn't put up the moisture barrier. He hadn't really noticed it in the drawings and on other projects the moisture barrier had gone on the inside of the studs – between the studs and the drywall. We tried to push back, but wound up giving in. Since closed cell foam is a moisture barrier we said he could skip the moisture barrier if he wanted to.
Not putting the moisture barrier in has turned out to be a bad decision on the part of the contractor. He had the insulation subcontractor in today and she said the brick will absorb the equivalent of 1 1/2 inches of closed cell foam. So to get 2 1/2 inches of depth she has to spray 4″ of insulation (which means she'll charge for 4″ of insulation).
I also worry about what all that absorbed foam will do to the brick, so I've asked the contractor to put the moisture barrier in. It won't be very easy now that there's all sorts of plumbing and wiring in place, but it sorta just needs to be done…
So word to the wise – if you're using foam insulation, put a moisture barrier over your brick before you start framing the walls.