Nearly all the windows are in now and the back of the house is looking more complete. Here's a before picture…
And here's what it looks like now (in dim light and bright light)… We're still getting used to the color Dan picked for the rear windows.  😉  In bright light the color is so bright it almost glows. In dim light it's just cheery. While I probably would have chosen a more conservative color, in a city where everything gets dingy and dirty, I sorta like the brightness.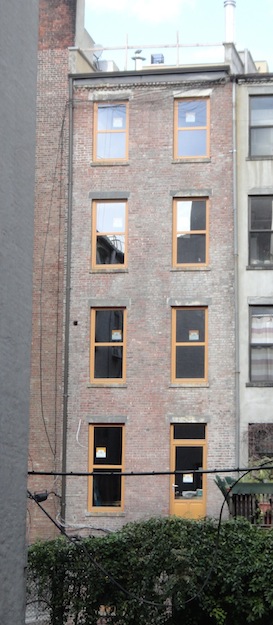 Needless to say a HUGE improvement over where we started. It's still not the final look though. We're adding a deck with a pergola plus fall protection bars on the windows, and a roof deck railing. Here's the drawing for the deck and pergola…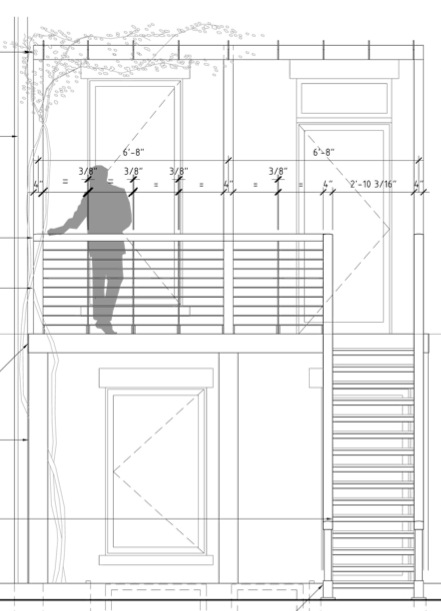 That's just 4 of the 5 stories (6 if you count the cellar, 7 if you also count the windows in the bulkhead at the roof deck). Here's the entire wall from a different perspective – you can see where the deck will go…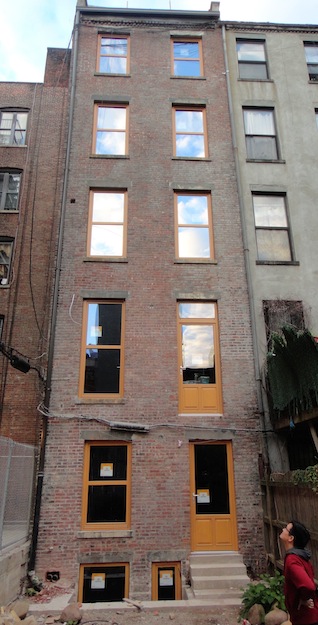 The dividers in our tilt-n-turns do make your mind think double hung – so that part is true to the objective, though I still wish we didn't have to have the dividers.
[If you're wondering, parts of back wall (to the right in the pictures above) still need to be power washed. Long story, but it wasn't completed when they did it the first time.]
Otherwise there are huge stacks of sheetrock in our place at the moment…
But before they can start putting drywall up they need to finish off all the little stuff – electrical, plumbing, low voltage wiring, etc.