The house has been so drab for so long it's sorta interesting to see color come in…
They're using "green board" in the cellar. Even though the cellar is pretty dry that should help avoid mold. The color of the green board is pretty dramatic especially when it's put against pink fiberglass insulation…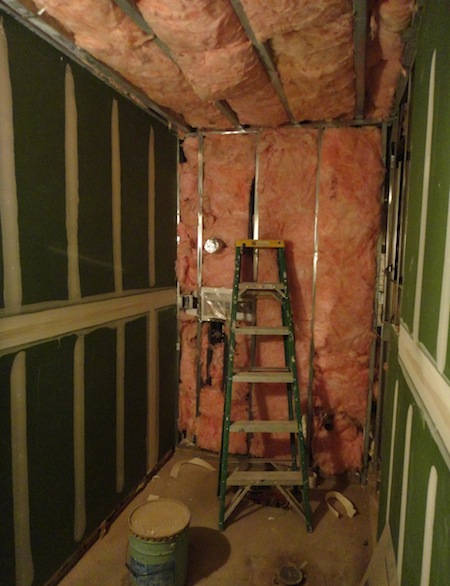 The tenant's laundry room has become really small and dark since the green board went in – but honestly how many people in Manhattan have a proper laundry room? And it will get painted an off-white and it will get lit better, which should make it seem a little bigger.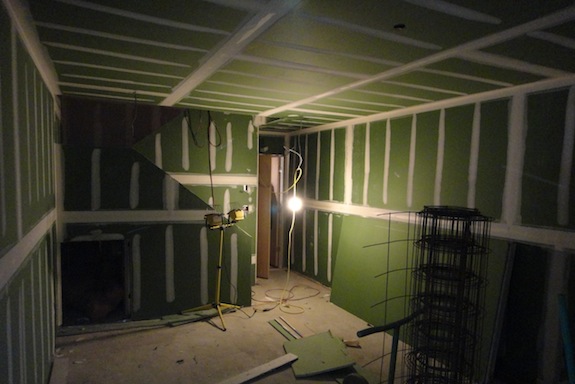 I took the picture above after dark – so there's no light coming in the windows – the dim light just makes the color seem all that more dramatic. In reality that's not what we're shooting for at all. We want the cellar area to be fairly light bright and warm. Well have an off-white on the walls and the floor will be a fake wood tile.

Tile that looks like wood is sorta the new thing in tile. It used to be pretty expensive – $12-15/sq. ft., but the price has dropped a lot as the competition kicks in. After all, it's just another pattern on a ceramic tile – there really isn't all that different or special. We were able to get ours for $5.75/sq. ft. (including special shipping) from Italian Tile NYC in Brooklyn. They were by far the least expensive option. The others were coming in around the $7/sq. ft. mark, maybe a little lower. Mind you, we got 12″x24″ tile and wood tile really should be done in planks (e.g. 2″x18″, 3″x36″, 4″x36″, 6″x48″, etc) – so it's not going to be a perfect wood effect. But that would have cost more and at 350 square feet on a rental unit we didn't want to spend more than we had to.
Planking is another of the new trends in tile. It's sorta cool actually and only a few companies are offering plank-like sizes (Nemo seems to be the best source in NYC for planked tile). But I think in a year or two the price of planked tile will come down as well – though more sizes adds more distribution and stocking costs.
The whole fake wood floor idea was something I strongly favored from the get go. Dan was pretty reluctant initially but finally we got to the point where he thought it might be OK, the price was right, and we couldn't find anything better – so we went for it. The reason why I wanted a fake wood floor was because it's a cellar area so I wanted to go overboard on not making it feel like a cellar. You can't put a real wood floor in a cellar – it will buckle with the moisture. Laminate floors sorta look like wood, but they sorta look like plastic as well. To me, tiles feel cold. I was pretty picky about the tone and warmth of the tile. We found one that seemed pretty much what we wanted, but it seemed a little dull. The "wood" we went with was the same tone and warmth but would be more visually interesting. Dan's still a little apprehensive about the choice – so fingers crossed 🙂
Another interesting view color-wise was the green-board for the rental bathroom leaned up against the exposed brick wall in the bedroom. It's a bit Christmas-like… But in general it's just good to see color in the house.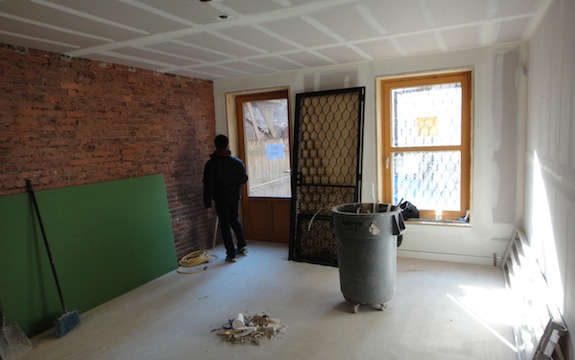 There's one other type of drywall going in the front part of the cellar – the boiler room and the meter/storage room. It's an outdoor drywall that's made for exterior ceilings (porches, etc.) It's dark gray…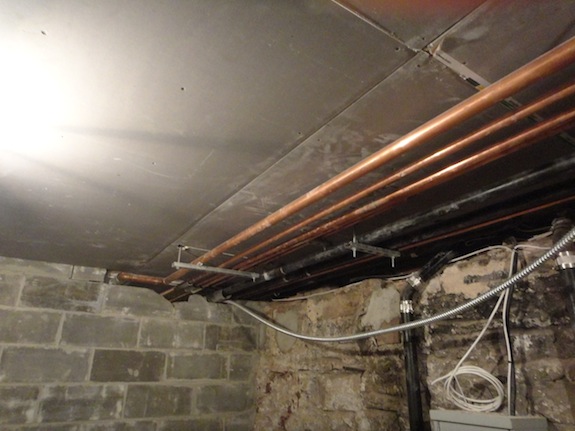 I really like the color of that – goes well with the stone walls. We may actually paint the ceiling the same color after it gets taped and mudded.