We're definitely on the home stretch – final finishes are starting to take shape. The ceilings are getting painted with their final coats of "ceiling white" and tile is starting to be installed in the bathrooms.
The rental bathroom was the first to get tiled. The guys tile the walls first – starting a bit above the floor. Then they do the floor, and then they come back and do the bottom part of the wall.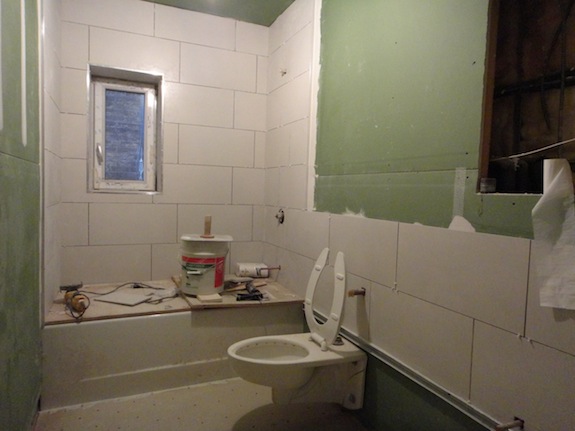 In the picture above you can see we're using 12″ x 24″ porcelain tiles on the walls in a staggered pattern. They're pretty inexpensive – $5.50/sq. ft. from Italian Tile NYC in Brooklyn. Despite the name of the store, I'm pretty sure the tiles aren't from Italy. The tile came in unmarked boxes. The Italian tiles almost always advertise that fact on the outside of the box with "Made In Italy" (as required by US import law). Honestly though, I don't care where they came from – I like them and the quality seems pretty decent.
Since we're going for a pretty contemporary look, the edges are being finished with Schulter edge trim, not with bullnose pieces. I'll go into more detail on that in another blog post.
Since that picture was taken they've put the electric heating mat on the floor and covered it with leveling cement. I think they'll be putting the floor tiles down today. The floor tiles will be a Basalt Limestone – which is really dark gray. It looks really good against the off-white wall tile.
The staggered pattern is one of the trends we're noticing in tile these days. In the past people usually did a linear grid pattern (like a spreadsheet's grid lines) or they did a brick pattern. The staggered pattern is a bit like the brick pattern, but instead of being offset 50% it's typically offset by 1/4 to 1/3rd of the length – but not done as a stair step.
The guy who did the rental bathroom has also been working on the powder room. Here we're doing 2″ x 4″ carrara tiles on the walls in a brick pattern…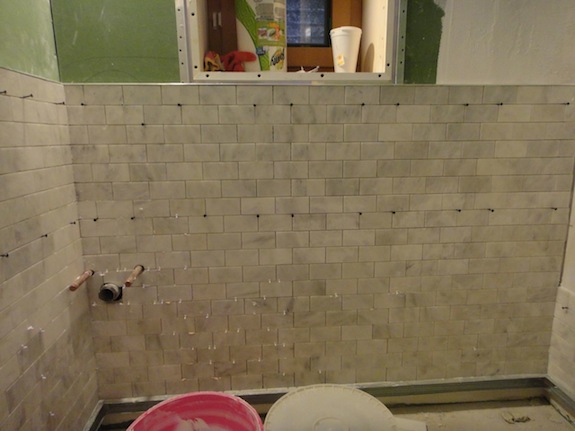 These came in 1′ x 1′ sheets, so they were pretty easy to install. We got them from CarraraMarbleTiles.com over the GW bridge in New Jersey and they cost us $9.95/sq. ft. which is a great price, BUT we're pretty convinced they're not actually Carrara tiles, or even Italian (despite what the sales people told us). They also came in white, unmarked boxes… A lot of tile is coming from China these days. Honestly, we like how they look and don't really care where they came from.
The floor in the powder room is going in today. It's little 5/8″ Bardiglio squares (a dark gray marble). Again, we're not sure it's Italian, but it looks good, so who cares. They're polished, so it's a bit "bling" for our tastes, but the powder room is so small it's not an issue. Plus, it's just of the living room and tiny – so we didn't mind it being a little showy.
The tile is also going up in the master bathroom. There we're doing "Carrara" 3″ x 6″ subway tiles in a brick pattern as wainscoting on the walls, with a mini brick above them just in the shower area. There will be a dark brownish-gray porcelain random brick mosaic on the floor. The carrara subway tiles are pretty inexpensive – just $6.95/sq. ft., however installing them is more costly since they're individual tiles (not sheets) and the guy who's putting them in is a perfectionist who's a bit slow, but they will look great when they're done…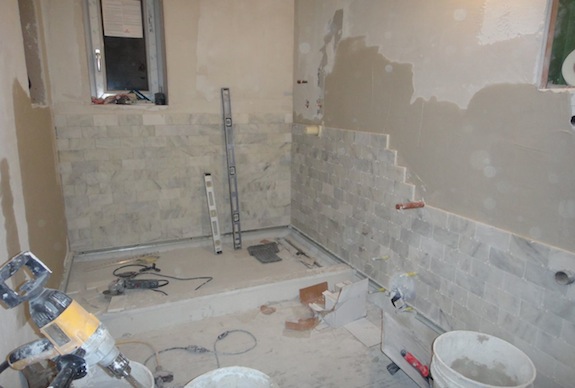 We had picked out the tile before 105 West 122 sold for $2.85M. Since they're they high comp in the neighborhood I was glad to see that they also used Carrara subway tile in their bathroom – though theirs is clearly the real carrar – it has much darker grays (though I sorta prefer the look of lighter grays in our tile).
Tomorrow morning we need to run around and buy grout. After renovating the kitchen and bathrooms in our apartment we wished we had insisted on epoxy-based grouts. Epoxy grouts don't change color, they don't absorb water, etc. – they're just far superior. This time we're going to use SpectraLOCK everywhere we can. It's an epoxy-base grout that is about as easy to use as the regular grouts (some epoxy-based grouts are really difficult to install). But SpectraLOCK isn't recommended for use on carrara marble and other natural stones that are light colored and permeable. So on those we'll use regular Laticrete mixed with "1776" instead of water. The 1776 makes the regular grout more flexible (less likely to crack), more resistant to water penetration, and less likely to change color – not quite as good as SpectraLOCK, but better than average grout.
If you're contemplating a renovation and doing things on a budget realize that it may be a bit silly to go for inexpensive tile and then pay a lot to have it installed. For example subway tiles are cheap – you can get them for just over $3/sq. ft., but then they're labor intensive to install. Pay a little more and get something like a marble subway tile that justifies the installation expense. If you're budget conscious, pay a bit more for something like a nice 12″ x 24″ porcelain that's far easier and less expensive to install – the total cost should be less than cheap tile that's time-consuming to install. If you're cutting the budget to the bone, just tile less of the room – don't do wainscoting – just tile in the shower/tub area. There's really no reason to use low-end ceramic tile – there are nice tiles out there that don't cost all that much and are inexpensive to install – though, from experience – you have to hunt and shop around to find them.