And the winner is… Bier International (IMHO).
After bombing out trying to get into Harlem Tavern last week, we tried again early this afternoon and had no problem getting a table. Unfortunately it was sorta what I expected (based on the pics I saw on Harlem Bespoke) – very middle America – sorta dull actually.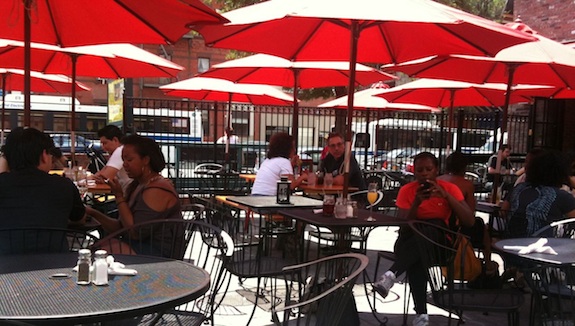 The beer that comes with brunch is Bud Light (yawn). And they have every other standard beer you can think of. Other than a selection of IPAs (which my niece likes), I didn't really see anything beer-wise that came anywhere close to Bier's beer selection.
As far as food, it's pretty to look at (I should have taken a picture), but pretty bland too. I had the turkey burger with fries, Dan had the beef burger with a salad. Despite putting some interesting cheese on it, the turkey burger just didn't stand out. Dan noted that the lettuce for his salad had been chopped with a knife – that promotes oxidation and just makes for a less interesting salad. He also thought the food was less fresh than it is at Bier. In comparison, everything I've had at Bier has met or exceeded expectations. In fact at Bier things are unexpectedly good – there's always a slight flavor kick to the food at Bier that makes it interesting.
Harlem Tavern's decor is the biggest turn off for me… It's like you're at Applebee's or something… Like the food and the beer selection – it's incredibly bland.
And honestly, I was a bit disturbed that they had the A/C on full blast inside with a huge wall of french doors completely wide open – it's just wasteful for no good reason. Well, there was live music – but just keep the doors by them open and close the others…
So if you want bland decor with bland food and bland beer – go to Harlem Tavern. If you want a well-designed space with an unusual selection of interesting beers and surprisingly good food – go 2 1/2 block south to Bier International.