The Mount Morris Park Community Improvement Association's meeting last week with the NYPD, the District Attorney's Office, and representatives from local methadone clinics was enlightening… The main speaker was Deputy Inspector Rodney Harrison – who is in charge of the 28th Precinct.
As I mentioned in another blog post, there was a murder on our block the week before. Apparently there has also been a couple gun incidents at 120th and 7th Avenue (ACP) where there seems to be an on-going dispute between two drug dealers centered – though no one was actually shot. In addition, in East Harlem there have been 4 shootings in the past 4 weeks, one involving the death of a 15 year old. While that seems like a lot, apparently violent crime is actually down in the 28th Precinct year-to-date, but the 28th Precinct doesn't cover East Harlem. This is the area covered by the 28th Precinct…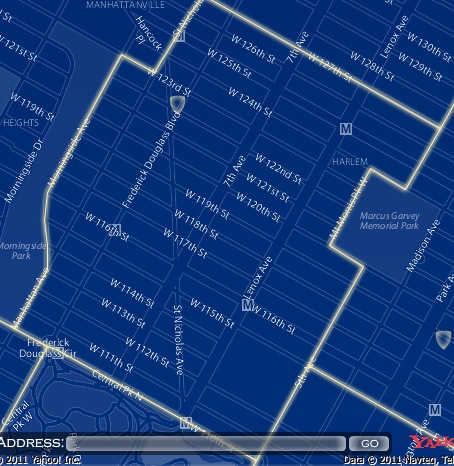 I learned a lot about the neighborhood at the meeting. One of the first items of discussion were the methadone clinics on 124th between Lenox and 7th Avenue (yes, clinics – plural). Two of the clinics were represented at the meeting, and apparently there is a third clinic (Harlem United) on that same block, but they declined to attend the meeting. That's just that one block. There are other clinics throughout the neighborhood and an even greater concentration of clinics in East Harlem. The methadone clinics are a problem – not so much in terms of violent crime, but in terms of trash and loitering. However, the clinics that were at the meeting talked about how they do patrols from 123rd to 126th several times a day and any of their patients who are seen repeatedly loitering are thrown out of the treatment programs.
Still, where there are drug addicts there's going to be drug dealing, and where there's drug dealing there's usually violent crime. Compounding the problem – once the addicts are thrown out of the program the clinics can't do anything about them. At that point it becomes a police issue. Deputy Inspector Harrison was incredible in that respect – he gave out his personal cell phone number and e-mail address and told people to call/text/email him when they saw things. While 911 and 311 are great – going directly to the precinct is more effective. The police have zero tolerance for loitering – the exception being people hanging out in front of their own buildings.
One important point was made – do not get confrontational with loiterers (or anyone for that matter) – let the police take care of it. You never know who has a knife or a gun on them – it's just not worth it.
When it comes to serious/violent crime the vast majority of it happens in the lower part of the precinct – around Lenox Ave – between the park and roughly 116. I know someone who lives on 113th between Lenox and St. Nick (a Russian guy who's a friend of my nephew) and his experience with the neighborhood is completely different from mine – he talks about how rough and dangerous it is. Deputy Inspector Harrison mentioned that 114th Street was one of the most dangerous streets in the precinct. In fact he suggested that when people walk around the neighborhood they avoid problem spots like 114th Street, and the corner of 120th & 7th Ave.
When asked what the community could do there were a number of things…
First, be the eyes and ears of the police – when you see something, call the precinct.
Second, install cameras – they make a big difference – crimes are solved much faster when there's a video available. It costs homeowners about $1,000 per camera. Given that most of us are investing over $1M in our places, it's a very small price to pay to have a camera or two (or in our case 5 or 6). The cameras the police use are targeted to areas with lots of tourists and lots of violent crime. Inspector Harrison called the cameras "million dollar cameras" – I'm not sure that they actually cost $1M, but they aren't cheap – so there aren't many of them around. There are cameras on 125th Street and a few other areas, but getting more of them is difficult. However, the precinct actually has a crime prevention officer who will help you choose and position cameras you buy. His name is Vic Peña – call the precinct and ask for him.
Third, petition politicians for more police and more money for the precinct. Because crime has been going down the City has felt justified in cutting the number of police in Harlem, but when there are fewer police the crime rate goes back up (as is happening in East Harlem). The City does give support when a precinct is having a spike in crime. The 28th is getting help from the narcotics unit for 120th & 7th Ave, and the precinct in East Harlem is getting reinforcements. We live in Washington Heights at the moment and there's increased police presence here as well because of all the rapes. But the precinct needs more than that. More funding means they can do more outreach programs to teens in an effort to prevent the crime from happening in the first place.
One other thing Inspector Harrison talked about was that iPhone and iPads are particularly popular with criminals right now. He's finding that criminals aren't mugging people for money – they just grab your iPhone and run. The simple way to avoid this problem is to try to not use your iPhone/Android much when you're on the street. If you need to use it, be aware of your surroundings.
In the end there's violent crime everywhere and violent crime is generally down in Harlem. It's really not that unsafe. With a few basic precautions (like avoiding problem areas, not being confrontational, reducing the use of your iPhone on the street, and not being involved in drugs) you can feel pretty safe in Harlem.
IMHO, what Harlem needs most to prevent crime are residents who simply don't put up with crime. If criminals know people will cooperate with the police and if they know there are cameras that will see what they do – they'll move to another area.