As happy as I am that gay men (and lesbians and the transgendered) are being more widely accepted, I feel like the gay community has lost something in the process. That our assimilation into mainstream culture has made us more ordinary.
I was just a kid in the 70s and my parents were big fans of Jerry Falwell. I remember going to Thomas Road Baptist Church one Sunday and having gay men protesting on a picket line outside, so my experience with the gay community in the 70s isn't first hand…
But looking back at pictures and videos from the era there was a level of creativity that you don't see anymore. Sure they have the obligatory gay guy on every design/make-over show, but how did the creativity of gay men go from the outrageous antics of groups like The Radical Faeries and The Sisters of Perpetual Indulgence (both founded in 1979) to making picture perfect apartments and making straight guys into metrosexuals?
I mean think The Radical Faeries are all about rejecting heterosexual norms and finding our own way – of not being afraid to blend masculine and feminine – of not being limited by norms of acceptable creativity… Here are some pics I've "borrowed" from LifeLube's blog – they have a weekly Friday is for Faeries blog post which is inspiring to see that while the Faerie movement is small, it's still very much alive…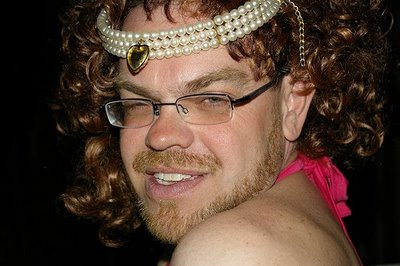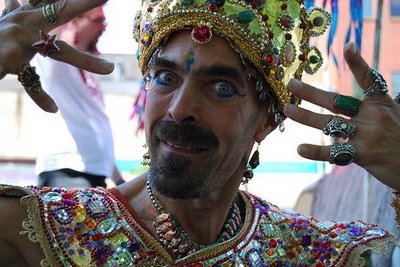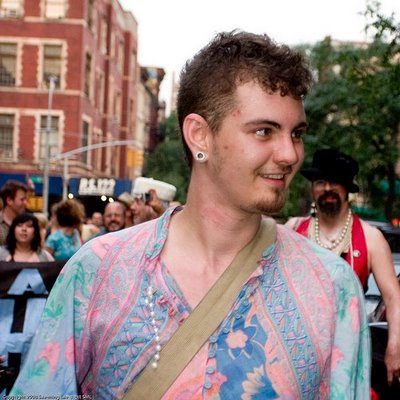 As you can see – they range the gamut – some can be wonderfully creative, others just enjoying themselves and having fun, while others are just normal guys who seem genuinely well-adjusted.
Then you have The Sisters of Perpetual Indulgence… They take more of an in-your-face, over-the-top, "shock and awe" sort of approach to their creativity…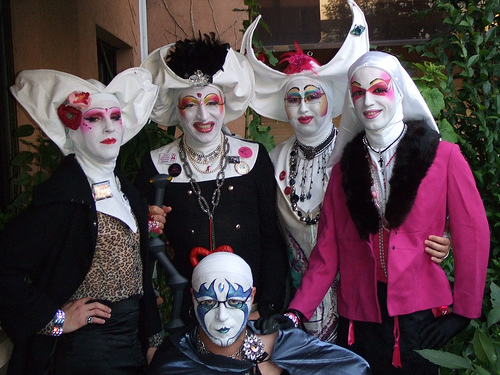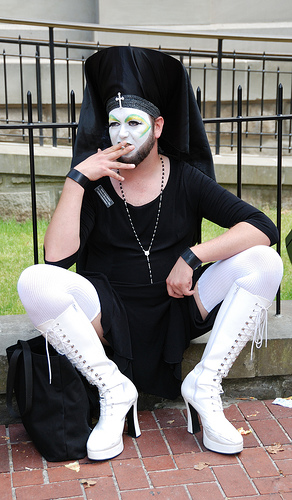 Needless to say whether it's the Radical Faeries or The Sisters of Perpetual Indulgence, these are the sorts of gay guys who really push creative boundaries in our society. With the commercialization of gay creativity on reality TV shows, it just feels like gay creativity is less than it used to be – more mainstream, more homogenous.
Or maybe there are just as many as there were in the 70s, but they're less visible because they're now a smaller percentage of our community since all the people who had no problem "blending in" have now come out of the closet.
Still, it's wonderful when you see crazy creative minds at work. One of the latest that I've come across is François Sagat who's best known for being a big name porn star, but when you look at his his blog and his YouTube channel you realize how much more he is – how wonderfully creative he is. He is a porn star and a lot of his creativity is centered around his body (his ass in particular), but he takes it way beyond the vulgarities of porn and makes it into something fascinating and edgy…
One of his more recent videos is a music video of sorts with him, a drag queen (playing his girlfriend), and another guy who he's got the hots for…
Yes, I like the fact that HIV/AIDS isn't killing off gay creative talent like it was in the '80s and early '90s. I like the fact that gay men are back in the saddle creatively – even if that's making straight guys into metrosexuals, or helping women chose better outfits, or decorating a home. But I've got a special place in my heart for the guys who are "out there" and push the limits of what's acceptable. I'm a geek – I'll never be one of those people, but I know they're special – very special…