Our contractor has been making progress on a few things the past week. The parlor floor was sanded, and stained with 5% white Monocoat – it will get the first two coats of sealer tomorrow.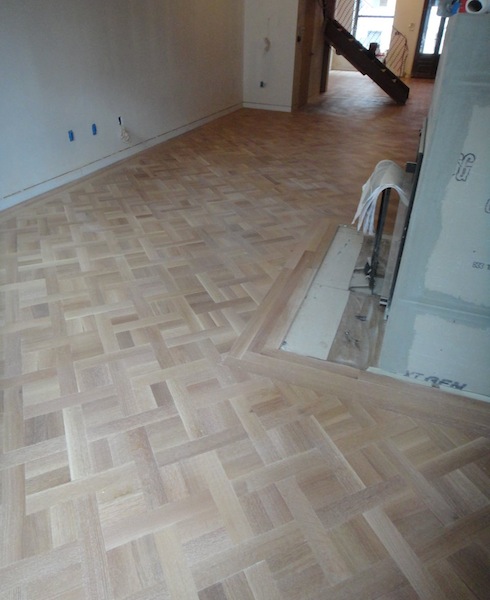 We went with a basket weave sort of pattern in the living room and dining room. It's a pattern I found by surfing the Internet – not sure what the proper name of it is…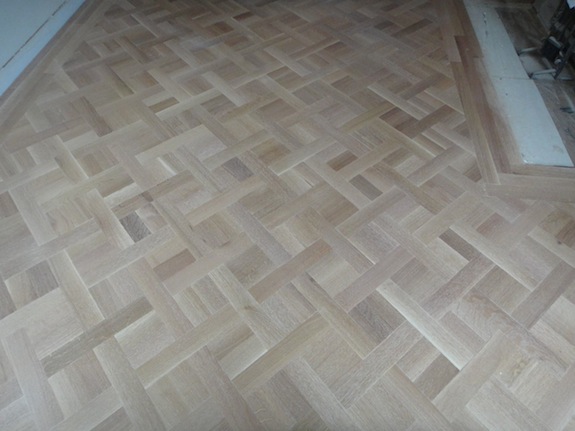 We like it because it makes the room feel wider. We were afraid if we went with the standard linear pattern it would make the parlor floor feel like a bowling alley. We do have a standard linear pattern in the kitchen, but since it doesn't go the whole way so it looks fine.
One thing that we have been a little ambivalent about is the color variation – we were expecting less variation. The 1930s apartments that we've been living in for 15 years now have pretty consistent floors – but the wood was higher quality back in the 1930s because it came from older trees. These days the engineered floors are so highly processed they have consistency of color, but "real wood" isn't as high quality as it was back in the day. If I had it to do all over again I might get "clear grade" instead of "select grade" even if I had to go down to flat cut (from quarter/rift sawn) to get the better, more consistent grade of wood. We've also heard bleaching the floors can make the color more consistent – but we didn't think seriously about that until after it was too late. Still, I think what we have is pretty good and it does seem more consistent once it's sealed.
The other thing that's progressing is the staircase in our unit. The top flight has been painted white…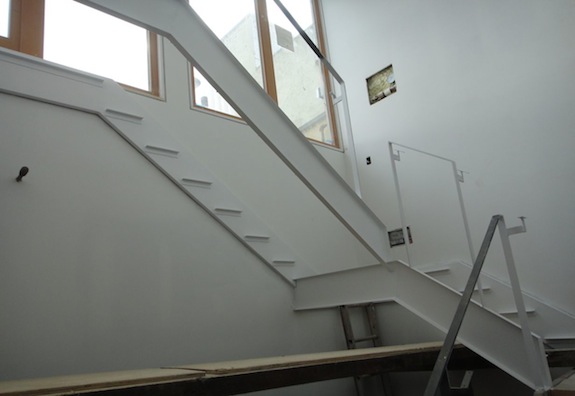 And they've been working on the treads. Quite a few of them have been stained and will be sealed soon…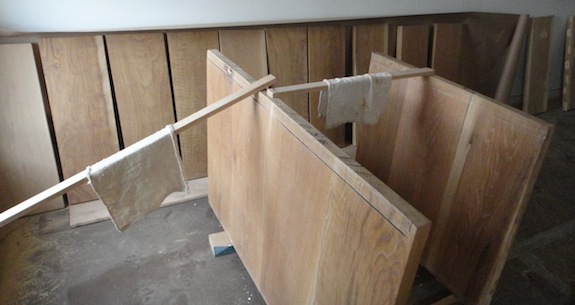 We're going with flat cut on the top two flights of stairs and quarter/rift on the lower two flights. They're starting from the top down, so what you see is the flat cut treads.
You can see some of the variation I'm talking about in those treads – there's one against the wall and another in the second big panel that are pretty dark except a strip down the edge that's quite light. They still look pretty cool though.. 🙂
The contractor has also started putting the kitchen cabinets together – seeing them go in is yet another thing that makes the house feel like it's "getting there". Pictures of that soon…